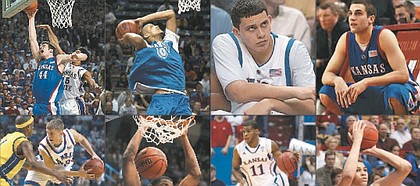 KU transfers
Here's a list of KU players who have transferred to other schools in the Bill Self era: David Padgett, Omar Wilkes, Alex Galindo, Nick Bahe (non-scholarship player), Micah Downs, Quintrell Thomas, Royce Woolridge, Merv Lindsay, Andrew White III, Zach Peters (first gave up basketball, then elected to play again and has since retired again), Rio Adams and Conner Frankamp. Also: Milton Doyle, who never played a game for KU.
The players who have transferred to KU during Self's reign: Rodrick Stewart, Jeff Withey, Justin Wesley, Kevin Young, Tarik Black, Hunter Mickelson.
ESPN.com's Jeff Goodman, who tracks transfers, reports that a record 625 college basketball players left their schools for perceived greener pastures — or were encouraged by their coaches to perhaps move on in search of playing time — last offseason.
That's an upward trend from 291 players in 2011 and 450 in 2013.
Whatever the reasons, players are on the move each and every offseason, sometimes during the season. KU lost sophomore Conner Frankamp to transfer (Wichita State) as the Jayhawks were preparing for the first exhibition game of the 2014-15 campaign.
"Kids are transferring at alarming rates," KU coach Bill Self said recently of the number of transfers in general. He stressed he was not speaking of any one individual but the situation as a whole. "People want to put blame on coaches or programs or whatever that there are more transfers than there ever have been. It's a societal change. It's the same thing if kids are not working out great at one high school, parents move them to different high schools.
"It's amazing how many kids we recruited attend three to four high schools for those reasons. The way it is set up as far as a society deal is, when it gets kind of hard, we take a different path, direction instead of fighting through it.
"I'm not speaking of Conner at all," he stressed, adding, "people want instant gratification. It's that way in recruiting. We used to recruit, and kids would pick schools because 'I want to be part of Kansas or Oklahoma State or Texas.' Now it's, 'I want to be part of that, but am I going to be able to play as a freshman, start as a freshman?' The way it's set up, kids feel they haven't accomplished anything or semi-failed if they haven't gotten that done early in their career."
One controversial rule that KU took advantage of during the 2013-14 season in signing Memphis senior Tarik Black is one that allows players who have graduated to transfer and not have to sit out a season.
An underclassman who transfers must sit out a year in accordance with NCAA rules.
"Nobody is opposed to transferring. What people are opposed to is having kids graduate and get an exemption where they are immediately eligible," Self said. "Tarik is somebody we benefited from the rule. When he left Memphis, he was open recruitment because he graduated from Memphis."
Despite the fact Black was a rotation player who helped KU greatly and used his season as a springboard to the NBA — where he was a contributor before being waived by the Houston Rockets — Self remains convinced even graduate transfers should sit a season.
"If a young man were to red-shirt and develop at a mid-major and after his fourth year of college has one year left, he's open-market," Self said. "That to us (in coaching fraternity) is not good when you are recruiting kids off other kids' campuses.
"We are talking to be able to transfer and have the waiver to be eligible immediately. Kids like Tarik ... if they were to transfer, sit a year and play a year. Two years gives them a closer opportunity to (obtaining) a masters degree. The immediate eligibility is an issue with coaches. I think it brings a lot of things into our game negative more than positive."
Colorado coach/former KU player Tad Boyle agrees with Self regarding immediate eligibility of grad-student transfers.
"The intent of the rule is a good one. The execution is a farce. It's a black eye on our game," Boyle told the Denver Post.
If the graduate transfer had to sit a year like other transfers, "It would make kids think hard about it and it would make schools who are bringing those kids in think hard about it," Boyle added to the Post.
ESPN's Dick Vitale has chimed in, writing that "college basketball has been plagued by the transfer bug. It is turning into an epidemic. ... Look, I get it. A coach leaves, he goes to a new school and gets a financial boost plus all the goodies — a beautiful new car, a country club membership. And the kid wants the same option. As it stands right now, if a kid wants out, he has to get a release or he has to sit out a year. I have my own feelings on that.
"If a school grants a kid a release because the coach sees the player isn't going to play for him and it would be best for him to go elsewhere, that kid should be able to play right away," Vitale adds. "Now, if a coach feels a kid is vital to a team and doesn't want to lose him, I think he should have to sit. I know several coaches are upset with what is going on now. I have heard mid-major coaches scream when some high-major programs were poaching the players the mid-major had developed. I wish this wasn't an issue plaguing the sport I love."
The NCAA is looking into the transfer matter. President Mark Emmert formed a subcommittee to study the issue, about which most big-time coaches have an opinion.
"There are a lot of reasons for it: Some could be (the right) fits, style or whatever. A lot of it could also be, 'I'm not playing as much as I want to play. I want to go somewhere the grass is greener, so to speak.' The national averages are, somebody is going to leave," Self said.
"I don't think there are people out there trying to coax players out of programs. The antennas do go up with this rule that guys are transferring entering their senior year. 'Will he be eligible, this or that?' Guys (coaches) are looking for immediate help," Self added.
"In the springtime, programs are scrambling. Maybe they didn't get who they wanted in the early period. Transferring is fine. I think the transfer should sit. If we are concerned about academics, why wouldn't you want to get two years out of it instead of one?"
Noted Michigan State's Tom Izzo to mlive.com: "It's a vicious circle, and it's one of the things I'm very disappointed in our game about to be blunt and honest with you. I think we've got to find a solution. You wonder why it's harder to discipline kids nowadays, they've got 20 people telling them 'Well if you don't like it just leave.'
"These guys have done something where they just feel like the smaller programs, if you play well there you're going to move up or definitely as a fifth-year guy you're going to leave."