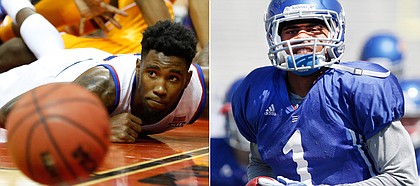 Lawrence police released details Monday about "a large disturbance" that led to the arrests Sunday morning of Kansas University basketball forward Jamari Traylor, 22, and KU football wide receiver Rodriguez Coleman, 22.
Kansas University basketball coach Bill Self said Monday that in response to the incident he has suspended Traylor, a junior forward, from Wednesday's game against Georgetown.
Just before 2 a.m. Sunday, an officer on patrol noticed a "large disturbance" outside The Cave nightclub, 1200 Oread Ave., Lawrence Police Department spokesman Sgt. Trent McKinley said. As the officer approached the scene, several individuals were fighting and some entered the bar after noticing the officer's arrival, McKinley said.
Officers saw one person, who was lying motionless on the ground, being kicked in the head by another individual, McKinley said. The individual who allegedly did the kicking was then handcuffed by officers and placed in a patrol car as other officers tended to the victim, McKinley said.
Officers called for an ambulance, but the victim declined to be transported to the hospital, McKinley said. Other victims involved in the disturbance, including The Cave staff, sustained injuries as a result of the incident, McKinley said.
As officers worked to identify other battery victims, witnesses and suspects, "several individuals" interfered with officers' duties as they tried to question suspects and make arrests, McKinley said. Other individuals also "attempted to incite the crowd," McKinley said. Police ended up arresting four people.
According to the Douglas County jail booking log, the four arrested at The Cave were Traylor and Coleman, as well as Christopher Larkin, 19, of Chicago, and Kevin Short, 22, of Lawrence. Short is a former KU football player.
McKinley could not say specifically which suspects did what, but the booking log shows Traylor and Larkin were arrested on suspicion of interference with the duties of an officer, Coleman was arrested on suspicion of battery, and Short was arrested of suspicion of failure to appear in court for an unrelated case.
McKinley said the incident remains under investigation.
On Sunday, a KU spokesperson said new Kansas football coach David Beaty was aware of the situation involving Coleman and added that the program was in the process of gathering information and any discipline would be handled internally.
All four men were released from the jail Sunday after posting bail, according to the booking log.
Lawrence police have had to respond to The Cave, a multilevel nightclub inside The Oread hotel, for reports of fights on multiple occasions. In March of this year McKinley described the bar as "an active place."
At that time, McKinley cited incidents at The Cave that had required a large police response. Eight police units were sent to the site in the early-morning hours of Feb. 2, for example, after an officer on patrol reported that a fight was brewing among a large crowd leaving the bar. Ultimately police officers used pepper spray to subdue some members of the crowd who advanced on a police officer who was handcuffing a suspect, McKinley said.
In August, City Commissioner Bob Schumm said he and a delegation of city officials including the chief of police had met with the management of The Cave and The Oread to discuss how the establishment is run.
"We had a very matter-of-fact discussion about how we expect them to more diligently create an atmosphere that is law abiding," Schumm said at the time. "They were very accommodating in their responses."
The Cave faces a $2,000 fine and a two-day suspension of its liquor license after the state's Alcoholic Beverage Control division in March cited it for a illegally advertising free liquor. The allegations stem from Twitter and Facebook messages posted on The Cave's account that included a promotion touting "ladies drink free" until 10:30 p.m. on Fridays.
The Cave is scheduled to have a hearing before ABC officials on the matter on Thursday.