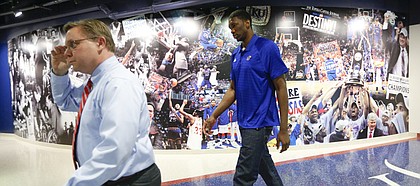 Video
Video by Benton Smith
Podcast
Press Conferences & Post-Game Interviews
After Kansas University freshman center Joel Embiid announced he was entering the NBA Draft, KU coach Bill Self said it ...
Kansas University freshman Joel Embiid spoke several times the past couple of weeks with his friend and mentor, Luc Richard Mbah a Moute of the Minnesota Timberwolves.
He chatted once with retired NBA Hall of Famer Hakeem Olajuwon, as well as Nicolas Batum of the Portland Trail Blazers.
Embiid, the 7-footer from Cameroon who announced his intention to declare for the 2014 NBA Draft on Wednesday in a news conference in Allen Fieldhouse, also consulted with his mom and dad and Jayhawk coach Bill Self.
"They didn't tell me what to do. They just gave me the advantages and disadvantages," said the 20-year-old Embiid, who weighed the words of wisdom, and came up with his decision on Sunday.
The decision he slept on for three nights— to be a one-and-done player in college — apparently boiled down to a few simple factors.
"If college was paying $5 million a year and the NBA was paying $5 million a year, there's no question what he would have done, but I think the financial opportunity was too great," said Self, who sat next to Embiid in front of a throng of media members.
As No. 3 pick in the 2014 Draft, Embiid would make $3,689,700 next season, followed by payments of $3,855,800 and $4,021,800 his next two years in the league.
"We talked about, 'At this rate you've improved over a short period of time, think about what you could be a year from now,'" Self said of Embiid being a polished pro player as soon as the second half of his rookie season. "The whole thing is, being a top-five pick this year is guaranteed. What happens if something bad happens next year (in college)? I think that was the whole deal. It was the safe play in my mind."
Embiid said the "safe play" had nothing to do with his current injury — a stress fracture in his back that kept him from playing in the Big 12 and NCAA tournaments.
"My back is fine. I'm close to being 100 percent," said Embiid, who has returned to the court.
Self said it's likely Embiid would have played against Dayton in the Sweet 16 had KU been able to beat Stanford in the Round of 32.
"The doctors told me my stress fracture wasn't a problem. There's no problem. I'm good," Embiid said.
What's bad is the fact Embiid will never experience NCAA Tournament action.
"He loves it here, loves college and the people around him," Self said. "Sometimes when you don't have your family close, you get even closer to the people with you. That's what made it a hard decision. I also think not playing in the tournament made it a hard decision. The reason great players come (to KU) is to play on the biggest stage. He didn't get an opportunity to do that. That was something in his mind that leaves the college deal a little bit incomplete."
Of the NCAA Tourney, Embiid said: "I was obviously frustrated (not playing), but, I mean, it's life, and my back wasn't good enough for me to play. I was very frustrated. I wish I could have played."
Embiid added that it was a tough decision to leave because, "I really love this place. The fans were crazy, just watching them before every game, three days before every game camping out. For me it means a lot. They showed me nothing but love."
As far as Embiid's loved ones who helped him make the decision ...
"I felt like the information that my mentor gave me, doesn't mean that it was the best, but, I mean, I just felt comfortable, and I always trusted him. I always had the trust in him. Since I came here, he's always helped me, so I just felt confident trusting in what he was saying," Embiid said of fellow Cameroon native Mbah a Moute, who stressed Embiid would definitely be a top-five pick, meaning he'll be set for life financially the day he signs on the dotted line.
Of his parents, who did not make it in from Cameroon for the news conference, Embiid said: "Obviously they don't live here, so I talked to them to see what they wanted me to do. The decision was mine, so I was just gathering information (from them)," he said, not revealing specifics.
And of Hall of Famer Olajuwon, who called a few days ago, Embiid said: "I mean, I was really excited because it's my favorite player of all time, my idol, so I was just on the phone talking to him. He was talking to me. I don't even remember what he was saying. I was just excited. I was just like, 'Yeah.'" Embiid said with a smile.
What will KU's fans say about the man who leaves after averaging 11.2 points and 8.1 boards and setting the all-time freshman shot-block record in his only season?
"I just want to be remembered as a guy who gave everything when he was playing. Also, I just wanted to win," he said.