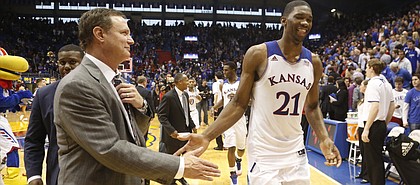 Video
Video by Benton Smith
Podcast
Press Conferences & Post-Game Interviews
After Kansas University freshman center Joel Embiid announced he was entering the NBA Draft, KU coach Bill Self said it ...
Kansas University freshman center Joel Embiid has put himself in position to make a prophet out of KU coach Bill Self by tossing his name into the ring for the 2014 NBA Draft.
Embiid, a 7-footer from Cameroon who averaged 11.2 points and 8.1 rebounds for KU in 28 games during the 2013-14 season, announced his intention to turn pro at the Allen Fieldhouse media room this afternoon with several coaches and teammates in attendance.
"After thinking a lot, I've decided to declare for the NBA Draft," Embiid said on Wednesday. "...I really love this place. The fans are crazy. It means a lot and they showed me nothing but love. I will miss this place."
Midway through the season, Self revealed that he told Embiid when he stepped on campus that he would have the chance to be the No. 1 pick in the NBA Draft when he left Lawrence.
Here's the full quote from Self from a couple months ago:
"I told Joel, as soon as he stepped foot on campus, 'You're gonna be the No. 1 pick. Now, it may not be this year, but you will be the No. 1 pick if you come out and the time is right.' I'm not saying he will be this year, but, if he times it right, then he could be the No. 1 pick in the draft. I don't think it should come as a surprise to him because he's been told all along that he was capable of doing this."
Whether that turns out to be the case or not remains to be seen. Embiid, like all players who enter the draft, will spend the next couple of months going through workouts for NBA teams and positioning themselves to be picked as high as possible. Because skilled big men are such a rare commodity these days, many believe that Embiid has a great chance of becoming this year's top pick.
"I think it's gonna be hard for him," Self said. "I think he's in for a fight. But I think it's gonna be a fun fight."
A lingering back injury and the presence of some other highly regarded future pros — including KU freshman Andrew Wiggins — cloud things a little, but it seems all but certain that Embiid will be taken with one of the top few selections in the June 26 draft in New York City.
Embiid said his back injury did not factor into his decision to turn pro and added that he was close to 100 percent and had been back on the court during recent weeks.
As for the possibility of having Embiid and Wiggins taken with the top two picks, Self did not hide his thoughts on that topic.
"Sure we're pulling for that," he said.
As was the case when Wiggins made his announcement last week, Self said this was a good day for the KU program.
"It's not easy to lose guys of the caliber of (Embiid and Wiggins)," Self said. "... But you certainly wish them the best when opportunity knocks."
Embiid missed the NCAA Tournament — along with KU's two Big 12 tournament games and final two regular season games — because of a stress fracture in his back, but speculation about his future at Kansas started well before then, as he quickly blossomed from highly touted prospect with star potential into one of the most valuable players in the Big 12 Conference.
He earned Big 12 defensive player of the year honors and his vast offensive game, athleticism and smooth skill set landed him at or near the top of several mock NBA draft boards throughout the season.