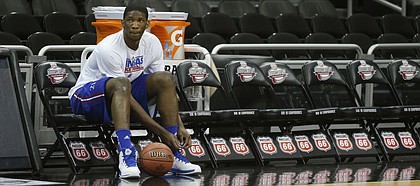 In most cities, "Hello, how are you?" is the most commonly asked question, although it's really more of a greeting than a question. Nobody listens to the auto-answer.
In Lawrence, it ranks a distant second to the runaway winner: "Why hasn't Joel Embiid announced his decision yet?" The implied, though not stated, finish to that sentence is, "so that I can get on with my life already."
My guess is one of three possibilities comes close to the right answer.
Scenario No. 1: Maybe Embiid is waiting for his father to return from Cameroon so that he can attend the news conference. Thomas Embiid told the Journal-World's Gary Bedore at the Big 12 tournament in Kansas City that he would return to Kansas from Cameroon shortly after the completion of the NCAA Tournament. He did not say shortly after the end of KU's participation in it. Thomas might already have purchased the ticket for that trip well ahead of time. Why pay extra money to change it? It's a lot cheaper to buy in advance.
The tourney ended Monday night, so based on Joel's father's stated timetable, an announcement could come any time.
My guess is that this is the most likely scenario and that Embiid will announce his eligibility for the NBA Draft, but it's just a guess.
Scenario No. 2: Embiid has delayed his decision and really doesn't know yet what he wants to do.
The only reason to list that as a possibility was inspired by the words of his head coach, Bill Self, who at the Andrew Wiggins farewell send-off said of Wiggins, "He's got to get serious because this is no longer fun. It's fun, but it's also his profession. It's his trade. It's his job. ... If it were my son, I would tell him he's made the right decision. It's time. Now with that being said, there's also that time now you go from being a youngster to being a man and competing against men, so your approach has to change and be like a man's."
The coach returned to the theme a moment later, saying, "He's going to go into the next level with a lot of hype. And there are going to be a lot of men who say, 'Whoa, whoa, whoa now, rook; hey, I've been doing this for a long time, and you're going to have to earn your way.'"
Self went on to say he didn't think Wiggins would face anything he can't handle but stressed he has to be prepared, and that preparation begins "emotionally and mentally right now. He's got to understand that. It's fun and games. It's fun. Press conferences and announcements are good, but when this is over, it's time to get to work."
The on-target words were spoken about and to Wiggins, but were they aimed at Embiid, who was in the room?
Scenario 3: Embiid has decided he will return but wants to delay the announcement until the team banquet on Tuesday, April 15. This ranks as the most exciting and least likely possibility.
Twitter can be a valuable tool when playing the Embiid guessing game. Whatever "@jojo_embiid" tweets, the smart play is to go opposite. A playful sort, Embiid loves messing with followers in Twittersphere, or is it Twitterspace? Tweetopia? Twellonearth?