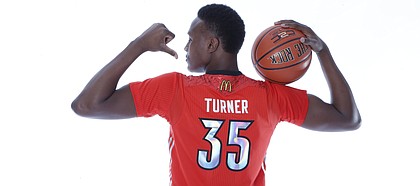 Chicago — Myles Turner has heard the talk that his college choices are down to Kansas University or Texas.
It did not originate from Myles Turner, nor, the highly ranked basketball recruit said, any representatives of Myles Turner.
"There are three people in my circle and I keep it real tight," Turner said, referring to himself and his parents. "Alternative sources, you never know what they might want out of it or who they know or what their ulterior motives are. Keeping a tight circle is very key in this whole process."
Tuesday was Media Day leading up to tonight's McDonald's High School All-American Games, and it came as no surprise the cameras and notebooks flocked to the only uncommitted player in the group.
If the 6-foot-11 shot blocker with three-point shooting range handles college basketball as well as he did the attention, whoever lands Turner may not have him for long.
The Euless, Texas native answered every question eloquently and still managed to say very little.
His recent visits to Kansas and Texas have fueled speculation that it's a two-horse race, but the No. 6-ranked prospect nationally by Rivals.com and Scout.com's No. 2 prospect insisted that isn't so.
"It is definitely a lot more open than that," said Turner, who also visited Duke and Oklahoma State this winter and Ohio State in the fall. "People assume it's Kansas and Texas because it's close to home, it's Big 12. I'm definitely looking at all my options. I don't even know where I'm going."
KU coach Bill Self's incoming recruits, Chicago power forward Cliff Alexander and Findlay Prep (Nev.) wing Kelly Oubre, are both McDonald's All-Americans, but there will be room for Turner — particularly if Joel Embiid joins Andrew Wiggins in the NBA Draft.
Turner did not discount the notion that Embiid's looming decision could impact his own.
"I feel that it is important to see who you're playing with and who you'll be playing around," Turner said. "I don't necessarily think anywhere can be too stacked, but at the same time it's good to know or have a good idea of who's coming in and who's going out."
Turner will play with Alexander and against Oubre tonight.
Self's two recruits have taken opposite approaches to playing recruiter this week, with Oubre "leaving it in God's hands," and Alexander giving the hard sell.
He's not the only one.
"Every now and then (Ohio State recruit) D'Angelo Russell will talk about Ohio State, a couple guys from Duke will talk about it, Cliff and Kelly will talk about Kansas from time to time," Turner said. "They'll do little stupid things like, 'If I make this shot, you have to commit to Ohio State.' Stuff like that."
Turner and a majority of the 24 McDonald's All-Americans will also participate in the Jordan Brand Classic on April 18.
He said he will make his decision sometime after that.
"I'm going to let it come when it comes," he said. "After the all-star games I'm going to sit down with my family and get it worked out."
This, that: KU signee Alexander, who hurt his right wrist in the dunk contest on Monday night, skipped Media Day and missed Tuesday's practice to go to the hospital to get his wrist X-rayed. McDonald's officials reported the injury appeared to be a bruise. Alexander tweeted on Tuesday that he would be able to play in tonight's game. He's going to wear a brace on his wrist ... Tip for tonight's game is 8:30 p.m. at United Center. It will be shown on ESPN. ... KU's Joel Embiid fooled around on Twitter on April Fools' Day. First he tweeted: "I think I'm going back to Africa for the rest of my life in 2 days so I'll miss y'all." Later he tweeted: "Time to make my decision and I decided to vxsfhjllggiifdsasewwfvookvgfff #sorry."