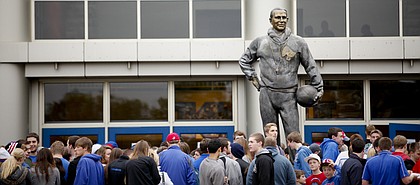 There's one sure-fire way to avoid standing in line for first-come, first-served seating at Kansas University's Late Night in the Phog basketball extravaganza, set for a week from today in Allen Fieldhouse.
It's by donating a minimum of $10,000 to KU's Williams Fund.
Fans who donate at the All-American level ($10,000 annually) may reserve two tickets to Late Night. Those who donate at the Champions level ($25,000) can reserve four tickets, while those who give at the Hall of Fame level ($50,000) can reserve six seats.
Exact seat number locations are printed on each ticket, with ushers making sure those designated seats are open until the ticket-holders arrive.
"The total number of tickets being reserved under this plan is give or take 1,100 out of 16,300 seats," KU associate athletic director Jim Marchiony said of the plan, in effect the past couple of seasons. "This is a way for us to recognize and show our appreciation to our major donors who do so much to help us provide the support we give to our coaches and student athletes.
"We are doing so with a very low percentage of the seats in Allen Fieldhouse so we can easily keep the spirit of a free public event while at the same time showing appreciation for these people," Marchiony added.
The donors' tickets are "in the second and third tiers. None of these tickets are in the lower courtside bleachers," Marchiony said of the donor tickets in sections 16, 17 and 18.
KU's men's and women's basketball teams also are allotted tickets for family members of players, coaches and recruits. Generally these seats are in the lower level near the two benches.
Doors for the 29th-annual Late Night will open at 5:30 p.m. a week from today, with the festivities to begin at 6:30. Admission is free, with no tickets to be distributed except for the above-mentioned individuals. Fans are asked to bring nonperishable food items, which KU will donate to Just Food of Douglas County. Just Food will also be outside Allen Fieldhouse taking cash donations for those not able to bring a food item.
Boot Camp FGCU-style: First-year Florida Gulf Coast coach Joe Dooley, who worked 10 seasons on Bill Self's KU coaching staff, brought Self's Boot Camp conditioning program with him to the Fort Myers, Fla., school.
The Gulf Coast players gathered at 6 a.m., Monday through Friday one week and returned for an encore session the ensuing Monday.
Like at KU, the anticipation of Boot Camp proved stressful for the players.
"He (Dooley) was always saying, 'The best way to get in shape is just playing basketball,'" Gulf Coast junior Nate Hicks told the Fort Myers News-Press. "But he would always throw in, 'And we're going to do a week of Boot Camp.' We've been not looking forward to that for a long time."
Asked by the News-Press if anybody puked during the rigorous early-morning conditioning workouts, Dooley said: "I would assume. I really don't pay attention to the minor details."
Second-year Tulsa coach Danny Manning, by the way, also held Boot Camp again this year. His went for two weeks.
"Boot Camp is about putting our guys in stressful situations — making them work in a duress type of state. We want these guys to become mentally tougher and have them push through some fatigue," Manning told the Tulsa World.
More on KU's Boot Camp: Wayne Selden, a 6-foot-5 freshman from Roxbury, Mass., on Wednesday reflected on KU's recent five-day Boot Camp.
"The first day was toughest day by far. All the older guys really helped us get through it," Selden said. "We going in had no clue what to expect. You hear about this dreaded Boot Camp.
"The morning of the first Boot Camp ... Boot Camp starts at 6. I woke up at 4:30 in a cold sweat. I couldn't go back to sleep. I was at the locker at 5 o'clock waiting. We all worked hard and got through it."
Practice starts today: Basketball season officially begins today, with 30 practices allowed before the first exhibition game. In the past, the season started on the Friday closest to Oct. 15. Since the start of the school year, teams have been able to practice two hours a week in accordance with NCAA rules.
"I'm in favor of it this year. If we have a lot of guys return, I would be against it next year," Self said of the early start, with a smile.
"I do think the season is too long. But the way they have done it in a way where you don't have so much stuff to cram in so fast. You can take your time and be a better teacher. Also you don't have to wear the guy's body out so much because you can be a day on and two days off until you get your body in shape to practice. It's going to be a situation where we will work them hard but there is no reason to have a 31⁄2-hour practice this early. We will probably have a hard day followed by a teaching day and so forth."
The NCAA wanted coaches to be able to work with the players earlier in the semester and at the same time allow players two days of rest per week, in theory the slower pace perhaps limiting injuries.
This also might encourage teams to play a tougher nonconference schedule. With more time to practice, teams in theory could schedule more competitive early-season contests, not needing to tune up against patsies.
"I think for a young team, you've got to be careful, because starting Sept. 27 as opposed to Oct. 18, which is what it'd have been this year, that's a lot more wear and tear," Self said. "To have a young team, we can get a lot accomplished hopefully before the start of the season maybe where we couldn't have in the past."
Player of Year: CBSsports.com on Thursday named KU's Andrew Wiggins preseason player of the year.
"I'm going to embrace it. I'm going to take it as a challenge. It's a lot to fulfill," Wiggins told the website. "But I don't think anything is out of reach for me."