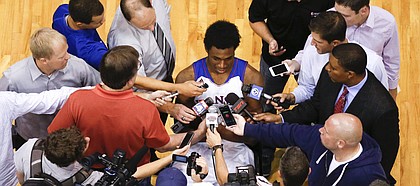 Photo Gallery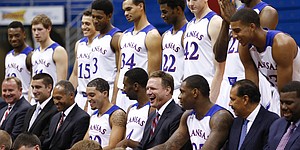 Kansas basketball Media Day
Images from Media Day with the Kansas men's basketball team.
Sitting on a raised chair, facing dozens of reporters, a weary Andrew Wiggins held court with the media for 30 minutes Wednesday afternoon in the southwest corner of Allen Fieldhouse.
The 6-foot-8 Kansas University freshman shooting guard, who has been under the weather the past couple of days — "I don't know what I've got," he said — never considered calling in sick with so many local, national and international (one TV crew from Canada) media members in town to meet with the No. 1 recruit in the Class of 2013 on men's basketball media day.
"I kind of forget about it when I'm practicing, but after that it hits me," said Wiggins, his eyes watering because of a bug that's had him chugging a lot of orange juice of late.
Even at less than 100 percent, he said he found all the attention flattering and humbling.
"It's cool. Any kid would like it. I think I'm just blessed to be in this position," Wiggins said.
Wiggins, who is expected to be the No. 1 pick in the 2014 NBA Draft, told the media he's not thinking about that much right now.
"I like college a lot. I'm having fun. A lot of people say college is when you are having the best time of your life," Wiggins said. "It's been great. Classes have been going well. Practice has been going well, so I'm enjoying it. Lawrence is a nice place. It's a small town. The people show a lot of love, appreciation," added the Thornhill, Ontario, native.
He was quick to speak of the big picture when asked his goals for his almost-certain one-and-done season at KU.
"I've got a lot of expectations for the team," Wiggins said. "We're a young team, but I know we can do a lot of damage. Play hard, win the Big 12, just win it all."
Wiggins — who averaged 23.4 points and 11.2 rebounds last season for Huntington (W. Va.) Prep (30-3) — says he's not bothered by being called the best high school player since LeBron James.
"There's pressure. Everyone thinks about it, but I try to block it out," Wiggins said. "I know I can't please everybody, so I just try to please the people around me that I know — my family, friends. This year when I have bad games or good games, people are going to love me, people are going to hate me, but my family (including brother, Nick, a Wichita State senior) is going to be there regardless for me every time."
Asked by a Canadian reporter specifically about James and Kevin Durant, Wiggins said modestly: "They know of me. That's interesting. That's a blessing, too — to have the best players in the world know about you."
There's been talk by some NBA writers that teams might "tank" this season in order to get a shot at Wiggins atop the NBA Draft board.
"I don't really think about it too much," Wiggins said. "I know no NBA team will just give the season up to get somebody, because I know people in the NBA. You can't tell the players not to play hard against somebody. They are going to play hard regardless because they want to win. It's every athlete's nature. We want to win."
Wiggins has the skills to lead the Jayhawks to a lot of victories.
"All he has to do is jump. He's skying over everybody," senior Niko Roberts said of Wiggins' performance in pick-up games. "He can do a lot of things. I think people will be surprised at the things he can do."
"He'll make some moves in pickup where you are just kind of, 'Wow,' where he shows off his athleticism," sophomore Tyler Self noted, "whether on the fast break, catching alley-oop passes or getting offensive rebounds. What is showing most so far is his athleticism."
As far as off the court ...
"He is probably the most uncocky, smartest player I've been around, especially for somebody who has the talent level he has," said point guard Roberts, who roomed with Wiggins at Jayhawker Towers during June and July before moving off campus for his senior year. "He doesn't really talk a lot. I'd walk into his room, and he'd just give me a big smile."
Wiggins' current roommate, Tyler Self, added: "He's kind of a quiet guy. I think he has to be comfortable around you before he lets his personality show. It's fun being his roommate. He's pretty normal I'd say. He plays a little Xbox, makes some food. He's real laid-back, modest. He fits in very well with this team."
Bill Self, rates Wiggins a "10" on coachability.
"All of our young kids have been 10s," Self said. "This has been a great group to work with, and if there is stubbornness, it has been strictly from a competitive standpoint, which I find to be pretty attractive. There hasn't been any stubbornness from a wanting-to-learn standpoint."
Self said Wiggins simply needs to bring it on every play.
"One thing with Andrew (Wiggins), he showed flashes of dominance in high school, but he didn't do it on a consistent basis. He's a guy that relies on athletic ability and turning it on when it needs to be turned on," Self said. "But when you get to this level and even at a very high level of high-quality ball, you have a lot of guys who play that way and you will never get it turned on. And so he has to become a consistent guy who needs to impact every possession in whatever way, shape or form he can. He's got to learn to compete in order to win every possession."
Wiggins, who said he's noticed "everybody is bigger, faster and stronger in college," tries to be a sponge around Self.
"He is a players' coach. He's taught me a lot since I've been here, on and off the court," Wiggins said. "It's been a joy playing for him so far."
And a joy being around his 17 teammates.
"This team ... we all roll as one unit," Wiggins said. "Everybody is cool. Nobody is left out."