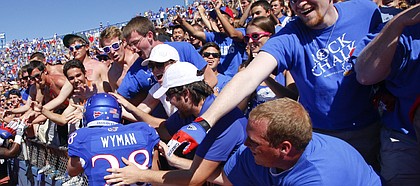 Photo Gallery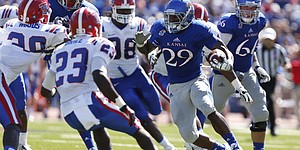 KU football v. Louisiana Tech
Images from Saturday's game against Louisiana Tech at Memorial Stadium.
Podcast
Press Conferences & Post-Game Interviews
Kansas football coach Charlie Weis talks after 13-10 win over LA Tech on Sept. 21, 2013.
Box score
It was far from pretty, even downright ugly at times, but it ended on one heck of a high note, as walk-on kicker Matthew Wyman drilled a 52-yard field goal as time expired that sent the Kansas University football team sprinting onto the field in celebration of its 13-10 victory over Louisiana Tech.
At a school like Kansas, where wins and feel-good moments have been hard to come by, Saturday's come-from-behind win in front of 39,823 fans at Memorial Stadium may have been just what the program needed. That it came in the most improbable manner imaginable only added to the Jayhawks' joy after their first victory over an FBS foe in the past 23 games.
"You know, I would like to win every game by four touchdowns and breathe easy," KU coach Charlie Weis said after his team improved to 2-1 on the season. "I'm too old, I'm in crummy shape, I don't need games like that. But that might be the best thing that happened for our team. I'm kind of counting on us being able to look back at this game and saying, 'That was the game where they turned the corner.' We've been waiting for one of those times, and I'm hoping that maybe today was the day."
For the better part of Saturday's victory, the Jayhawks played from behind and watched Louisiana Tech (1-3) control the game. The Bulldogs were tougher up front, more effective with their offense and opportunistic with their defense. But for the second straight week, the Kansas defense stood tall, keeping points off the board at key times and giving the Jayhawks a chance.
With a little more than 90 seconds left on the clock and Tech driving deep in KU territory for a game-winning score that seemed inevitable, KU junior Michael Reynolds ripped the ball out of the hands of Louisiana Tech running back Kenneth Dixon at the 5-yard line and Keon Stowers did the rest. After a scrum that started near the middle of the field and finished near the hash mark toward the Louisiana Tech sideline, Stowers emerged from the bottom of the pile with the ball and the look of a mad man.
"I kind of had a little bit of profanity in there so I don't think I can say it on record," said Stowers of his reaction to recovering the fumble. "I was just like, 'Let's go, let's go.' We fought to the end, and we (say) in practice, 'Finish the play. Never pull up,' and that was a perfect example."
The wild turn of events completely flipped the script for the Kansas offense.
"My stomach was churning, I was just willing something to happen," said quarterback Jake Heaps of the anxious moments before the fumble. "I felt helpless. But our defense has been playing great all season and they continue to make plays when we need it. It just goes to show that we're never out of a game."
The fumble recovery gave the Jayhawks a lift and, perhaps more importantly, gave the offense a chance to atone for a sub-par afternoon.
"Every single time we go out there, we're saying, 'This is the drive,'" said junior tight end Jimmay Mundine, whose 22-yard touchdown reception with 9:54 to play tied the game at 10. "And something we were talking about in the huddle during that TV timeout before the last drive started was how our day could be all centered off this one drive."
Added senior running back James Sims, who kick-started that final drive with 17 yards on back-to-back carries: "Our mentality when we went out there was, 'Let's win the game.'"
Because of the poor field position — something that plagued the Jayhawks all afternoon — Weis said his intention was to run out the clock and play for overtime. But the quick first down from Sims changed things and, with about a minute left, the Jayhawks shifted from survival mode to attack mode.
After Heaps gained five yards and another first down on the third play of the drive, the junior quarterback hit Josh Ford for eight yards and followed it up with a 29-yard pass to Tony Pierson, who led the Jayhawks with nine catches for 82 yards.
"They're the balls we haven't been coming up with," Weis said. "And today that wasn't the case."
Several Jayhawks had very different views of the pitch-and-catch to Pierson that set up Wyman's game-winner. Heaps said he was hesitant to throw the ball because of the tight coverage. Pierson shrugged and said he "just made a play." Junior receiver Rodriguez Coleman (two catches for 30 yards) said he remembered the play call from earlier in the game. And Stowers barely saw any of it because he was still amped up from the fumble recovery.
"I was running around," Stowers said. "I was still yelling, 'Let's go.' I was yelling at the players, yelling at the fans, yelling at anybody I could, because this is what it's all about."
The one thing they all could agree upon was the fact that they had faith in Wyman to drill the game-winner, even if it was from 52 yards away and even if he did miss a 28-yard try earlier in the game. That included Wyman.
"When they turned that ball over, I just kind of said, 'It's our time,'" the sophomore kicker said. "Right when that happened I thought I was going to get a chance."
Said Stowers of the kick: "I was 100-percent confident that Wyman was gonna make it. I'm pretty sure he's gonna be with me tonight because I gotta show him a good time."
And therein was the theme of KU's postgame vibe on Saturday. The coaches and players admitted that the win was not pretty, but they also emphasized that the name of the game is winning and they were not about to apologize for moving to 2-1 on the season or anything they did to celebrate it.
"When I first got here, we started practicing that in the spring, and everyone laughed at us and said, 'Look what they're practicing,'" Weis said of the wild celebration that came after Wyman's kick cleared the crossbar. "Well, there it was today. And that's what the locker room felt like. It felt like what you want it to feel like."