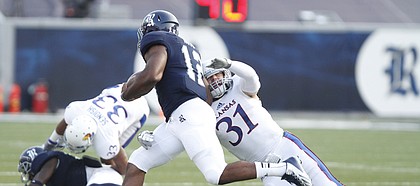 Three weeks into the college football season, Kansas University linebacker Ben Heeney leads the Big 12 in tackles per game (11) and is fourth in tackles for loss (3.5).
Last year, the Hutchinson native finished as the Big 12's third-leading tackler in his first season as a starter.
To say that Heeney has blown up during the past 13 months would be an understatement. But to say his overdrive attitude and blue-collar success came out of nowhere would be flat-out wrong.
Heeney began playing football in third grade. He played up with the fourth graders that season and, as his mother, Mitzi, put it, "was always the kid who would jump right in there and was never afraid to mix it up."
Kansas fans have become accustomed to watching No. 31 bring down the best of them — K-State's Collin Klein, Texas' Joe Bergeron, Rice's entire team — and Mitzi said her son had always played the game with the same wild-man mentality the junior linebacker is known for today.
"We have CDs of all of his little league games," Mitzi said. "And to see him play then and to see him play now, it's the same thing, just a smaller version."
Heeney first showed a fondness for physicality as a toddler. Heeney's older brother, Ty, and Mitzi recalled times when Heeney would react to not getting his way with a simple and direct gesture — banging his head into the ground.
"It was OK if we were inside because it was just on the carpet," Mitzi said. "But, occasionally, it happened outside on the concrete, and that didn't go so well."
Rather than coddle him, Mitzi often gave Heeney a look that said, "Hey, you did it to yourself." That might have been the early stages of Heeney understanding that inflicting pain on others was something he would rather do. And as the years went on, no one took more abuse from Heeney than Ty, a recent KU graduate who said it was "a surreal feeling" to watch his little brother star for his school and take down some of the biggest names in the Big 12.
"I don't feel bad for those guys at all, though," Ty clarified. "Because no matter how many tackles Ben gets, I'm probably gonna still be the all-time leader in takedowns for him. I don't think anybody's gonna catch as many hits as he delivered to me."
Heeney's dad, Joe, attributes part of his son's signature style to the family name but gives more credit to the football culture that exists in Hutch.
"Those boys grow up wanting to be a part of that football program, and I think that's a big deal," Joe said. "I know it was for Ben."
After starring from third grade on, Heeney became a three-year starter at Hutch High, spending his sophomore year starting in the secondary next to Ty. That also marked the first time Ty can remember backing off on some of the teasing that older siblings are obligated to dish out.
"I probably egged him on a little too much," said Ty said with a guilty laugh. "He was definitely a wrecking ball, a tornado. But I always held my own with him until then. We were constantly fighting and battling, and he really didn't have a lot of finesse early in life. He was always more into power."
Whether that showed while trying to hang with the older athletes or after the freak boating accident the summer before his junior year of high school that nearly cost him his chance to play sports altogether, Heeney's drive and determination shaped him into the 6-foot, 230-pound monster of a middle linebacker that Jayhawk fans watch today.
"That's what I'm used to seeing," KU coach Charlie Weis said of Heeney. "Those guys on Sunday, that's how they play. And when they come, they're coming with a vengeance. They're not just coming to hit ya. They're coming to knock you out. He's a pleasure to watch. You have to deal with him, but I'd rather him be on my team than somebody else's."
Added Heeney's father, who played baseball at KU: "I've felt the same way Charlie Weis feels many times."
Heeney's boating accident came six weeks to the day before Hutch High's season opener against Kansas City (Mo.) Rockhurst. While tubing with friends and family at Table Rock Lake on the Missouri-Arkansas border, Heeney's left leg was sliced open three inches deep and seven inches long at the thigh after he got caught in the boat's motor while climbing out of the water.
"It looked like he had been pulled under by a shark," Mitzi remembered.
It took more than an hour for Heeney to get to the nearest hospital, and, while en route, mother and son pondered very different things.
"It was a scary time," Mitzi said. "And I just remember thinking, 'Let him be OK.' I wasn't even worried about sports at the time, but I think that's all Ben thought about."
It was. After using 30 stitches to close the wound, doctors told Heeney and his family that his season could be in jeopardy. Wrong.
"I'm playing in the Rockhurst game," he told his family.
Six weeks and dozens of rehab sessions later, Heeney started against Rockhurst and helped lead the Salthawks to victory.
Already an animal on the field by that point, Heeney soon after received a scholarship offer from the school he always dreamed of attending.
It has not been all roses since then. Heeney barely played as a true freshman and had to prove himself when Weis took over for Turner Gill. But because of all he had been through, and, more importantly, because of the kind of hard-edged competitor he had become, Heeney barely blinked and kept working the way he always had. Eventually, that paid off, and now he's the anchor of an improving defense and one of the top players in the Big 12.
There were not many words spoken following Saturday's loss to Rice. Heeney was too upset to talk, and his family is now familiar enough with those moments — Heeney has lost more games in two seasons as a starter at Kansas than he did in his entire football career before college — to let him be and let him breathe.
Later, as Joe and Mitzi began their trip back to Kansas, Joe picked up the phone and sent his youngest son a text message. It read: I just want you to know you play the game the way it's supposed to be played and we love your effort.
Said Joe: "Watching him fly around against Rice, I just love the way he plays."