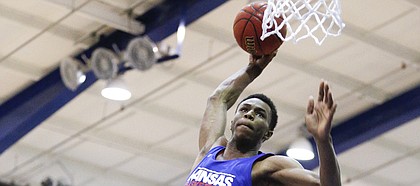 Kansas University freshmen Andrew Wiggins, Joel Embiid and Wayne Selden were included in ESPN.com analyst Chad Ford's first mock NBA Draft of the 2013-14 school year, which was released on Monday.
Wiggins, 6-foot-8, 200 pounds from Thornhill, Ontario, was projected as No. 1 pick in the 2014 draft; Embiid, 7-foot, 250 from Cameroon, No. 10; and Selden, 6-5, 230 from Roxbury, Mass., No. 19.
The draft is nine months away, on June 26 in New York. No second-round picks were included.
"Wiggins is one of the best prospects to come into the draft in a decade. He has NBA size, elite athletic ability and does just about everything well," Ford wrote Monday.
Of Embiid, Ford said: "Rick Pitino (Louisville) has said he believes Embiid will be the No. 2 pick. That might be a bit generous considering how raw Embiid is and the teams likely to be selecting at the top of the draft. However, if Embiid does blow up, he won't be around at No. 10."
And of Selden, Ford wrote: "A month ago, he wasn't on our initial Big Board. That prompted a number of calls from NBA scouts who had fallen in love with him this summer based on reports coming out of Lawrence and his play at Adidas Nations. He wasn't carrying this buzz out of high school, but the mood has definitely changed. A small number of scouts are convinced he could be a top 10 pick. Others are equally convinced he'll be a lethal scorer in college, but he'll struggle to translate his game to the next level. He could end up being one of the most polarizing players of this draft. It's rare to see scouts so divided so early in the process."
Kentucky is represented in Ford's mock draft by Julius Randle at No. 2, Andrew Harrison No. 7, Willie Cauley-Stein No. 12, Alex Poythress No. 22, James Young No. 24, Aaron Harrison No. 25 and Dakari Johnson No. 27.
Oklahoma State's Marcus Smart is No. 3 and Baylor's Isaiah Austin No. 20.
For Ford's NBA mock draft, click here.
Jersey talk?: KU freshman Wiggins modeled a 2013-14 KU jersey and shorts last week in a GQ Magazine photo shoot, which was captured by Kansas Athletics on its Instagram account. Yahoo.com's Jeff Eisenberg on Monday commented on some KU fans' complaints about shoulder stripes at the top of the jersey.
"The grousing is no surprise since most fan bases tend to be resistant to change, but the complaints over the shoulder stripe have merit. That's a pretty big departure for a prestigious program whose jerseys have been altered now and again over the years but have seldom went through such a drastic makeover," Eisenberg wrote.
To view Instagram video of Wiggins in the new jersey, click here.
No. 3 Johnson entertains coaches: Stanley Johnson, a 6-6 senior small forward from Mater Dei High in Santa Ana, Calif., will hold an in-home visit with KU coach Bill Self on Thursday, Rivals.com reports. The country's No. 3-rated player in the Class of 2014 visited with Arizona coaches Monday, will visit with USC and Florida today and Kentucky a week from Friday. Oregon and UCLA are also on the list of Johnson, who will sign in the spring.
In-homes aplenty: Self will visit the parents of No. 7-rated Rashad Vaughn (6-5, Findlay Prep High, Henderson, Nev.) in Vaughn's home state of Minnesota on Wednesday, Rivals.com reports. Baylor coaches visited Monday, while North Carolina will visit Saturday. He's also considering Iowa State, UNLV, Minnesota, Arizona, UConn, Georgetown, Kentucky and UCLA. Vaughn, who will sign in the spring, has set up visits to North Carolina (Sept. 27) and Baylor (Oct. 18). KU is also expected to visit No. 5 Tyus Jones (6-1 Apple Valley, Minn. High) Wednesday, Rivals.com indicated. KU's coaches were to visit No. 9 Justise Winslow (6-6 Houston St. John) and the family of No. 12 Kelly Oubre (6-7 Findlay Prep, Henderson, Nev.) on Monday in Texas as well as No. 1 Jahlil Okafor (6-10, Chicago Whitney Young) and No. 4 Cliff Alexander (6-8 Chicago Curie, No. 4) today.