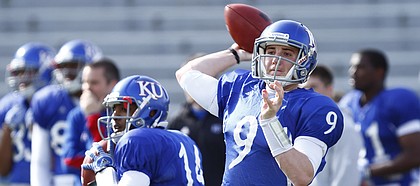 Kansas University quarterback Jake Heaps has been through this whole thing before. Just not at KU.
From the time he was a promising high school quarterback at Skyline High in Washington to his up-and-down days at BYU, all of Heaps' pregame routines have been nearly the same.
"For me, game days are actually really, really stressful because I'm very superstitious," Heaps said recently. "Everything has to be done a certain way, from the way I put on my pants and the exact order (to) the songs I listen to and everything. I'm always making sure those things are right and on point and everything like that."
Throughout the past several seasons — excluding 2012, when he sat out after transferring — Heaps has kept things pretty much the same during the final couple of hours before game time. That means the same songs on his iPod playlist, the same order of getting dressed, getting treatment and getting focused and, of course, the same butterflies that naturally come. The method works for KU's junior quarterback, but even he admits that it might not be for everybody.
"Hopefully guys aren't as meticulous as I am," he said. "But that's how I get ready for games. Sometimes I'll switch up a song or two or something like that, but really I try to stay to that routine as much as I possibly can."
Heaps kept his superstitions alive because they always led to pretty solid performances. In high school he became the No. 1-ranked quarterback in the nation, and at BYU he set several freshman passing records before leaving after his sophomore season. Heaps knows he's facing a different set of circumstances at KU than he ever has before. But his standards — particularly for himself — have not changed one bit.
"A perfect game would be not having to punt or not having to settle for a field goal," he said when asked about Saturday's 6 p.m. season opener against South Dakota at Memorial Stadium. "Any time we get into the red zone we want to score. We don't want to settle for field goals. We want to score and have a high percentage on third downs. When you do those two things, that's gonna lead to a lot of success."
As for whether he had picked out his playlist for the opener the way school children lay out their clothes before the first night of school, Heaps sheepishly confirmed his songs were selected, and his iPod was charged.
"I do," he said. "I'm ready to go. But I'll keep (the songs to myself)."
Slater listed at JC
It appears that the Pearce Slater saga may have finally reached its end.
Slater, the 6-foot-8, 340-pound tackle from El Camino Community College in California who reported to KU for a couple of days of practice in early August and then left to tend to a family medical emergency, not only is no longer on the KU roster but also recently showed up on El Camino's 2013 roster online.
It seems Slater, who many believe will be one of the top offensive linemen in the Class of 2014, will play another year of juco ball before trying out his talents at the Div. I level.
In other roster news, cornerback Nasir Moore also is no longer listed on KU's roster, but no word has been released about his absence.
TV clarification
For years, the section of KU's weekly game notes labeled "Television" has included the relevant broadcasting information for that week's game. But never before has the area been so large.
As KU prepares to roll out its first season of coverage on the newly revamped Jayhawk Network, people throughout the state — and even many parts of the country — continue to wonder whether they'll be able to see Saturday's game against South Dakota. The TV section of the game notes attempts to clarify that by listing the providers and even the channels showing the game.
It includes: Time Warner Cable – Ch. 30 (310 Digital); Metro Sports HD – Ch. 1310; Comcast Ch. 68 and 258 (Kan.); Comcast Ch. 44 and 258 (Mo.); Comcast HD Ch. 913; Cox Kansas 22; WOW Lawrence – Ch 37. The notes also indicate that out-of-state viewers can pick up the game on ESPN3.com and through the ESPN Game Plan.
Autographs
KU's men's basketball players will sign autographs in the Hy-Vee Hawk Zone from 4 to 5 p.m., Saturday outside Memorial Stadium. One item per person will be allowed in the line.