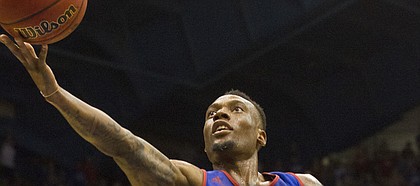 Kansas City, Mo. — Kansas University coach Bill Self expects more — much more — from point guard Naadir Tharpe in his junior season.
"I need Naadir to be our most valuable player," Self said Tuesday before the Coaches vs. Cancer Season Tipoff Reception at Municipal Auditorium. "Now, I didn't say best player, but he needs to be the guy that, regardless of the situation, it's hard for us to play without him."
Self hinted that Tharpe's experience and leadership could be valuable on a team that brings in six freshmen and is otherwise inexperienced at the point.
"Frank Mason is going to be a good player. He's going to come along and help us, but he's young and has got a lot to figure out," Self said. "Same with (Conner) Frankamp. So especially early in the season, Naadir probably needs to be as good as anybody on our team."
Tharpe averaged 5.5 points and 19.4 minutes off the bench last year. He also ranked third in the Big 12 in assist-to-turnover ratio (2.2).
"He's by far — by far — the best passer as far as creating shots for others of anybody we've had in recent memory," Self said of the 5-11 native of Worcester, Mass., "and we've got to figure out a way where he can get to the paint."
KU will practice Wednesday through Saturday, marking the first time this season that the Jayhawks have practiced four consecutive days.
"We need to figure out the nuts and bolts of who we are," Self said. "'OK, this is important. We don't give up easy baskets. We make the extra pass. We drive to pass. We try to get angles on the block.' Things that we know that's been successful for us over time.
"Right now, we're just out there, and we're not playing with any purpose, which I think is pretty normal after one week. We need to get to the point where we can start playing with some purpose."
Collins chimes in
Self wasn't the only one unhappy with his team's lack of defense in Friday night's Late Night in the Phog scrimmage at Allen Fieldhouse.
Former KU guard Sherron Collins, who watched from the stands, was frustrated as well.
"Sherron walked in the locker room right after. I said, 'What do you think?' He said, 'That's embarrassing. We don't play this way,'" Self said. "To me, that's good for those guys to hear, because we don't. One thing we've always taken pride in is, 'Hey, we're not going to let other people score.'"
Self put the Blue team's 66-40 victory over Crimson in perspective.
"If you play a 12-minute running clock — if the clock runs during substitutions and dead balls and free throws — that's probably the equivalent of about a 13-minute game. So to think that one team could give up 40 points in a 13-minute game? Think about that," Self said. "That's probably on pace for 55 a half. Well the other team gave up 66, which is on pace for 90 in a half. And that's not how we play.
"I think the guys kind of thought, even though I encouraged them not to think this way, that, 'Hey, we're just out here to have some fun and put on a show.' To me, that's not what ball is all about, and they know that now."
KU healthy
Self said the Jayhawks, who have had a two-on, one-off practice schedule recently, are "actually as healthy as we've been."
"I haven't pushed them to the point where I think I'm beating them up yet," Self said with a smile. "But we've got to get to that. In two weeks, we need to be ready to have our practices to prepare us for the season. Right now, it's too long of a year. We're not quite there yet."
On Late Night fixes
Self reiterated that KU would continue to look at ways to change how fans get into Late Night, as many people who waited for hours to get in were left outside the building after fans behind them cut in line and bum-rushed the doors.
"We're going to have to do something as far as maybe passing out a voucher or a ticket as they wait in line to make sure they can get in," Self said. "I don't know exactly how it'll work, but it'll work. It's not broken by any stretch, but it is something that needs to be addressed."