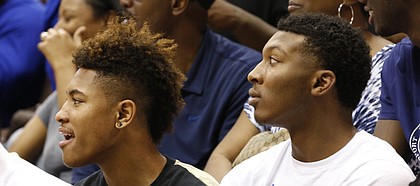 Blue-chip basketball shooting guard Kelly Oubre, a 6-foot-7 senior wing from Findlay Prep in Henderson, Nev., who has pared his list of prospective colleges to Kansas and Kentucky, is expected to announce his college choice this afternoon.
Jayhawkslant.com has reported the time as 3 p.m. It's possible the news will come via Twitter. Kelly has used Twitter as his means of communication before. He caused quite a stir on Twitter on Monday night, writing, "Big News Tomorrow!!"
Oubre, who is ranked No. 12 nationally by Rivals.com, said at USA Basketball's developmental camp in Colorado Springs on Sunday how much he was impressed by his Thursday-Saturday visit to KU.
He said KU coach Bill Self explained that, if he chose KU, he'd be ticketed to take over for one-and-done sensation Andrew Wiggins on the wing next season.
He had a visit scheduled to Kentucky on Oct. 18, but several recruiting analysts reported this morning that Oubre had canceled his visit to Kentucky and would be announcing his decision sometime today.
Oubre told Eric Bossi of Rivals.com he learned a lot about KU by attending two practices last weekend.
"I got to see how they get after it, how hard coach (Bill) Self is right now," Oubre said. "They are going to have a great team. I got to see the guys, the brotherhood they are forming right now. A lot of freshmen are starting to get used to their roles. It was a great experience for me. I enjoyed it a lot. They treated me well (on visit).
"Late Night in the Phog was great," Oubre added. "When we walked in, they (fans) gave a standing ovation. There was a good vibe in there (Allen Fieldhouse). They love their team. They love their city. They love everything about Kansas. I just like the feeling when I was in there."
Perhaps as a hint of where he's leaning, Oubre has the words "9 and counting" under his name on his Twitter account. That could be referring to KU's nine consecutive league titles.
Alexander cuts Zona: Blue-chip basketball power forward Cliff Alexander sliced Arizona from his list of prospective colleges Monday, leaving five finalists.
"TOP 5 schools NO ORDER!!! Illinois, DePaul, Michigan State, Kansas, Memphis," the 6-foot-8 Chicago Curie High senior reported on Twitter.
Alexander reported on Twitter this morning that he would announce his college choice on Nov. 20 on ESPN. Later in the morning he switched the date, saying he would announce on his birthday, Nov. 16.
Curie coach Mike Oliver told ESPN.com he believed Rivals.com's No. 4-rated player would release a top three list by Nov. 1.
"He's gone to DePaul and Kansas, and he liked both of them guys," Oliver said. "He's got two left with Illinois (Oct. 26) and Memphis (Oct. 18) coming up. He's liked Michigan State from Day One."
Alexander's AAU coach, Mike Irvin, told the Chicago Tribune all five schools have a "legitimate" shot at signing Alexander.
"There is something he likes about all five," Irvin told the Trib. "He doesn't want to make a quick decision. This is his career."
Alexander definitely is planning on just one year in college.
"He's already physically ready (for NBA)," Irvin told the Trib. "If they still had the rule that you could go straight out of high school, he'd put his name in and probably be a top five pick."
Package deal remains: No. 1-ranked Jahlil Okafor, a 6-10 senior from Chicago Whitney Young, reiterated to Rivals.com on Sunday that he's going to go to the same school as Tyus Jones, a 6-1 senior point guard from Apple Valley (Minn.) High. The two, who are considering KU, Kentucky, Duke and Baylor, will visit KU on Oct. 18 and Duke on Oct. 25.
"Hopefully our last two visits will make our decision a little clearer," Okafor told Rivals.com's Eric Bossi. "Hopefully by November we can have our mind made up and we can announce.
"He's like my brother," Okafor added of Jones. "We've been saying it since freshman year. Everybody doubted us, said they'd break up eventually, won't do what they say they'll do. He's still my brother; one of my best friends. It's pretty definitive we're going to the same school."
Okafor said on visits, "I like to see how players interact with the coaches, visit with them away from their coaches. (He asks players), 'Do coaches keep the promises they made? Do they change when you got there?' See if they (players) like each other. I want to have good chemistry when I go to college. I want to win national championship. I know that starts with chemistry."
Elijah leaves Poland: Former KU guard Elijah Johnson is no longer on the roster of Anwil Wloclawek, a professional team based in Wloclawek, Poland, the team reported on its website.
The website indicated Johnson, "had problems of acclimation and accepting a role on the team preferring to separate himself from the party (organization)."
Collins at practice: Former KU guard Sherron Collins, who attended Friday's Late Night in the Phog, tweeted Monday that he worked out Monday with the Jayhawks.
"Practice with Kansas men's basketball team today. They are really good," Collins tweeted.
He has yet to sign with any pro team this season.