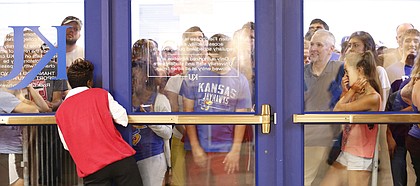 Kansas University associate athletic director, public affairs Jim Marchiony issued a statement Monday addressing problems related to fans storming the various entrances of Allen Fieldhouse for general admission seating at Friday's Late Night in the Phog:
"We appreciate and share the concerns some have expressed about entry into Friday night's Late Night in the Phog," the statement began. "We constantly critique ourselves, looking for ways to improve how we conduct our events. Clearly the procedures Kansas Athletics has used effectively for many years at Late Night did not work effectively Friday night. As a result we will review and address all facets of the event, including communication, security, and even whether it should remain a general-admission, no-ticket event.
"Late Night is a terrific event that our fans look forward to and enjoy every year. We want to keep it that way - allowing as many fans as possible to be a part of it - while at the same time addressing what must be our Number One concern: the safety of those fans."
Marchiony said charging admission has not been discussed as an option.
The event is general admission for the most part, with about 1,000 tickets distributed for donors in the top three giving levels. Also, some seats are reserved for recruits and their families and family members of players and coaches. Tickets are given to those individuals. Marchiony did say in an interview after release of the statement that KU officials were disappointed at reports that some fans charged to the front of the line once the doors opened. A dangerous situation was created at some entrances with fans storming into the building.
"We wouldn't have to be talking about this if that behavior hadn't manifested itself. But we also have to look at how we conduct the event and make judgments going forward," Marchiony said.