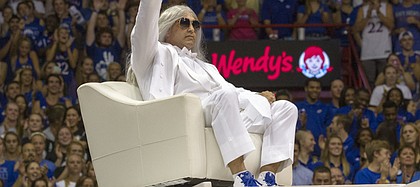 Late Night leftovers. ...
Actor Rob Riggle, who drew rave reviews for his work as host of the 2012 ESPY Awards, had a stellar encore performance at Friday's 2013 Late Night in the Phog.
The 1992 Kansas University graduate out of Shawnee Mission South received a thunderous ovation from 16,300 fans as he was carried into Allen Fieldhouse on a white chair while wearing a white wig, white coat and slacks.
"Rob Riggle is a comedian. Rob Riggle is an actor. Rob Riggle is a United States Marine (lieutenant colonel). Rob Riggle is a Jayhawk. Tonight, Rob Riggle is your host," proclaimed an intro video on the center videoboard.
"I love this place, so much you have no idea. I used to watch every game in that section there," Riggle told the fans, pointing to the northwest bleachers, upper deck. "I used to sit there and dream that one day I'd be carried into Allen Fieldhouse on a white throne in a white tuxedo to 'Thunderstruck.'
"It's the greatest place on earth to play basketball, and it's because of you (fans) ... this is basketball paradise. We have the greatest fans in the world, greatest team in the world. Now that we stopped playing Missouri, we finally got rid of that smell," Riggle added to laughter. "KU is where basketball is perfected; K-State is where basketball is attempted. Enough about teams we're better than. Tonight is about the Kansas Jayhawks."
Dancing: KU's players each took part in a Late Night dance routine. Conner Frankamp, Christian Garrett, Evan Manning, Hunter Mickelson and Tyler Self wore red coats, black pants, black hats and black adidas shoes in their number; Tarik Black, Perry Ellis, Joel Embiid, Justin Wesley and Andrew Wiggins wore tuxedos.
"I enjoyed myself tonight, dancing in front of the crowd, getting them hyped up. That's what it's about, the fans," sophomore Andrew White III said. "You get that fan support, it's a great feeling. The least we can do is compete hard and carry it through the season."
Noted coach Bill Self: "Considering I actually judged 'Dancing with the Stars' one year at Late Night, I'd say I'd give it (best dancer) to Naadir (Tharpe). Naadir probably has more talent when it comes to that stuff than anybody else."
No D: As far as the 20-minute scrimmage, Tharpe's Blue team actually hit 30 of 40 shots for 75 percent in a 66-40 victory over the Crimson squad, which hit 18 of 32 shots for 56.3 percent.
"It doesn't mean anything at all. We made shots tonight, I guess," Tharpe said. "It won't be like that when it comes time for the season at all."
Self was dismayed by the defense, or lack of it.
"We've spent a lot more time on offense so far. I think we can get them to guard," Self said. "This has a chance to be a great defensive team. We're quick and long. You can't give up layups. All that was was a layup line.
"I think patience is important when coaching a young team," added Self. "We can also make excuses for guys and say they are young. A lot of times with a young team you show less patience ... that way the tone is set on how you want them to be. I've probably done them a disservice being too patient with them. This is where it gets tricky. As a coach you see where they can be potentially. Sometimes you get impatient. You forget the process takes time. With young kids, it takes time. I have to be patient in many regards but not tolerate not trying."
Recruiting: Kelly Oubre, a 6-7 shooting guard from Findlay Prep in Henderson, Nev., ended his Thursday-Saturday campus visit Saturday morning so he could fly to Colorado Springs to compete in USA Basketball's developmental minicamp. Oubre, who will visit Kentucky for Big Blue Madness on Oct. 18, told Rivals.com's Eric Bossi that KU and Kentucky were his co-leaders.
"Kelly Oubre had a 4:30 am wake up call to get here from Kansas official. He packed his flamethrower. Shoots so similar to young Kareem Rush," tweeted Eric Bossi of Rivals.com, who is attending the Colorado camp.
Okafor down to four: Jahlil Okafor, a 6-10 senior center from Chicago Whitney Young, has narrowed his list of schools to four: KU, Kentucky, Baylor and Duke, several recruiting analysts reported Saturday. He's Rivals.com's No. 1-rated player nationally.