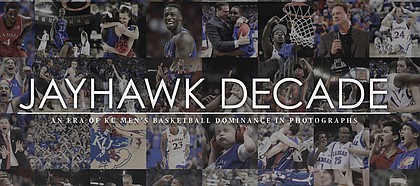 Looking through images I've made during 359 games has taught me a lesson about being somewhat selective while shooting, but I also learned a little about the importance of meticulous archiving practices.
If I had known that I'd be going through a quarter of a million Kansas University basketball images, I might have asked my younger self and some of my current and former colleagues to go a little easier on the shutter button.
Today, we released a photo book, "Jayhawk Decade." It's a compilation of our best images and best quotes along with commentary about the defining moments, best games and beloved personalities from the Bill Self era. By no coincidence, it stands as the winningest ten-year stretch in KU basketball history. We did the math.
Favorite images
Every photographer carries a special relationship with his or her photos.
Something about the moment, the subject matter or an indescribable feeling compels one to compose, focus and shoot. In the case of documenting a team with the most devoted of fans, certain images go further in establishing a great human connection than any dunk ever could.
Nobody beat their chest harder or stared down an opponent with more intensity than Sherron Collins. Never before have I seen a player feed off the electricity of the big moment and being the go-to guy for his team. On his senior night I saw Collins walk out to the weighty applause of the fieldhouse crowd and then, with tears in his eyes and overcome with emotion, watched him comforted by Bill Self. Photo Chief Mike Yoder also has a nice shot of the senior point guard wrapped up in the arms of his buddy Cole Aldrich before leaving the floor for the final time. To me, the images are a powerful testament to the love a coach has for a strong-willed player, the bond between two team leaders, but also the irreplaceable warmth of playing before 16,300 fans who knew him by his first name.
Another favorite focuses on Thomas Robinson, a player with tremendous athletic ability, who emerged from being the guy who gave the Morris brothers a break one season to a national player-of-the-year contender the next, all the while dealing with the enormous personal loss following the death of his mother. While covering an NCAA practice in Omaha I saw him walking under the hallway lights to the court, and I remember thinking that he looked like a guy with the weight of the world on his back.
Finally, an image by Thad Allender early in the book is simply a shot of Bill Self reading through mail at his desk on the day he moved into his office. Surrounding him are blank walls with little divots where various photographs and pieces of memorabilia from the Roy Williams era had hung. One could argue that many people were shaky on his hiring during those first few years, especially after replacing a four-time Final Four coach like Williams. I'm not sure what the current situation would look like if they had hired a different guy. But I seriously doubt that we would be putting out a book of images on the winningest decade in KU basketball history.
"Jayhawk Decade" can be ordered online at ljworldstore.com or by calling 800-578-8748 or 843-1000. Copies also can be purchased at the Lawrence Journal-World, 645 New Hampshire. Retail locations in Lawrence include Hy-Vee stores, KU Bookstore locations, Allen Fieldhouse Store, Kansas Sampler, Jayhawk Bookstore, Framewoods Gallery, Lawrence Memorial Hospital Gift Shop, and Weaver's.