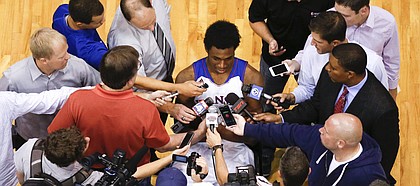 Kansas University freshman Andrew Wiggins was named Big 12 preseason freshman of the year and senior Tarik Black newcomer of the year on Thursday in a vote of conference coaches.
Wiggins, a 6-foot-8 guard from Thornhill, Ontario, also was named to the all-league team with preseason player of the year Marcus Smart and Markel Brown, both of Oklahoma State, plus Baylor's Isaiah Austin and Cory Jefferson and Iowa State's Melvin Ejim.
KU's Perry Ellis and Joel Embiid earned honorable mention all-league with Michael Cobbins and LeBryan Nash (OSU), Shane Southwell (Kansas State) and Eron Harris (West Virginia).
"I'm honored that the Big 12 coaches recognize my potential," Wiggins said Thursday after becoming the first freshman in Big 12 history to be named preseason all-league. "I'm glad to see Tarik, Perry and Joel also in there. There are a lot of great freshmen in the league and especially here at Kansas. Any one of my fellow freshmen teammates could have also been on this list."
Black, 6-9, is immediately eligible after transferring from Memphis, where he earned an undergraduate degree.
"It's an honor," Black said. "I feel it's a blessing to even be considered somebody that's even worth mentioning. I take it all in stride. At the same time if it wasn't for a team like this put together I wouldn't be up for something like this. The team around me is what makes me seem like a good player. Really, truly, it's all of us coming together forever," Black added.
Conference coaches were not allowed to vote for players on their own team. There was a tie in the voting for the all-league team, accounting for six players.
"That is a pretty solid first team, and it's great to see a freshman get named to the first team in Andrew," KU coach Bill Self said. "It's also good to see Tarik, Perry and Joel recognized but, like all preseason stuff, we won't take anything from this because it's based on potential. Now you have to go prove it."
---
Preseason Player of the Year
Marcus Smart, Oklahoma State
Preseason Newcomer of the Year
Tarik Black, Kansas
Preseason Freshman of the Year
Andrew Wiggins, Kansas
2013-14 Preseason All-Big 12 Team
Isaiah Austin, Baylor, C
Cory Jefferson, Baylor, F
Melvin Ejim, Iowa State, F
Andrew Wiggins, Kansas, G
Markel Brown, Oklahoma State, G
Marcus Smart, Oklahoma State, G
Honorable Mention (listed alphabetically by school):
Perry Ellis and Joel Embiid, Kansas; Shane Southwell, K-State; Michael Cobbins and Le'Bryan Nash, Oklahoma State, Eron Harris, West Virginia.
* — A tie in the voting created a six-member preseason team.