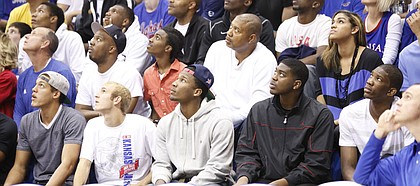 Late Night in the Phog has closed the deal, so to speak, for many Kansas University basketball recruits throughout the years.
"I made my official visit to KU for Late Night. That was a good experience. It was intense. It was a different level," said KU freshman Wayne Selden, a 6-foot-5 freshman guard from Roxbury, Mass., who actually orally committed to KU last Oct. 13 — the day after being blown away by Late Night 2012.
"I'm excited. I can't wait to be a part of it this year," Selden added.
Selden — he chose KU over Ohio State, Florida, UCLA, Syracuse and Missouri — this Friday will be helping host a batch of KU prospects who will be making official and unofficial recruiting visits.
As reported Monday, three of Rivals.com's top-ranked high school seniors — No. 4 Cliff Alexander, 6-8 power forward from Chicago Curie High; No. 12 Kelly Oubre, 6-7 shooting guard from Findlay Prep in Henderson, Nev.; and No. 17 Malik Pope, 6-8 small forward from Laguna Creek High in Elk Grove, Calif. — will be in the stands for the 6:30 p.m. Late Night.
A batch of juniors likely to attend Late Night as identified by Rivals.com: No. 11-rated (in Class of 2015) Charles Matthews, 6-4, combo guard, Chicago St. Rita; No. 14 King McClure, 6-3 combo guard, Dallas Triple A Academy; No. 39 William Jackson, 6-4 point guard, Athens (Ga) Christian School and No. 68 Jarvis Johnson, 6-1 point guard, Minneapolis (Minn.) De La Salle. No. 9 Elijah Thomas, 6-9 forward, Lancaster (Texas) High, hopes he'll be able to attend.
Conference chatter: CBSsports.com's college basketball analysts predicted champions in the country's conferences on Monday. Gary Parrish, Jeff Borzello, Matt Norlander, Jerry Palm and Jon Rothstein picked KU to win the Big 12 for a 10th-straight season; Doug Gottlieb went with his alma mater, Oklahoma State.
Rayford to be honored: Former KU point guard Calvin Rayford will be inducted into the Wisconsin Basketball Coaches Association Hall of Fame on Saturday at Chula Vista Resort in Wisconsin Dells.
"I'm very humbled, very excited about getting this honor," Rayford, a former McDonald's All-American out of Milwaukee's Washington High, told the Milwaukee Journal-Sentinel.
"To me this is another chapter in my life. It lets the kids know that you never know what will happen 20 years later if you handle your business off the court," added Rayford, a teacher at LaFollette Elementary School in Milwaukee.
"I'm teaching seventh and eighth grade, all subjects and I'm loving it," the 1996 KU graduate in criminal justice told the Journal-Sentinel. "I taught the sixth-graders here last year, so most of the kids I'm familiar with. I love coming in the inner city and MPS (Milwaukee Public Schools). A lot of people say MPS is not good, they don't have a good education, but I'm a product of MPS. To see me coming from the projects and graduating from MPS and college, and to still be getting recognized 20 years later, it's a good feeling."
To read the J-S on Rayford, click here.
Slam dunk: Former KU guard Ben McLemore and Sacramento Kings teammate Patrick Patterson played a joke on teammate Travis Outlaw Monday at Kings' Media Day. As Patterson stood behind Outlaw wearing a hoop apparatus, McLemore sprinted onto the scene and dunked over Outlaw, "posterizing" Outlaw on the mini-hoop. To see the video, click here.
Another Jayhawk in the NBA, Phoenix forward Markieff Morris, wore a Halloween costume to Suns' Media Day. To see him with a cape and fangs, click here.