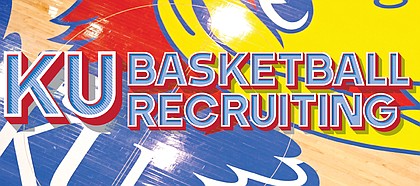 Elite prospects Andrew Wiggins, Julius Randle, Aaron Gordon, Jabari Parker and the Harrison twins — Andrew and Aaron — headlined the college basketball recruiting Class of 2013.
Blue-chippers Jahlil Okafor, Emmanuel Mudiay, Stanley Johnson, Cliff Alexander, Tyus Jones, Myles Turner and Rashad Vaughn lead the list in 2014.
The elite talent at the top has made some folks wonder if there are more program-changers in high school than ever before.
"I think it's cyclical," KU coach Bill Self said Friday on Jim Rome's national radio show. "There may not be a better high school class ever than 1979. That was Isiah (Thomas) and Clark Kellogg and Ralph Sampson and some of those guys.
"You look at '81 and (Patrick) Ewing and (Charles) Barkley and (Michael) Jordan and (Chris) Mullin and those guys.
"I think there's more good players today than there ever have been," Self added, "because more kids are playing, and training is so much better for young kids, and they are getting so much exposure. Whether or not we (continue to) have the top-heavy classes every year, I don't know if that will happen because it's cyclical, but this past year's class is so top-heavy, and next year's class is top-heavy as well. It appears to me there are just more really gifted kids out there right now.
"There always will be 50 guys that have a chance to be pros playing high school ball every year because there always will be that potential with these kids," Self added.
Iona invades Tuesday: KU (2-0) will meet Iona (1-1), a team that returns five of its top seven scorers from last year's Metro Atlantic Athletic Conference championship team, at 7 p.m. Tuesday, in Allen Fieldhouse.
Iona defeated Wofford, 76-55, on Saturday in the Gaels' Hynes Center in New Rochelle, N.Y., after dropping its opener, 73-69, at Cleveland State. Iona led, 44-29, at halftime of the CSU game.
Iona, which is led by fourth-year coach Tim Cluess (68-35), was picked second of 11 teams in the MAAC preseason coaches poll.
Sean Armand, a 6-5 senior from Brooklyn, N.Y., averages 18.0 points a game in two games. David Laury, a 6-9 junior from East Orange, N.J., averages 17.0 ppg and 8.5 rebounds. Isaiah Williams, a 6-7 sophomore from Newark, N.J., contributes 13.5 ppg and 6.0 boards. Other starters are Tre Bowman, a 6-5 senior from York, Pa., who averages 9.5 ppg and 4.0 rpg, and A.J. English, a 6-4 soph from Wilmington, Del., who averages 5.5 ppg and 3.5 rpg.
Iona's KU ties: Iona College president Joseph E. Nyre is a KU graduate. Nyre received both an Ed.S. (1996) and Ph.D. (1999) from KU in school psychology before completing post-doctoral fellowships at both KU and Harvard Medical School. Nyre has been at Iona since 2011.
"I'm pleased to be returning to my alma mater and to Lawrence with the Iona Gaels," Nyre said. "Basketball is so much a part of the fabric of both KU and Iona, and I'm looking forward to sharing Iona with Kansas and Kansas with Iona."
He has a bachelor's in psychology from University of Wisconsin, LaCrosse in 1991. Nyre, who also served in the Navy and Navy reserves for six years, is the first non-Christian Brother selected to lead Iona. Iona, which has an enrollment of 3,018, is a four-year private school in the tradition of the Edmund Rice Christian Brothers and American Catholic higher education.
KU leads the all-time series, 2-1. KU defeated the Gaels, 86-62, in the 1988 BMA Holiday Classic at Kemper Arena in Kansas City, Mo. In 1980 and 1981, the two schools played a home-and-home series. KU lost, 81-77, on Feb. 7, 1980 in New York and won, 94-64, the following season in Allen.
Self awarded: Self on being named upcoming recipient of the Wayman Tisdale Humanitarian Award on April 14 in Oklahoma City: "I don't know why they picked me, but I'm overwhelmed and humbled to have a chance to receive an award with his name on it," Self said of former Oklahoma standout Tisdale, who died in 2009. "Wayman wouldn't light up a room, he'd light up a building when he walked in. From a person standpoint, I don't think there's anybody more contagious in terms of enthusiasm and energy. He was one of a kind."
Self is being honored by the country's college basketball writers for his coaching as well as work with his Assists Foundation and Coaches V. Cancer and the V Foundation for Cancer Research.
Lyle update: Zagsblog.com reports that KU assistant Jerrance Howard was in Frankfort, Ky., on Sunday to watch prospect JaQuan Lyle play for Huntington (W.Va.) Prep. Assistants from Oregon and West Virginia on Saturday watched the 6-foot-5 Lyle score 15 points in Huntington Prep's 64-43 win over St. Louis Christian.
"Now that Kansas is out of the Tyus Jones Sweepstakes, they are re-focusing on Lyle, who is expected to sign in the spring," Zagsblog.com writes. "Lyle and Kansas signee Cliff Alexander talked about a possible package deal, and it appears that could still happen with the Jayhawks."
Lyle, who is ranked No. 22 nationally, initially committed to Louisville, but has since decommitted.