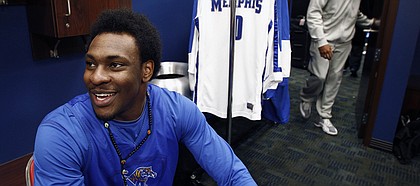 Kansas University's 2013-14 basketball team, which is being billed as one of the youngest squads in school history, added experience Monday afternoon: University of Memphis transfer Tarik Black.
The 6-foot-9, 262-pound senior-to-be, who averaged 8.1 points and 4.8 rebounds while starting five games and coming off the bench in 27 contests last season, chose KU over Duke, Oregon, Ohio State and Georgetown. He's taking advantage of an NCAA rule that allows players to switch schools their senior seasons and be immediately eligible, provided they have an undergraduate degree.
Black graduated in the field of organizational leadership earlier this month, thus will be eligible to play in games in 2013-14 — his one and only season at KU.
"We are thrilled he has chosen to play his final year of college basketball at KU," said Kansas coach Bill Self, who has seven scholarship freshmen, three sophomores and two juniors on the roster, with Black the only scholarship senior. "He will be a huge addition both physically and emotionally, especially from a leadership standpoint, as he will be the most experienced guy on our team entering next season."
Black hit 58.9 percent of his floor shots (103 of 175, second-best mark on team) last season while logging 20.8 minutes a game for Memphis (31-5). He hit 52 of 116 free throws for 44.8 percent.
"Tarik has played in a ton of big games and certainly has had a good experience at Memphis," Self said of the Memphis Ridgeway High graduate who was ranked No. 54 in the Class of 2010 by Rivals.com.
"He's used to winning and can help us in both of our big positions. He can play the four and the five (big forward and center), and we look forward to moving him around. He'll be an impact player that certainly changes the outlook of our team and makes us more versatile."
Black, who is a Memphis native, played against KU as a freshman. He scored eight points off 3-of-9 shooting (2-of-2 from the line) with four rebounds and four fouls in 21 minutes of the Tigers' 81-68 loss to the Jayhawks in New York's Madison Square Garden.
"Tarik had a very good experience at Memphis playing for Josh Pastner," Self said of Black, whose best season at Memphis came in 2011-12, when he averaged 10.7 points off 68.9 percent shooting. "He was a great high school player under Wes Henning at Ridgeway, and I think his transition will be smooth."
Black was named second-team All-Conference USA in 2012 and was also named to Conference USA's all-defensive team. In 2011, Black was named to the league's all-freshman team after he averaged 9.1 points and 5.0 rebounds. He is expected to be the leader of a young frontcourt that includes freshman 7-footer Joel Embiid, sophomore Perry Ellis, third-year sophomore Jamari Traylor and red-shirt freshman Landen Lucas. Another forward is senior-to-be Justin Wesley, who was on scholarship the past two seasons after arriving as a walk-on.
"Tarik is a very good player. I expect him to have a really good year with Kansas and coach Self. He gets to play for a Hall of Fame coach, and I wish him nothing but the best," Pastner told the Journal-World on Monday in a phone interview.
Describing Black the player, Pastner said: "He is a banger, a big body. He seals you deep. He's hard to get around."
He said Black's free-throw-shooting percentage wasn't necessarily a huge problem.
"He hasn't been a real good free-throw shooter here," Pastner said, "but he's made some free throws when he needed to."
According to the Memphis Commercial Appeal, Black lost his starting spot after an incident in which he walked out of practice. He never made his way back to that position.
Black had six points and two rebounds in the Tigers' 70-48 loss to Michigan State in the 2013 NCAA Tournament.
"It is critical that I find a program that offers me the greatest chance of taking what I have learned over the last three years to the highest level," Black said when he announced his decision to leave. He did not comment on his decision to transfer Monday.
"Could I remain at Memphis and achieve the same? Quite possibly. But since as a graduate student I can play ball immediately next year, why not take advantage of this unique situation to gain a new perspective so that I can combine what I've learned at the U of M and what I will learn wherever I am next year in hopes of enhancing my versatility as a student-athlete?"
Black at the time said: "I do not consider this a farewell. It's just a brief intermission until I come back home. I love my hometown and want you to know that wherever I go, my heart and soul will always be right here in Memphis."
Tragedy in Oklahoma: Self, who was born and raised in Oklahoma, was saddened by the weather-related deaths of the past two days.
"Although excited (about signing Black), our enthusiasm is tempered by what is happening just south of Oklahoma City in Moore, Okla., with the devastation of the storms and all those families involved," Self said. "We wish nothing but the very best for them and our thoughts are with them."
Self said none of his family members in Oklahoma were affected by the tornadoes.
The class: The signing of Black to a financial aid agreement means KU's 13 scholarships are filled for next season.
KU has a recruiting class of Black plus No. 1-rated Andrew Wiggins, a 6-7 guard from Huntington (W.Va.) Prep, No. 12 Wayne Selden (G, 6-5, 205, Tilton (N.H.) School), No. 25 Embiid (C, 7-foot, 220, Rock School, Gainesville, Fla.), No. 29 Brannen Greene (F, 6-7, 200, Tift County High, Tifton, Ga.), No. 34 Conner Frankamp (G, 6-foot, 160, Wichita North) and No. 76 Frank Mason (G, 5-11, 180, Massanutten Military Academy, Petersburg, Va.). KU has also added former Arkansas center Hunter Mickelson, who will sit out next season then have two years of eligibility remaining.
Parade honorees: KU signees Wiggins, Greene and Frankamp were named to Parade Magazine's All-America team. Ottawa's Semi Ojeleye, who is headed to Duke, was named player of the year.