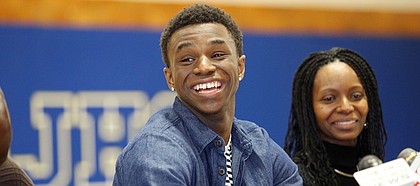 Andrew Wiggins, the No. 1 prospect in the high school recruiting Class of 2013, on Tuesday said he'd be attending Kansas University on basketball scholarship.
The news was reported by Grant Traylor, a sports writer for the Herald-Dispatch newspaper in Huntington, W. Va., in a tweet on Tuesday morning. Later Tuesday afternoon, KU coach Bill Self announced in a release that Wiggins had signed a letter-of-intent with KU.
Wiggins, a 6-7 senior forward from Huntington (W. Va.) Prep, chose KU over Kentucky, Florida State and North Carolina.
"Obviously, everyone in Jayhawk-land is overwhelmed and excited today," Self said. "This was a pleasant surprise because we never had an idea which way he was leading. Andrew did this the exact way he said he was going to. He played his cards very close to his vest as did his mother and father. I knew we were one of four. The competition was very stiff and we were fortunate that we were able to ink him today. He's a tremendous talent and a terrific kid. Probably an even better kid than he is a talent. We think he has a chance to be about as good a prospect as we've ever had.
"He brings athleticism, length, scoring ability and he's also an assassin, an alpha dog and we definitely need that when you have a whole bunch of young kids. I think he's going to be not just a good player, but have the chance to be a great one. I know the people that support our program are going to be pleasantly surprised when they see him run and play the very first time he gets the opportunity."
Self said Tuesday afternoon that he learned about Wiggins' decision like many KU fans did: through Twitter.
Wiggins, who is expected to be the No. 1 pick in the 2014 NBA Draft, averaged 23.4 points, 11.2 rebounds, 2.6 blocks and 2.5 assists last season for 30-3 Huntington Prep.
Wiggins joins previous KU 2013 signees Brannen Greene, Joel Embiid, Conner Frankamp, Frank Mason and Wayne Selden.
"We had an unbelievable class when we signed Brandon (Rush), Mario (Chalmers), Julian (Wright) and Micah Downs (2005-06); that's a big-time class. This one has more upside," Self said. "Andrew (Wiggins) has a chance to be the first pick in the draft. Joel Embiid goes from being an unranked player to being the top center prospect in the class. He's raw but so gifted physically. Wayne Selden is a McDonald's All-American and top-15 guy. Everybody knows about those three, but they are sleeping on are the other three. Conner Frankamp can play for anyone and so can Brannen Greene. Frank Mason is about as underrated of a point guard as there is in the class.
"It's been a great recruiting class, but we need to have a great recruiting class because we lost so many guys on a team that did pretty well this year."