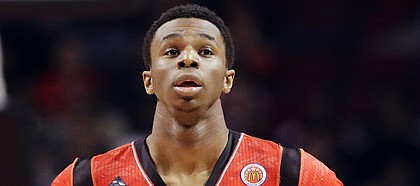 Andrew Wiggins will tell the world Tuesday where he'll be playing college basketball next season.
Wiggins, a 6-foot-7 senior forward from Huntington (W.Va.) Prep who is ranked No. 1 nationally in the Class of 2013 by Rivals.com and expected to be the No. 1 player taken in the 2014 NBA Draft, will announce his college choice at 11:15 a.m., Central time, Tuesday, his coach, Rob Fulford, announced Sunday on Twitter and in text messages to media members.
An NBA scout recently told the Journal-World Wiggins would be selected No. 1 if eligible for the 2013 Draft. He has a final four of Kansas University, Kentucky, Florida State and North Carolina.
"Andrew Wiggins will sign Tuesday at around 12:15 (Eastern time). He will not hold a press conference type ceremony. Just classmates, family and friends," Huntington Prep coach Fulford tweeted.
Just one reporter from the local paper will be invited to the private ceremony.
"He does not want to have a press conference signing," Fulford said in a text message. "He wants it private. Our local newspaper writer, Grant Taylor, will be there to relay (the decision). Appreciate everyone's patience and understanding. He wanted his mother to be here when he signed. I have no clue where he's going or leaning, so I'm not much help here."
At some point, the rumor mill has had Wiggins choosing each of the four finalists. The current hot choice is Florida State, where both of his parents went to school. Jerry Meyer, national recruiting analyst for 247 Sports, predicts FSU.
However, Marc Maggard of truebluekentucky.com tweets, "No school recruiting Wiggins has a clue where he is going to go. Ignore (anyone) telling you otherwise. AND, UK is recruiting (top five junior) Cliff Alexander."
Also, Maggard tweeted, "I think it is a 3-way decision that has not been made. Andrew gets biggest vote, but mom and pop are smart and have a voice."
Peters to Arizona: Forward Zach Peters, who left KU after first semester because of concussion issues, will transfer to the University of Arizona.
Peters, a 6-11, 235-pounder from Prestonwood Christian Academy in Plano, Texas, chose the Wildcats over Texas and Oklahoma, Zach's dad, Tim, told the Arizona Daily Star.
"He's going to do a fresh start in the Pac-12 and committed to coach (Sean) Miller," Tim Peters told the Daily Star. "He's been very fortunate to play for a great program at Kansas and for a great coach like coach (Bill) Self. He just got healthy and cleared in February, and has been back in the gym. We just started talking to schools three weeks ago and Arizona just jumped in there ahead of the pack."
Zach Peters first suffered a concussion at the LeBron James camp as a high school junior. He suffered a concussion in the first game of football season his senior year. He suffered two concussions playing basketball first semester at KU.
Tim Peters said Zach's concussion symptoms subsided after he returned to Plano after first semester.
"We went to a concussion specialist in January, shut him down and they ran extensive tests," Tim Peters told the Daily Star. "They did IQ tests, memory tests, short-term memory, long-term memory and fortunately for Zach, he was in the 78 to 80 percentile for a college freshman. So once he shut down, everything went exactly what the way it's supposed to."
Peters hopes to be granted immediate eligibility at Arizona, instead of having to sit out a season, because of his medical situation.
Kaun gets third: Sasha Kaun's CSKA Moscow team defeated Barcelona, 74-73, Sunday to place third at Euroleague Basketball's Final Four in London. Kaun had seven points and four rebounds. Olympiacos defeated CSKA, 69-52, in the semifinals on Friday.