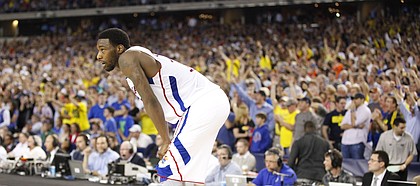 Photo Gallery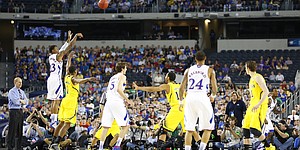 Kansas basketball v. Michigan NCAA (Sweet 16)
Images from Friday night's game against Michigan at Cowboys Stadium in Arlington, Texas.
Box score
Podcast
Press Conferences & Post-Game Interviews
Kansas coach Bill Self talks after his team's 87-85 overtime loss to Michigan on March 29, 2013.
Podcast
Press Conferences & Post-Game Interviews
Kansas seniors Travis Releford and Jeff Withey talk briefly on the podium following the Jayhawks' 87-85 overtime loss to Michigan ...
Podcast
Press Conferences & Post-Game Interviews
Michigan coach John Beilein and playersTrey Burke, Mitch McGary and Tim Hardaway Jr. talk to reporters following the Wolverines' 87-85 ...
Arlington, Texas — Elijah Johnson stood hunched over on the Cowboys Stadium basketball court, a picture of utter dejection after the final buzzer sounded in the final game of his Kansas University basketball career — Friday's 87-85 overtime setback to Michigan in the Sweet 16 of the NCAA Tournament.
"Stuff like this you think about forever," said Johnson, who scored 13 points with five turnovers and no assists in 24 memorable — many for the wrong reasons — minutes.
"It was a long, fun ride. People usually remember the end," Johnson added.
Johnson put the spotlight on himself just 1:45 into the game when he was called for a Flagrant One foul for striking Michigan's Mitch McGary (25 points, 14 rebounds) in the groin area with a closed fist while trying to run past McGary.
"It wasn't intentional," Johnson said. "Coach (Bill Self) asked me if I did it and I didn't know what he was talking about."
Johnson actually played just three minutes the entire first half because of foul problems. But he was in at the very end ... on the final possession of his season and collegiate career.
Handed the ball with 9.4 seconds remaining in OT, and KU down, 87-85, Johnson dribbled to the side and charged toward the goal. Feeling his path obstructed, he didn't try a game-tying layup or floater, but passed way out to Naadir Tharpe, who missed a prayer of a three that barely beat the buzzer.
"Coach said he wanted to put the ball in my hand. It was on me," Johnson said. "I tried to turn the corner. I ended up leaving the ground. When I left the ground, I didn't like the shot I had so I tried to look for a better shot. I didn't like my momentum."
Tharpe, who scored two points off 1-of-8 shooting with seven assists against two turnovers in 32 minutes, said, "Yeah I was," when asked if he was surprised when the ball came out to him from the baseline to behind the arc.
"Once it came to me I knew. There was not much time left on the clock. I tried to make a shot for myself. It wasn't a good look."
Asked to describe KU's plans for that last play, Tharpe said: "Elijah to get to the basket."
As an interesting side note, KU coach Bill Self during the time setting up the final play initially asked the squad's seniors how they wanted to attack.
"I said, 'What do you guys want to do?' Travis (Releford, 16 points) and those guys said, 'Let's shoot a three and win it.' Then I said, 'Or let's drive it,''' Self said, smiling. "I think it was one of those things we were all on the same page leaving the time out. I don't think that situation was the right time to intentionally clip off a three. I was going to put the ball in his hands to make a play or get the ball to Ben (McLemore, 20 points, 8-15 shooting) shooting a three. I thought the best percentage play was Elijah to drive it. He had the size advantage. It didn't turn out the way we wanted."
Asked whether he thought Johnson could have hoisted a possible game-tying shot, Self said: "I don't know. He was able to get his shoulders past him (defender). But for whatever reason, he veered behind the backboard and really didn't give himself a shot. That's when he threw the ball back to 'Naa.' Naa had a shot. He pump-faked and took one bounce and didn't get off a good look. That was poor execution," Self added. "Obviously we didn't do a very good job on the last possession."
Michigan's take is that Johnson may not have been able to complete the drive had he elected to.
"The angle he had wasn't the best. He didn't have a good angle to put it off the backboard," forward Jordan Morgan said. "He got caught behind the backboard. He would've had to have shot a floater. That would've been tougher than putting it off the glass. He got caught in the air behind the basket. It would've been a tough shot for him."
Johnson had a chance to perhaps ice the game in regulation, a game KU led by 14 with 6:50 left and eight points at 1:22.
He first hit two free throws to give KU a 76-71 lead with :21 left. After a Trey Burke bucket, Elijah missed the front end of a one-and-one at :12.6, Burke forcing overtime by hitting a three with 4.2 seconds to play.
"When I shot it, it felt good," Johnson said of the final free throw. "When it left my hand, I felt it go to the side. I felt good sitting on the line."
He committed three turnovers in four possessions as KU was squandering its lead down the stretch, one not getting the ball past midcourt in 10 seconds with KU up, 72-64.
"I love the kid," Self said. "He had a rough game, a really poor decision to start the game (flagrant foul) that got him behind the 8-ball. We played through it. He made a couple bad, bad plays late. He also did some good things, too (hit a three that cut an 87-82 deficit to 87-85 with :45 left in OT). It's one for him that will be tough to stomach. He'll look back in time and reflect on what type of career he had, all those kids (seniors) had."
Self pointed out the loss wasn't all on Johnson. KU led by five late and failed to dive on a loose ball with a possession arrow in KU's favor. Michigan scored on the possession.
"It was about five possessions we had a chance to get a stop or create a jump ball or anything," Self said. "Ben muffed it (ball), they reached for it and were more aggressive. They were the more aggressive team then. And we had a chance to ice it from the free-throw line and didn't do it. I'm not putting it on one player or one play. I could have done a much better job from the bench in that situation being up 12 late. We just didn't get it done period. It will go down as one of the toughest games that we've been a part of and certainly I've been a part of."
Of course, Michigan guard Burke (23 points, 10 assists) came through when it counted, tying the game with a step-back three that forced OT.
"The whole deal was don't give up a three and we're going to switch four," Self said. "We switched and didn't switch up. It was a hard shot. I wouldn't have fouled with eight seconds left (when he started to go into his shot). Looking back now, I wish we would have, obviously. We let him come off naked and shoot it. It was from 27 to 30 feet, but still it was a great play by a big-time player."
And so Michigan advances to Sunday's Elite Eight game. KU's season ends at 31-6.