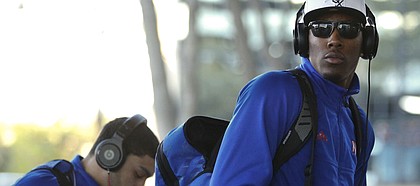 Dallas — Four police officers on motorcycles escorted Kansas University's basketball team bus from Dallas/Fort Worth International Airport to the downtown Hyatt Regency hotel during rush-hour traffic late Wednesday afternoon.
The Jayhawks arrived in Texas safe, sound and ready to begin what they hope will be a five-day stay that culminates in a victory over Michigan on Friday (tipoff at 6:37 p.m., Cowboys Stadium, Arlington) and either Florida or Florida Gulf Coast on Sunday and a spot in next week's Final Four in Atlanta.
"I think our mood is pretty good. I know the guys are excited," KU coach Bill Self said to a throng of TV and print reporters on hand to meet the bus.
Self was able to joke when asked if he felt any flashbacks as the squad arrived in Texas. The questioner was referring to KU's early-February trip to TCU, where the Jayhawks fell to the Big 12's last-place team, 62-55.
"I don't think we played in Dallas or Arlington this past year. There's no flashback. We played in Fort Worth, which is a big difference from Arlington," Self said with a smile.
In Arlington, Cowboys Stadium, which can accommodate up to 100,000 fans, is about a 20-minute drive from KU's team hotel in Dallas. In basketball configuration, it will hold 42,614 fans.
"I haven't mentioned it. We haven't had so-called team meetings yet, as far as really getting into it with the guys showing tape and talking about the experience," Self said of playing in a massive domed football stadium. "We'll start that tonight.
"I know it's huge. I thought last year was pretty big, too (St. Louis and New Orleans). We've played in Indianapolis, which is huge. We played in Detroit, which is huge. We've been in domes. These (current) players have not all necessarily been in domes. It's a good problem to have because if you are playing in domes it means you are advancing in the tournament."
A huge videoboard in Cowboys Stadium should help fans in the nosebleed section see the action.
"I've never been there. I hear it's unbelievable. I hear the scoreboard is mesmerizing, hard to take your eyes off it," Self said. "Our players will be fine. You still have to make shots. We'll get to shoot in the building before we play. I'm not going to use that as an excuse."
The Jayhawks will hold a shoot-around open to the public from 2:10 to 3 p.m. today at Cowboys Stadium. It is free of charge. KU, which has a huge throng of alumni in Dallas, is expected to have a lot of fans at Friday's game.
"I don't know if there will be a huge home team (advantage) if the place seats 42,000 and we have 10,000 seats," Self said. "It may be more than everybody else, but it'll be cavernous. I hope we're the home team. We're the team closest and have a lot of alums in the area, a lot of alums in Oklahoma. Hopefully they'll get down here. It will be an interesting four-team field. There are four good teams playing. You've got different storylines with each one of them. I just want our guys to go out and play with reckless abandon."
Michigan, the No. 4 seed in the South Regional, is known as a team with perhaps the top backcourt in the country. Trey Burke, a 6-foot- sophomore guard from Columbus, Ohio, averages 18.8 points a game with 236 assists against 76 turnovers. Tim Hardaway, Jr., a 6-6 junior guard from Miami, Fla., averages 14.9 ppg with 76 assists against 66 turnovers. The Wolverines (28-7) went 12-6 in Big 10 games. The conference was regarded as best in the country this season.
"There are a lot of things that jump out off the tape on Michigan," Self said. "They are balanced. Everybody talks about Trey, and he is terrific. They have other guys who can all score the ball (including freshman guard Nick Stauskas and freshman forward Glenn Robinson III, who average 11.3 and 11.1 ppg). Their defense is better than what it is given credit for. They guard ball screens well. They do a good job getting to the ball. They've got guys who can go make plays. They are a really good team."
This, that: The Jayhawks were to have a nice dinner at Pappadeaux in downtown Dallas on Wednesday night. ... Self said the team was healthy except for junior Justin Wesley, who has been ruled out of Friday's game because of a severely sprained right ankle. "He's doing better but not going to be able to play," Self said.
Texas Tech opening: Current KU director of basketball operations Doc Sadler and former KU director of operations Barry Hinson have spoken with Texas Tech athletic director Kirby Hocutt about the Red Raiders' coaching vacancy, the Lubbock Avalanche-Journal reports. Sadler is former head coach at Nebraska, and Hinson is current head coach at Southern Illinois. Current interim coach Chris Walker, whose Tech team went 11-20 this season, remains a candidate, possibly the leader. Hocutt has also met with Oral Roberts coach Scott Sutton and Indiana assistant Steve McClain, the Avalanche-Journal reports.
"I was not searching for, nor am I seeking a job. I am extremely happy at Southern Illinois, but I honored their request and sat down and visited with their administration," Hinson told The Southern newspaper of Carbondale, Ill.
His first Saluki team finished 14-17 overall and 6-12 in the Missouri Valley. It was most wins by the Salukis since 2009-10, when they finished 15-15. Hinson finished third in the MVC coach-of-the-year voting, the highest finish for a coach from a last-place team.
"I know I'm part of the process, and I as I told Texas Tech, I have a great job, and I'm extremely happy, and I'm humbled by their desire to reach out to me," Hinson told The Southern.
As far as Sadler ... KU staff members do not discuss possible job openings as a matter of policy.
Michigan coach John Beilein on KU: "I see Kansas as one of the biggest challenges we've had all year. They are a veteran, veteran team, an interesting mix with four seniors and three freshmen playing most of those minutes. You don't see that a great deal today. You don't see four seniors much any more. I think that's why they were able to win the Big 12 championship, win the tournament and why they are the No. 1 seed. We have a challenge in front of us. We've had a lot of challenges this year. Hopefully we can come out on the right end of this one."
Of KU's defense, Beilein said: "Withey anchors it, but the other guys ... when you play for Bill Self you learn to really play defense. If you've been doing it for four years you usually are very good at it. Withey gets the blocked shots but they are a great team defensively. Every one of Bill's teams have always been that way."
Contest: Future KU guards Conner Frankamp (Wichita North) and Brannen Greene (Tift County High, Georgia) will compete in the American Family Insurance High School three-point shooting contest at 1 p.m., April 6 in Atlanta. It will be shown on CBS. Other participants in the contest: Bryce Alford, New Mexico; Zak Irvin, Michigan; Nick King, Memphis; Race Parsons, Southern Utah; Matt Thomas, Iowa State; and Derrick Walton, Michigan.