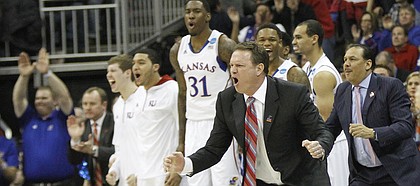 Photo Gallery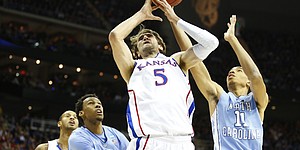 Kansas basketball v. North Carolina
Images from Sunday's game against North Carolina at the Sprint Center.
Podcast
Press Conferences & Post-Game Interviews
Kansas coach Bill Self and seniors Travis Releford and Jeff Withey talk to reporters following the Jayhawks' 70-58 victory over ...
Podcast
Press Conferences & Post-Game Interviews
North Carolina coach Roy Williams, guard Marcus Paige and forward James Michael McAdoo talk to reporters following the Jayhawks' 70-58 ...
Kansas City, Mo. — Current Kansas University basketball coach Bill Self wasn't gloating on Sunday after leading the Jayhawks to their third victory in as many tries against his predecessor Roy Williams' North Carolina Tar Heels.
"We've been fortunate the three times we played them since I've been at KU," Self said after a 70-58 victory in Sprint Center. A year ago, KU won, 80-67, in an Elite Eight battle in St. Louis. In 2008, KU prevailed, 84-66, in a Final Four semifinal in San Antonio.
"Last year was a coin-flip game that we made all the plays in the last four minutes. One-point game. We watched it today. Of course, we played great in 2008. Today was not one of those games.
"I don't think it's coach Williams at all," Self added. "I think it would be anybody that's on the other team, coaching the other team. When things don't go well, you can't allow other teams to play well. I thought that's what happened tonight. Even though we played miserably the first half (in falling behind 30-21), I thought they could have played better, too. At least we kept ourselves within striking distance."
Solid defense: KU senior Travis Releford held UNC's Reggie Bullock to five points off 1-of-7 shooting.
"He did a great job on Bullock," Self said. "The guy he's checking who is right there as their leading scorer, gets five (points) and Travis gets 22. Of course he's so steady and he's a rock. He doesn't get tired. He can play all day."
Releford, who had 13 second-half points, hit KU's first three-pointer of the NCAAs in a second-half opening 11-3 run that stretched to 29-8.
"I was wide open, stepped into it and took the shot," Releford said of the bucket that cut the deficit to 30-26. "I wasn't thinking, 'We need the shot, need to make it.' I was just focused on the game right then."
Of Releford, KU center Jeff Withey said: "He put the team on his back tonight for sure. He played great defense. Offensively he was a stud."
Next: KU will meet Michigan in the Sweet 16 on Friday in Dallas. "Michigan's a great team, like North Carolina is a great team," said freshman Perry Ellis, who scored three points with two boards in eight minutes. "It will be fun playing in the Sweet 16 for sure."
KU's Withey on falling behind, 30-21, at half: "We made some bonehead plays, especially me. I had six turnovers myself. A lot of that was just throwing it right to the defender. But second half, we kind of got a better feel for them, knew what they were going to do. We knew they were trying to gamble and trying to steal the ball every time. So we just played to that."
Wesley hurts foot: KU junior forward Justin Wesley suffered a severely sprained right ankle at practice Saturday. He was on crutches and wore a boot on his foot while not suiting up for the game.
Self said there were no broken bones.
"X-rays were negative. We hope he'll be able to participate in practice (this week) but there's no timetable now," Self said.
Self on experienced players helping the team advance: "I thought experience was important. I don't think we demonstrated experience much during the first half. I thought our leadership wasn't as good as what it should have been on the court. Second half, seemed like we communicated more, more energy. We came in the game ready to play. We came in the game playing with energy. We came in the game with the right mindset. But when things didn't go well, (it) kind of got away from us.
"Second half, after the game settled down, I just thought we got pretty good. Of course, the seniors were the huge reason why."
This, that: KU has advanced to its 30th NCAA Tournament Sweet 16, including its seventh under head coach Bill Self. ... UNC leads the all-time series, 6-5. ... For the second straight game, and just the eighth time this season, KU trailed at the break. Kansas trailed 30-21, matching the Jayhawks' largest halftime deficit of the season having trailed both Baylor and TCU by nine in road losses. It was the largest deficit overcome by KU this season as the Jayhawks evened the tally at 4-4 when behind at half. ... KU shot 25 percent (7-for-28) in the first half for its lowest field-goal percentage in a half in NCAA Tournament play. Kansas' previous shooting low for a half was 28.6 percent in the second half against UCLA in the 1974 Final Four. ... KU had a season-high-tying 50 rebounds. The total was most in a regulation game this year, as KU had 50 boards in a double-overtime win at Oklahoma State. ... KU had a season-high 22 turnovers.
Individual notes: Travis Releford has 949 points in his career. ... Jeff Withey blocked five shots and topped his own KU single-season record set a year ago (140) with 141, while pushing his Big 12 and KU career record to 306 blocks. Withey's blocks moved him past Duke's Shelden Williams (39), Florida's Joakim Noah (41) and Duke's Shane Battier (42) into second place for career blocks in the NCAA Tournament at 44. Wake Forest's Tim Duncan leads the all-time list with 50. Withey has blocked 12 shots in two games during this year's tournament after setting the NCAA single tournament record with 31 a year ago.