Photo Gallery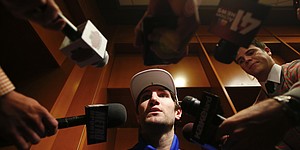 NCAA practices in Kansas City
Images from Thursday's practices and press conferences on Thursday, March 22, 2013 at the Sprint Center in Kansas City, Mo.
Kansas City, Mo. — Kansas University senior forward Kevin Young fiddled with a Rubik's Cube in a corner of the Jayhawks' locker room on Thursday in Sprint Center.
"It's something I do in my spare time. The fastest I've done it was two minutes," Young said.
He was working on the cube he bought during his days at Barstow (Calif.) College.
"I still remember that. I've come a long way from the middle of nowhere in California and desert everywhere to snowy Kansas," Young said with a smile. "It's pretty awesome being able to come back here and get this opportunity to play in this tournament."
Young grinned when told Olympic shot put phenom Reese Hoffa two years ago at the Kansas Relays said he has completed the cube in under a minute.
"No way," Young exclaimed. "I missed that. That's pretty awesome. I'll try to test it, try to beat that time."
Nice digs
The Jayhawks on Thursday were awarded the same roomy locker room they used at last weekend's Big 12 Tournament. KU went 3-0 and won the postseason tourney title.
"It's kind of weird," freshman guard Ben McLemore said of the coincidence. "We worked hard to come back here. I think we are ready."
"We feel really comfortable here," center Jeff Withey said. "I have a great feeling about this weekend. It's great we are so close to home just because we have the fans who can support us. It's going to be a great weekend."
Long day ahead
Senior guard Elijah Johnson doesn't mind waiting for today's 8:50 p.m. start.
"I think it's kind of an eye-opener," he said. "You start to realize other teams are playing. I was watching the Oregon-Oklahoma State game. It looked weird. I'm used to conference games. It's when it pumps you up. You embrace it and can't wait. I don't mind watching the other teams play first. It gets you mentally ready."
WKU a 16 seed?
Coach Bill Self's scouting report on 20-15 Western Kentucky: "Scrappy, undersized, tough," he said. "They get after you. They've got guys who can stretch it everywhere. They've got a nice team."
Roy gets cheered
Former KU coach Roy Williams' North Carolina Tar Heels play Villanova at 6:20 tonight in Sprint Center, with the winner set to play KU or WKU on Sunday.
Williams heard loud cheers — no boos were evident — when he walked onto the Sprint Center court for a 50-minute practice session Thursday before about 5,000 fans. The majority of fans in the crowd were KU fans.
"College basketball ... we've got enough to worry about without worrying about whether they're going to clap or boo when I come out," Williams said. "Nineteen thousand … I'm all right then. First time we went and played at Kentucky, I was booed by 24,000. Regardless of how bad it is, it's not going to outnumber that."
Williams joked: "You know you've been coaching too long when one of your former players is in the media and looks older than you do."
He was referring to former KU guard Greg Gurley, color commentator next to play-by-play announcer Bob Davis on the Jayhawk radio broadcasts of games.
"For me, the University of Kansas and Lawrence was a great 15 years of my life," Williams said. "I've said it this way before: I gave my heart, body, and soul for 15 years, and I loved it. When I went back to North Carolina, it was a very emotional thing. It's a very emotional thing when I didn't go the first time, and it was when I did go the second time
"I'll use this analogy. A guy stopped me in the airport, said, 'Coach, I just wanted to say hello, but I wanted to tell you I'm a big-time Jayhawk fan.' I said, 'I am, too.'
"He (fan) walked off. Went down a couple gates, came back a few moments later and said, 'You surprised me.'
"I said, 'I was there 15 years, had wonderful players that I loved. It was family and always will be. It's not immoral to love two institutions. When I was a coach at Kansas, it was my favorite school. North Carolina was my second-favorite school. I happen to be coaching at North Carolina now, and it's my favorite school, and Kansas is my second-favorite school."
Cheer the man
Williams is going for career victory No. 700 today.
"He's had quite a few of those at Kansas, 400-some at Kansas," said former KU guard C.B. McGrath, an assistant coach on Williams' staff at UNC. Williams was 418-101 in 15 seasons at KU. He's in his 10th year at UNC.
"He did a lot of good things for Kansas, worked his tail off for 15 years, worked harder than any of us ever did," McGrath said. "Us players ... we just sort of lived the dream there. We had good teams, obviously. Thankfully for him, he's gotten two championships since he's been at North Carolina. That's sort of taken the pressure off him personally. It's been good. I think it's time fans give him a little ovation as opposed to (talking about) when he left, why he left, all those things. Hopefully the fans are over it by now. They've got a pretty darn good coach (Self) who won a national championship, another Final Four, nine straight conference championships. I'd think they'd show coach Williams a little bit of respect and give him a little ovation for all he did at Kansas. I'd think by now it (his leaving) is water under the bridge."
Top-notch mentors
Self was asked about the "depth of coaching talent" in the South Regional.
"Who has won the most national championships? It's not coach Williams or Jay (Wright, Villanova) or me. It's the guy we're coaching against tomorrow. Ray Harper has won the most. He's terrific (two titles in NAIA; two in Div. II)," Self said.
Colorful Rebel
Ole Miss junior guard Marshall Henderson, who screams at opposing fans during games, entertained the media Thursday. He'll be playing against Wisconsin today.
"I'm trying to get paid here soon, because I'm tired of doing all this stuff for free," Henderson said. "This is where you make your money: The NCAA Tournament is where you make a name for yourself. You can go down in history.
"You've got to do it for the team. You've got to win. All you do is win," Henderson said. "Every team that makes the Final Four, every single player on their team is making money somewhere in the world."
— The Journal-World's Jesse Newell contributed to this report.