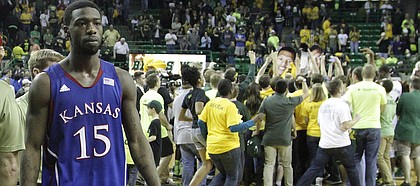 Photo Gallery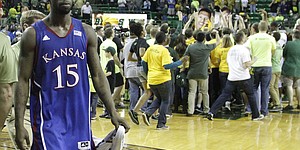 KU vs. Baylor men's basketball
The KU mens basketball team played the Baylor Bears in Waco, TX., Saturday, March 9, in the Jayhawks last regular season game of the year.
Podcast
Press Conferences & Post-Game Interviews
Kansas coach Bill Self talks after his team's 81-58 loss to Baylor on March 9, 2013.
Waco, Texas — There was no dancing, no high-fiving, no hugging, no hoisting of the Big 12 championship trophy in Kansas University's basketball locker room on Saturday night in Ferrell Center.
"It doesn't feel like we won it at all, really," KU senior center Jeff Withey said after the Jayhawks' 81-58 blowout loss at Baylor.
"We tied with Kansas State (for league crown). It's cool to win nine in a row, but it just stinks to lose."
All the celebrating took place on the court, where the home team's students were invited by BU coach Scott Drew. He grabbed a microphone and asked the students to join his (18-13, 9-9) players, who may have claimed an NCAA Tournament berth by beating the No. 4-ranked (26-5, 14-4) Jayhawks.
KU's players, meanwhile, were left to wonder what the heck happened just hours after Kansas State lost to Oklahoma State — a loss that guaranteed KU a share of its ninth straight conference crown no matter the outcome of Saturday's BU game.
"I didn't watch it, but had people text me. They said K-State (also 14-4) lost to Oklahoma State," Withey said. "I don't think it affected us. If anything it should have given us more energy to play harder (knowing a win would give KU the undisputed crown).
"We were talking in the locker room beforehand. Maybe we thought it was ours already. Baylor didn't (and) beat us up," Withey added.
The Bears handed the Jayhawks their second-worst loss in the 10-year Bill Self era. Texas beat KU by 25 points (80-55) on Feb. 25, 2006, in Austin, Texas.
"I went in and told my team, 'Hey, bad job, but congratulations,' one of those deals," Self said. "I'm happy we got a ninth. I will never apologize for winning a league championship. It's not entirely the way we scripted it, which is obvious."
BU's Cory Jefferson, who had never hit a three in his career, went 3-for-3 from three and scored 25 points with seven rebounds and three blocks. Guard Pierre Jackson hit 11 of 13 shots, good for 28 points with 10 assists and six rebounds. He was four boards shy of a triple double.
"They were terrific. They totally dominated the game," Self said, adding "hell no" with a laugh when asked if he thought Jefferson could shoot that well.
Self said he didn't think the Jayhawks relaxed just because they knew they'd claim at least a tie for the league title no matter what happened against Baylor.
"I would think it'd play to our favor," Self said. "I'd like to blame it on that. I can't blame it on that. We have played with our backs to the wall (since three-game losing streak). We had the golden opportunity and didn't jump through the hoop.
"If K-State would have won today, this would have been the pressure of an NCAA Tournament game. You'd have to win to get a piece of it. It would have put us in a one-and-done mindset. We didn't have that as much. It seems to me it'd be easier to play.
"I'm not Joe Lunardi (of bracketology fame) ... Baylor needed this game. They got it. They deserve to be in the tournament. I think this will put them in the field."
KU, which was led by Ben McLemore's 23 points, actually had a chance to win this one down the stretch. The Jayhawks cut a 17-point deficit to six (61-55 at 6:21), courtesy of an 11-0 run (Perry Ellis six points, McLemore five).
Little did anybody know BU would dominate the rest of the game, finishing with 20 points to KU's three.
"When we cut it to six, I still thought we were still climbing a pretty steep hill," Self said. "We were in the game, we just had to get stops. Isaiah Austin made a great left-handed hook shot (to start game-ending run). It was a pro move. We gave them four points right after that with our offense. We had a chance to get back in it multiple times and didn't take advantage. They made plays. They had two players play about as well as any two have played against us in a long time on the same team."
Asked what happened after KU cut it to six, Withey noted: "Every time we did something good, they did something better. It's all defense."
BU hit 57.7 percent of its shots to KU's 37.5 percent. Both teams hit six threes, KU in 19 attempts and Baylor in 12. Freshman Ellis finished with 12 points, while Elijah Johnson had 10 and Withey eight for KU.
"I'm not happy," Self said. "I'm a lot happier than I would be if it was different and we finished second. Now we have a chance to go to Kansas City (for Big 12 tournament) and see who the best team is basically."
KU, as the No. 1 seed in the Big 12 Tournament, will play at 2 p.m. Thursday against the winner of Wednesday's game between Texas Tech and West Virginia. If KU wins, it would play in the 6:30 p.m. semifinals Friday against either Oklahoma or Iowa State. The finals are 5 p.m. Saturday.