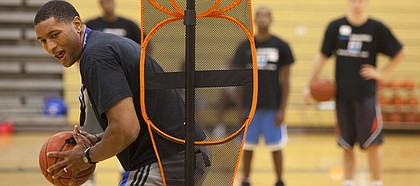 Kansas University's basketball team had one meeting with players and coaches — and one players-only session — during a three-game losing streak from Feb. 2-9.
The Jayhawk players also had a helpful chit-chat with former KU great Wayne Simien during the stressful stretch.
"I remember Wayne talking to us before we came out here (for practice one day in Allen Fieldhouse). He said, 'We lost three games my senior year (2004-05), too, and we pulled it out. Anything is possible,'" KU senior forward Kevin Young said Thursday.
"It gave us a lot of hope. We knew we'd be all right if we kept working hard."
A month after Simien, who serves as the team chaplain, provided some words of wisdom, the Jayhawks are in the hunt for a ninth-straight Big 12 regular-season title. KU and Kansas State take 14-3 league records into Saturday's finales. The Wildcats (25-5) travel to Oklahoma State (22-7, 12-5) for a 12:30 p.m. tipoff. KU (26-4) will travel to Baylor (17-13, 8-9) for a 5 p.m. contest.
"I've always been selfish. I'm trying to be selfish again, trying to take it all," KU senior point guard Elijah Johnson said. "I want to own it. I don't want to split it."
KU coach Bill Self said he hadn't decided if he'd let his players watch the K-State game in their Waco, Texas, hotel rooms.
"I don't want them to burn energy worrying about K-State," Self said. "All we need to do is burn energy worrying about us and Baylor. That is hard to do sometimes. You watch a game that has implications on your season, and it's hard not to get emotionally invested in a game like that. If I was picking one of the two, I'd rather play the first game than the second, but I don't think it makes any difference."
Self said winning on Saturday and taking the title, "would be as cool as any we have won. I think for us to go through a tough stretch the way we did, it'd probably be as gratifying as any we've ever had. We still have a lot of work to get there, but I'm excited for Saturday."
Player-of-the-year race: Self said one of four players — KU's Ben McLemore and Jeff Withey, KSU's Rodney McGruder, OSU's Marcus Smart — should win big 12 player-of-the-year honors.
"If they (McLemore, Withey) split the vote, then that could hurt both of them for their chances to be named Player of the Year. To me, I would not say who I think deserves it, I want to wait until the end of the season is here," Self said. "You could make a strong case, if you look at statistics and all that stuff, that Ben or Jeff could be Big 12 Player of the Year. All are worthy, and I wouldn't be surprised if any of the four got it."
Self's coach-of-the-year vote goes to KSU's Bruce Weber.
"I think the best job this year has been done from a coaching standpoint in Manhattan, Kan. That's one guy's opinion," Self said, also citing OSU's Travis Ford and Oklahoma's Lon Kruger. "They (Wildcats) have given themselves the best chance to have a great year because they've been able to find ways to win games that were maybe a coin-flip game."
Trim: Young, who has an expansive afro hair style, reports that he had his hair cut last Friday. "I got a little trimmed up and shaved up a little bit. Coach said I didn't get my money's worth," Young said, laughing.
Jayhawk vs. Jayhawk: Former KU coach Larry Brown's SMU team defeated former Jayhawk player Danny Manning's Tulsa team, 71-65, Wednesday in Tulsa to assure a split of the season series. Earlier this season Tulsa defeated SMU in Dallas. Tulsa is 15-14 (7-8); SMU is 15-15 (5-10) .
"It's not fair to judge either one of those games because neither team is close to where they will be two or three years from now. They are going to continue to get better, because they both took over tough situations, but I don't pull one way or another in those particular outings," Self said. "I guess it's fitting (that they split) as people would say, but I don't read too much into that stuff."
Twitter talk: KU point guard Johnson was asked if he learned anything from Tyshawn Taylor about handling criticism. "Yeah, I learned don't tweet it," he said with a laugh. "Just handle it like a man. (I'm) not a little boy any more."