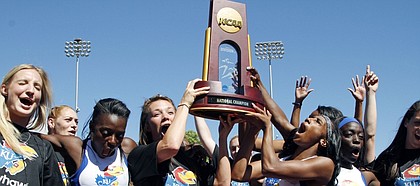 Eugene, Ore. — Paris Daniels scored points in three events Saturday, helping Kansas University's women's track and field team claim not only the first national title in the women's program's history, but the first national title for KU in any women's sport.
Daniels placed fourth in the 200 meters, then ran legs on the fifth-place 4X100 and sixth-place 4X400 relay teams as the Jayhawks won the NCAA Outdoor at Hayward Field.
"We're really excited," 13-year KU coach Stanley Redwine said. "Everyone came into this week with the idea that this was something that we could do. It's really hard to single one person out, though, because it was a total team effort, but I'm just thankful that everyone did so well. This is just another great step for Kansas."
Kansas won with 60 points, holding off Texas A&M; (44 points) and Oregon (43) for the school's 11th national track title and first since the KU men won the 1970 Outdoor.
"The thing is, they wanted it," Redwine said, playing down contributions from him and his coaches. "The coaches didn't put any more pressure on them than they put on themselves."
Daniels was fourth in the 200 in 22.52 seconds, and her five points clinched the team crown for the Jayhawks.
Earlier, she teamed with Tianna Valentine, Denesha Morris and Diamond Dixon for fifth in the 4X100 relay in 44.92 seconds.
Daniels, Morris, Dixon and Taylor Washington finished the 4X400 relay in 3:32.74 for sixth place, the highest finish ever for a KU team in that event at the NCAAs.
In all, 11 of the Jayhawks' 13 entries in the meet contributed to the team's scoring effort, with senior Andrea Geubelle leading the way with her 16 points in runner-up performances in both the long jump and triple jump.
The Jayhawks had 11 athletes earn first-team All-America honors as well as both relay teams, with an additional two claiming second-team honors. The Jayhawks also had the program's first individual outdoor champion when Lindsay Vollmer took gold in the heptathlon Friday afternoon.
"When Lindsay won the hep," Redwine said, "that was a sign everybody wanted to do well."
KU's men ended the week in a tie for 28th place with eight points.
"We're Kansas," Redwine said. "Whether you're basketball or track, we're Kansas. This is just another step for Kansas."
Kansas Athletics will host a welcome-home reception for the women's track and field team this afternoon at Allen Fieldhouse. Doors will open to the public at 2 p.m., with the team scheduled to arrive at 2:45 p.m.