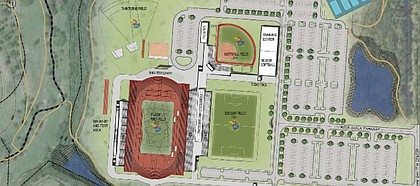 Bill Self in the spring of 2008 started talking about the need for a recreational campus in Lawrence "to provide kids with a new and safe place to play and learn how to live healthy lives: to participate in organized sports, practice wellness and develop healthy habits."
Five years later — thanks in part to a Bill and Cindy Self Assists Foundation donation of $2 million — a proposed 181,000-square foot recreation center at Rock Chalk Park has become a reality.
Construction is expected to begin soon on the center, which will include eight gyms, a fitness center, indoor turf and other amenities.
The facility will be adjacent to Rock Chalk Park's track, soccer and softball stadiums to be used by Kansas University athletic teams. However, it should be noted the Assists donation is for the city rec center only.
"It's something we've been trying to do for years. We made a pledge two years ago that if this would get done, Assists would give $1 million toward the project," KU basketball coach Self told the Journal-World in a Wednesday interview in Allen Fieldhouse.
"Certainly it's taken its fair time. We know that in a community where things have to run through the city and everything, it's common to take awhile. It's finally come to reality. We bumped our donation from $1 to $2 million because we believe in this. We are so excited. The vision we had initially was great. This is going to be so much better."
Self told the J-W that the $24.5 million project, "will serve our city so well because now kids have a place to go. Now they can go play ball. Now families can go be more active. It's not just about basketball. It's about being active. Those basketball courts become volleyball courts. There's a lot of different things that can be utilized. It's going to be a first-class facility, and it'll hopefully attract outside organizations here that will do wonders for our community over time as far as hotels, restaurant business and all that kind of stuff.
"Cindy (Self's wife) and I believe in it. The Assists Foundation ... our contributors believe in it. We wanted to give money to be part of the erecting of buildings to add to the opportunities for youth to have a healthy and more active lifestyle. That has been done."
Self can envision his foundation contributing further dollars to local wellness projects in the future.
"Our vision is to have more recreational facilities in our town which would promote a serious wellness aspect of it that would better serve our youth and provide a healthier lifestyle for our kids to grow up in," Self said. "I still think we need to build more baseball fields. We don't have enough baseball fields. We don't have enough softball fields. We don't have enough of a lot of things that communities we've lived in the past ... all of them have had. We went from being well behind to maybe being ahead with a chance to hopefully do more as the future years come," Self added.
Tornado relief: Self did not wish to discuss specifics but confirmed that he and Cindy have contributed to Oklahoma tornado relief and will be doing more in the future. Self and his wife both hail from Oklahoma and have family there. None of their family members were injured or sustained property damage.
"It's so sad what has taken place," Self said of the recent tornadoes. "People in Kansas understand that it's so unpredictable in how these things happen. It's not like three to four days out you know exactly where it will hit. These things bounce all over the place, change directions. Leaving one spot to go to a safer place at another spot isn't necessarily always safer."
Wiggins update: KU coach Self and assistant Kurtis Townsend traveled to Toronto on Sunday to visit with Andrew Wiggins, the top-rated prospect in the country who recently signed with KU.
"We went to see Andrew and his entire family. We had a great talk," Self said of a three-hour dinner at Wiggins' house. "He's really excited (to be a Jayhawk). His schedule is super-busy right now because he's being pulled in all directions to do a lot of things. He's been away from home basically two years (attending Huntington Prep in West Virginia). He'd like to spend some time at home. He's been home a week."
Wiggins will likely be playing for one or two Canadian national teams this summer.
"They are working out all details with the national team, how much of a time commitment," Self said. The Under 19 world championship is June 27 to July 7 in Prague. The FIBA World Cup qualifying tourney for the senior national team is Aug. 30 to Sept. 11 in Venezuela.
"In a perfect world, they'd like about nine weeks straight of commitment, something like that. He doesn't want to do that. That makes for an awful long year when you spend your whole summer in a competitive deal. It's what they are talking about and trying to work out."
Self has said he'll support whatever decision Wiggins makes in regards to his summer as long as "he's getting better."
Director's job open: Self, who has one opening on his staff, is in no hurry to name a director of basketball operations. Assistant director Brennan Bechard has everything under control entering two weeks of basketball camp. Former director of basketball operations Doc Sadler recently headed to Iowa State to be assistant coach.
"I would like to get something done in the next week or so. I have numerous options," Self said.
NBA talk: Former KU guard Ben McLemore worked out for the Phoenix Suns on Wednesday. The Suns pick fifth in the June 27 NBA Draft.
"They've seen spurts of what I can do and I can take over games and I know deep down inside that I can take over games," he said, addressing one issue that has him falling in some mock drafts. "I have that dog in me to take over games. At the same time, I'm building my confidence even more and just going out there and playing my game, working hard and getting my work in."
Former KU guard Elijah Johnson worked out for Washington Wizards, who have a pair of second-round picks (38, 54).