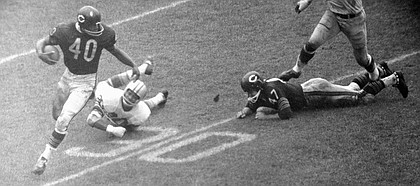 More than 40 years have passed since Gale Sayers carried a football for the Chicago Bears and made the guys chasing him look like a bunch of Keystone Cops, but thanks to his remarkable highlight reel he remains fresh in the minds of football fans, even some born way after he retired.
Kansas University safety Cassius Sendish, a junior college transfer likely to start for the Jayhawks, looked back on his days of youth football and it didn't take him long to mention the name of the Kansas great whom Sendish never has met.
"When I first started playing, we had a division called ankle-biters, 50 pounds and under, and I played offensive line when I was 5 and 6," Sendish said. "I was one of the smaller guys and I was on the offensive line. I was just scrappy."
At 7, he moved up a division and was used at another position on the road to becoming a defensive back.
"We went from ankle-biters to 65 pounds and I went to running back," Sendish said. "I used to watch Gale Sayers tapes before the games. The Kansas Comet. I used to watch him right before the games and it would pump me up. It would make me want to make plays like he was making on his highlight tapes."
Sendish said he did once successfully mimic Sayers on a memorable touchdown run.
"I ran all the way to the left, I stopped and cut on a dime, ran all the way across field," Sendish said. "I can't remember who it was against, but I know Gale Sayers had a run just like that. I remember it was in my mind afterward. I was like, 'I've seen this before.' And I watched the tape and just compared them and it was the exact same thing. I ran to the left, all the way to the sideline, cut it all the way back against the grain, scored a touchdown."
Sendish said he still has a VHS tape of his run that reminds him of the Bears' great.
"When I get bored at home I'll just watch that old tape," Sendish said.
No sports highlight tapes can quite match those of great running backs. Not even dunks.
"There is something special about them," Sendish agreed. "They don't even need music. Even if you have the sound down you can hear the symphony playing when they're running."
He listed the highlight collections shared by his father, Andras Sendish, of runs from Sayers, Walter Payton and Earl Campbell as his favorites.
Sendish called playing at the school where the great Gale Sayers, the Kansas Comet streaking across his television, once played, "a dream come true. This whole thing is a dream come true."
Listed at 6-foot, 187 pounds at Kansas, which does not inflate its heights and weights in football since the arrival of Charlie Weis as head coach, Sendish said he graduated high school standing 5-10 and weighing 160 pounds. The junior from Waldorf, Md. said he has gained weight, speed and an appreciation that taking care of things in the classroom is a prerequisite for playing football.
"Going to junior college was the best thing that happened for me physically and mentally," Sendish said. "My last two semesters in junior college I had a 4.0 and a 3.8 GPA."
Sendish enrolled at KU for the spring semester and impressed coach Charlie Weis during spring practices with his performance and demeanor so much so that he was chosen as one of four Jayhawks (with Jake Heaps, Ben Heeney, James Sims) to attend Big 12 Media Day.
Dexter Linton is KU's most experienced returning safety, but will face stiff competition in trying to get on the field from Sendish, juco transfer Isaiah Johnson and red-shirt freshmen Greg Allen and Tevin Shaw. If a need arises at cornerback, Sendish could play there instead.
Every one of them will do their best to stay off the highlight tapes of Big 12 running backs and receivers.