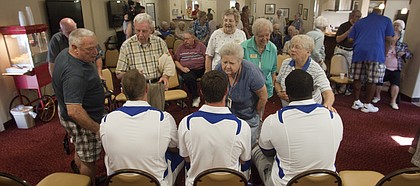 Football coaches who head teams that have no problem amassing yards but find themselves one foot short of a complete offense tend to scour soccer fields for help. Listen to Kansas University walk-on kicker Austin Barone and see if you don't think coaches should also be scouting local golf courses.
Barone attended St. John's grade school in Lawrence and was a Bishop Seabury Academy student through his freshman year. He then moved in with his grandparents in Pittsburg for his final three years of high school at St. Mary's Colgan. He placed fifth in the 1A state golf tournament as a freshman, eighth and ninth in 2A as a sophomore and junior and seventh in 3A as a senior. He also is one of six students vying to become KU's field-goal kicker in the fall. He said he thinks kicking a football with his foot and striking a golf ball with a club are "the exact same."
"In high school, there were days where I would get a golf lesson and then go out and kick great the next day because theoretically the swing is the exact same," he said. "You want to swing up and through the ball. You don't want to be down and around because you might hit a duck hook into the pond."
(Has he seen me play No. 11 at Lawrence Country Club? Was he making fun of me?)
"It's the exact same," he said of the two athletic moves. "I mean, it really is. I think golf really helps me. A lot of times if I'm struggling, I might go to the golf course. It's great because I can relax, and I can also think about kicking in a non-kicking manner, so that I'm not overthinking."
Barone, a former youth soccer player in Lawrence, was one of three KU football players (Marquel Combs, Shane Smith) who joined defensive line coach Buddy Wyatt in talking to residents of Meadowlark Estates retirement living Wednesday afternoon.
In two seasons kicking for St. Mary's Colgan, Barone made 17 of 19 field goals. A red-shirt freshman, Barone never missed a field-goal on turf, and his longest came from 43 yards. He's a darkhorse in a crowded race that includes senior Ron Doherty, sophomore Matthew Wyman and newcomers Eric Kahn, Michael Mesh and Trevor Pardula.
If Las Vegas offered odds, it likely would have Mesh as the slight favorite over Pardula for field-goal duties, Pardula winning the punting job, and Pardula and Kahn battling it out for kickoff duties. But the favorite doesn't always win.
"We've got really good kickers," Barone said. "It's very competitive. I feel like everybody is in the running. I feel like we're all strong kickers. At the end of the day, it's going to come down to August. We'll see what happens. I'm confident. I know all the guys are confident. Like I said, at the end it's going to come down to how we perform."
Barone said KU strength-and-conditioning coach Scott Holsopple put him in touch with former Gators and current Miami Dolphins kicker Caleb Sturgis, whose mechanics Barone has been studying on YouTube.
"When you look at other guys on film you can see, 'OK, when this guy finishes, his skip is straight at his target, whereas mine is a little bit to the left.' If you think about it, a kick can go wrong with this much (fingers the eye of a needle apart) going wrong," Barone said. "His follow-through is straight at his target and in a more controlled manner. It's going to help with (accuracy) and power. If you think about it, if all your power is going toward your target, it's sent through the ball. If it's maybe going to the left, your power is not sent through the ball."
The golf ball or the football.