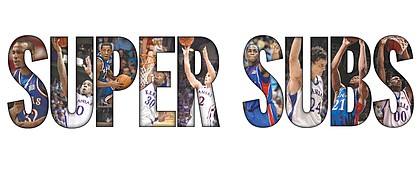 For the past five weeks, the Journal-World sports staff has taken a position-by-position stroll down Memory Lane and examined the top players of Kansas University men's basketball coach Bill Self's first decade in town.
As we move forward in our annual summer series, we'll begin to look at other elements of Self's first 10 seasons, including categories such as best games, toughest losses, best quotes and others. But before we move on to more team-oriented flashbacks, let's round out our analysis of the top players by looking down the bench a little bit.
Part 6 of this summer's series ranks the top five players who came off the bench for Self at some point. Because so many bench guys wind up becoming starters later in their careers, we've pinpointed the specific seasons the guys on our lists filled the role of super subs.
Even though we had dozens of players and 10 years of basketball to choose from, a few names made their way onto all four lists.
Here's a look at what we came up with:
Gary Bedore
(I'd like to give a shout-out to my Twitter followers who helped me in this category; might as well experiment with social media now and again, right?*)
1. Sherron Collins, 2007-08: Twitter users on my follow list reminded me of Collins' great contributions backing up Russell Robinson during the title season and down the stretch in the title game. Collins averaged 9.3 points that season. He also wasn't bad in '06-07 coming off the bench.
2. Sasha Kaun, 2007-08: He averaged 7.1 points and 3.9 boards while coming off the bench in the title season. He also started six games that year. Kaun was simply magnificent in the Elite Eight win over Davidson.
3. Markieff Morris, 2009-10: Morris averaged 6.8 points and 5.3 boards for an outstanding ballclub. Suffice it to say he could have started for any other team in the Big 12 that year.
4. Darrell Arthur, 2006-07: The slick forward from Dallas averaged 9.8 points and 4.7 boards in making a huge impact.
5. Julian Wright, 2005-06: Wright averaged 8.5 points and 4.6 boards. He did start 15 games that season. He was a fan favorite from day one at KU because of his freakish athleticism, i.e., dunking ability.
*Don't blast me for not mentioning the likes of Cole Aldrich, Jeff Graves, Conner Teahan, Perry Ellis, the list goes on.
Tom Keegan
1. Sherron Collins, 2006-07 and 2007-08: A nightmare to try to guard, Collins consistently lit up home crowds with his exciting play as sixth man during his freshman and sophomore seasons, when he was quicker than as an upperclassman. Quicker, and at least as a freshman, considerably wilder.
2. Sasha Kaun, 2007-08: Utter absence of ego enabled him to give way in the starting lineup to Darnell Jackson during their senior season. A lot of players say it doesn't matter to them whether they start or come off the bench. Kaun's play showed he meant what he said.
3. Darrell Arthur, 2006-07: His most impressive game (19 points, 6 of 7 from the field in 16 minutes against defending national champion Florida) came in one of his seven starts. Only came off the bench to try to minimize his foul trouble. Averaged 9.8 points, 4.7 rebounds and 1.5 blocks, making him perhaps the nation's most talented reserve.
4. Darnell Jackson, 2006-07: Just as opposing players began to tire, Jackson would come off the bench, outrun them in both directions and bruise them here and there. His energy consistently boosted the team.
5. Markieff Morris, 2009-10: Averaged 6.8 points and 5.3 rebounds in 17.6 minutes and made 52.6 percent of his three-point shots during his sophomore season. He would have been a starter almost anywhere else in the country, but had to wait a year at Kansas.
Matt Tait
1. Sherron Collins 2007-08: There's no question that Collins was one of the better players on the 2008 title team and little doubt that he would've started for just about every other team in the country. Instead, the bulldog from Chicago dutifully came off the bench and made Self look like a genius by making plays whenever he was out there. For a guy who wound up having one of the best careers in KU history to be able to come off the bench for the good of the team is a real credit to Collins and one of the often overlooked aspects of his greatness.
2. Thomas Robinson, 2010-11: He may have been limited to fewer than 15 minutes per game — talent ahead of him and 5.6 fouls per 40 minutes contributed to that — but when he was on the floor, Robinson displayed the kind of raw energy and emotion that led to an All-American nod and a trip to the title game just one year later.
3. Markieff Morris, 2009-10: What a luxury Self had in Markieff this season — a 6-foot-9, 232-pound rebounding machine who also could step out and stroke it from three-point range. Like Robinson a year later, Morris' confidence and sense of belonging grew tremendously during his sophomore year and he parlayed that into a fantastic junior year and then wound up in the NBA Draft lottery.
4. Jeff Hawkins, 2005-06: The Kansas City, Kan., native who came to KU as a bit of an afterthought wound up playing a huge role on this team. With a ton of talented but young guys still growing into college basketball, Hawkins averaged 20 minutes a game, made 12 starts and provided a veteran presence on the ball and another deadly three-point weapon (43-of-106, 40.6 percent for the season).
5. Conner Teahan, 2011-12: There are plenty of other bench guys who put up better numbers than Teahan, but few played as critical of a role on their specific teams. Often dubbed the "sixth starter" by Self, the versatile Teahan averaged 5 points in 21 minutes per game but, most importantly, stayed on the floor and kept Self from having to turn to unproven and untested reserves Merv Lindsay, Naadir Tharpe or Jordan Juenemann. Although it wasn't a stellar statistical year, Teahan's role on helping this team get to the title game cannot be overlooked.
Jesse Newell
1. Darrell Arthur, 2006-07: Though he started only seven out of 38 games his freshman season, Arthur had a remarkably productive year. Playing 19 minutes per game, the forward averaged 9.8 points and 4.7 rebounds and also led KU in blocked shots while posting top-100 marks in offensive rebounding and block percentage.
2. Sasha Kaun, 2007-08: Kaun's ability to grab offensive rebounds and block shots while avoiding turnovers made him a valuable member of the 2007-08 title team. The senior also played one of his best games at a crucial time, scoring a team-high 13 points on 6-for-6 shooting in KU's 59-57 victory over Davidson in the Elite Eight.
3. Sherron Collins, 2007-08: Collins' numbers actually were better overall his freshman year, but the Jayhawks don't win the national title without his steal and three late against Memphis in '07-08. The sophomore started just three games that season, but he still was on the floor (and produced) during the most important minutes of the year.
4. Thomas Robinson, 2010-11: The sophomore had impressive numbers considering he played just 14.2 minutes per game. Robinson averaged 7.6 points and 6.4 rebounds — that comes out to 21 points and 18 rebounds per 40 minutes — and made 60 percent of his field goals. Had he logged enough playing time, Robinson would have ranked second nationally in defensive rebounding percentage that year.
5. Markieff Morris, 2009-10: Before breaking out offensively the next year, Markieff Morris provided KU with a solid defensive presence his sophomore season. The forward ranked in the top 155 nationally in offensive rebounding, defensive rebounding and block percentage and also averaged 6.8 points while playing 18 minutes a game.