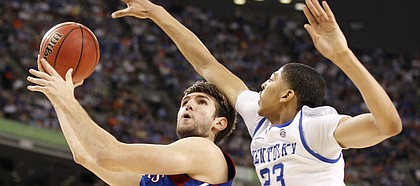 Former Kansas University center Jeff Withey, who was a second-round pick of the Portland Trail Blazers in last week's NBA draft, has been traded to the New Orleans Pelicans, various NBA writers reported Thursday.
Seven-footer Withey is part of a three-team transaction that sends Sacramento's Tyreke Evans to New Orleans as part of a sign and trade agreement. Evans will earn $44 million over four years in New Orleans.
The Pelicans sent guard Greivis Vasquez to the Kings and center Robin Lopez and Terrel Harris to Portland. Portland sent Withey to the Pelicans and a future second-round draft pick to Sacramento. Trades, such as the Blazers' separate deal for ex-KU forward Thomas Robinson, can't be confirmed until July 10 in accordance with NBA rules.
Playing time is apparently available for Withey in New Orleans.
The New Orleans Times-Picayune's Jimmy Smith writes that "the trade of Lopez leaves a huge void on the Pelicans roster at the moment because New Orleans does not have a true center. Swingman Jason Smith can play in the post, but second-year pro Anthony Davis lacks the girth to play the position on a nightly basis."
Michael McNamara of bourbonstreetshots.com, an ESPN-affiliated Pelicans blog, praises the pickup of Withey.
"Withey was the 39th pick of the 2013 NBA draft, but he was a guy that was projected to go top-25 in nearly every mock draft. Personally, I had him ranked 17th on my big board," McNamara writes. "Like Lopez, he is a true 7-footer and because of his college experience, defensive IQ, and ability to finish at the rim, he is one of the few guys from the draft that is ready to play right now. While nobody expects Withey to play the minutes that Robin Lopez got last season, the conventional wisdom centers around the idea that Anthony Davis and Jason Smith will get more minutes at center, meaning the Pelicans just need a guy who can give them 12-15 (minutes). Jeff Withey can do that. ... Basically, Withey runs the baseline on offense, finishes everything, and makes shots at the rim. Not a ton of upside here, but when you consider what the Pelicans needed and Withey's price tag, you can argue that he is exactly what they were looking for."
C.J. Henry playing baseball: Former KU guard C.J. Henry, the older brother of former KU guard Xavier Henry, has made a return to professional baseball. Henry, a former first-round pick of the New York Yankees, who played basketball at KU during the 2009-10 season, is hitting .322 with two home runs and 20 RBIs in 40 games for Evansville (Ind.) of the Independent Frontier League. Henry, 27, who is playing the outfield, has seven stolen bases.
"I am kind of surprised to be playing as well as I am," Henry told USA Today. "It has clicked a little bit sooner than I thought it would. I hadn't played baseball for more than four years. That would be a huge concern for anybody. When you take that much time off, you expect your skills to decline. I was just looking for an opportunity to play."
Xavier Henry headed to the NBA after one season at KU, while C.J. transferred to Southern Nazarene in Bethany, Okla., where he averaged 13.0 ppg in his only season at the school.
Of his stint at KU, C.J. said: "We had six or seven players on that team who are currently in the NBA. Finding playing time on that team wasn't easy. Everybody on that team loved each other and we competed every day in practice. I had a great time."
Frontier League players make between $600 and $1,600 per month. USA Today reports that since the league was founded in 1993, at least 24 players from the league have reached the majors.
"When it happen, if it happens, I am just out here trying to get better every day," Henry said. "It will happen when it is supposed to."
Xavier Henry, meanwhile, is a 22-year-old NBA free agent whose option was not picked up by New Orleans for next season. He has been hampered by knee and ankle problems during his three years in the NBA.
"In his favor, Henry is just 22 years old and he's continuing to learn the NBA game," writes Smith of the Times-Picayune in an article published in May. "But working against him, at least in New Orleans, is he hasn't had multiple outings during which he distinguished himself and provided some separation that could entice the Pelicans to offer him another contract.
"And there's the question of his definitive position. At Basketball-Reference.com, a statistical clearing house, the site listed Henry as a shooting guard in his first two season, but a small forward last season. It is this type of indecision that hangs over Henry's uncertain future in New Orleans," Smith added.