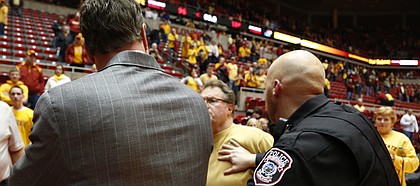 A middle-aged man in glasses wearing a gold Iowa State shirt yelled insults in the face of Kansas University basketball coach Bill Self after the Jayhawks' 108-96 overtime win over the Cyclones late Monday night in Hilton Coliseum.
"I don't think I got rushed. That dude didn't really come at me. I really think I could have taken him without any problem," Self joked on Tuesday's Hawk Talk radio show.
A police officer grabbed the man and escorted him away from KU's coach.
"It was not a serious deal at all like people made it out to be. Maybe his body language made it look differently," Self added of a person he heard was "a big booster of the Cyclones."
"I didn't feel in the least bit like anything would come of that. It was a fan voicing himself in a way he was a little animated. The words weren't bad."
Self did say it was a bit alarming fans were so close to the players after a hotly contested game. Several ISU students pelted the Jayhawk players with debris as they headed to the locker room.
"They could probably make some corrections to make sure they (fans) don't have access to players after a game like that," Self said. "I know when we've been at Missouri in heated times, there's security escorting the players out. After the handshake line it probably could be tightened up a bit."
Des Moines TV station WOI-DT reported Tuesday that Iowa State police confirmed they were investigating two Twitter death threats to Elijah Johnson, who dunked at the end of the game rather than running out the clock.
Screenshots taken by other Twitter users on Monday night showed one person suggesting attacking the KU bus with "30 bullets" and another making racist comments directed at Johnson. Both Twitter accounts had been deactivated by Tuesday evening.
"I guess there were some things said, some threats made. That is sad," Self told the Journal-World. "That person should be investigated and looked at. You can't take things like that for granted. The person making those statements ... that situation needs to be looked into."
Self said he had received a nice e-mail from an Iowa State student.
"The student said he hated how fans coming on the court throwing things totally took away from what was a good night," Self said. "I responded. I said, 'Hey it was a good night. Even if the outcome was different, I'd say it was a great atmosphere and fun game to be part of.' I was never nervous about it. There were some things being thrown. It's just frustration. I will say this about Iowa State fans: I like them. They are good. They are loyal and enthusiastic."
League weighs in on no-call: The Big 12 Conference released the following statement Tuesday:
"The Big 12 Conference acknowledges that officiating errors were made at the end of regulation during last night's Kansas at Iowa State men's basketball game. The plays have been reviewed and appropriate measures will be aken by the Coordinator of Men's Basketball Officials to adjust the number of future assignments for the two officials involved in conjunction with Conference policies."
With six seconds left and KU trailing, 90-88, KU's Johnson drove to the lane and made contact with Iowa State forward Georges Niang. No foul was called on the play, and Niang was later whistled for a loose-ball foul against Johnson, who hit two free throws with 4.9 seconds remaining to send the game to overtime. Also, with 23 seconds left, it appeared Jeff Withey committed his fifth foul, but the foul was assessed to Kevin Young.
"I would say, 'Hey we were fortunate we got a no-call there,'" Self said. "It could have easily been a charge. (But) how many times at the end of games do you have no-calls in those situations?
"We were fortunate. I will not say we weren't. It could have easily been called and if it was I couldn't have complained. On the flip side, there are a lot of calls in a game that you could say, 'Maybe that could go the other way.' It was a hard game to call. It's gotten a lot of national attention. I guess the league office felt they had to make some sort of statement."
On his radio show, Self said league-office statements about officiating could get out of hand.
"If we are going to get in the business of publicly making statements off of every bad call, let's go back to the opening tip," Self said, "because there are a lot of times the third foul on a big guy in the first half is the difference between winning and losing or second foul with 15 minutes left if it's a bad call can be difference between winning and losing. It was a good crew (Mark Whitehead, Tom O'Neill, Bert Smith). I don't think our bench was ecstatic on the way the game was being called either. I don't think their bench was. It was a hard game. There were good players making plays."
This, that: Self was presented a ball in the locker room by his players and KU administration signifying his 500th coaching victory. ... KU's bus pulled into the Allen Fieldhouse parking lot at 4:50 a.m., Tuesday. "It was tough sledding," Self said. "The last hour and a half really slowed down because of snow, ice. We made it back safe and sound and slept better the few hours we got because of unbelievable performance by our guys."
Naismith list: KU's Ben McLemore and Jeff Withey are two of 30 candidates for the Naismith College Player of the Year Award, the Atlanta Tipoff Club announced Tuesday. Other Big 12 players on the list: Rodney McGruder, Kansas State; Marcus Smart, Oklahoma State.