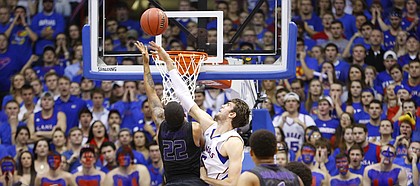 Photo Gallery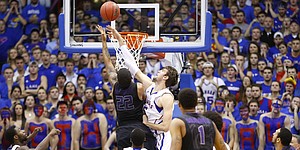 Kansas basketball v. Kansas State
Images from Monday night's game against Kansas State at Allen Fieldhouse.
Podcast
Press Conferences & Post-Game Interviews
KU coach Bill Self talks after his team's 83-62 victory over Kansas State on Feb. 11, 2013.
Podcast
Press Conferences & Post-Game Interviews
Kansas players Jeff Withey, Ben McLemore and Naadir Tharpe talk to reporters following the Jayhawks' 83-62 victory over Kansas State ...
Podcast
Press Conferences & Post-Game Interviews
Kansas State coach Bruce Weber, Rodney McGruder and Will Spradling talk after KSU's 83-62 loss to Kansas on Feb. 11, ...
Kansas University senior center Jeff Withey, who broke the KU and Big 12 single-season record for blocked shots a year ago, on Monday surpassed Greg Ostertag as leading shot blocker in school history.
Withey, a 7-foot, 235-pounder from San Diego who entered the KU-K-State game tied with Ostertag (258 blocks) swatted five shots in KU's 83-62 victory over Kansas State in Allen Fieldhouse.
Withey set the record at the 16:28 mark of the first half by rejecting a Thomas Gipson shot in the paint.
"It feels good. I'm not satisfied obviously," Withey said. "I want to break the conference record, too. It's cool, but I still have some work to do."
He needs one block to tie Texas' Chris Mihm (264 blocks) as the league's all-time human eraser.
Withey scored 17 points. He had a vicious dunk on a play in which he nailed KSU's Jordan Henriquez in the face with his left elbow.
"It felt great. Jamari (Traylor) gave me a perfect pass. I went up and dunked it," Withey said. "It was awesome and gave us more momentum (61-43 lead)."
Unforgivable: Self on KU's three-game losing streak, which is over.
"First of all, folks, losing three in a row ... I understand it's not forgivable," Self cracked. "It's a terrible, terrible deal, but what we're going through is what 99 percent of all teams in America go through. There's only one percent that doesn't have rough stretches during a season. We've been so spoiled here because for a long time we haven't had these kind of stretches. I think it's been 6 1/2 years since we lost two games in a row. We haven't gone through that. It will put a focus on what can happen when we are not at that magic level to compete. A lot of that is toughness. A lot is sacrificing for the good of others. Having the right mindset, being a good teammate. This past 10 days, I think we have had the focus on who we saw in the mirror as opposed to everybody else."
Assistants helped: Miffed after Saturday's loss at Oklahoma, Self let his staff take care of the film session Sunday.
"I didn't show 'em film of OU. I let my assistants show 'em film because I knew I'd probably blow a gasket," Self said. "They coached them in the film session. I came in at the end and made a couple points. The whole mindset was, 'Let's get ready to beat K-State.'"
• Kansas State coach Bruce Weber brought his Wildcats to town on Sunday rather than on game day.
"It's only an-hour-and-20-minute drive over to Lawrence," Weber said on Monday's Big 12 coaches teleconference. "Initially we thought of just coming over in the morning, but with all the hype for the game, we just felt we needed to get the guys away. Some of them expressed an interest in shooting in Allen Fieldhouse.
"We did a quick walk-through yesterday (Sunday in Manhattan) and ate dinner and came over to Lawrence, shot a little bit and got the guys' focus on the task at hand, playing Kansas."
KU also traveled to Manhattan the night before its game against the Wildcats on Jan. 22.
Father/son: Bill Self on the teleconference was asked by a reporter from Atlanta (site of the Final Four) on coaching his son, Tyler.
"I had no apprehensions at all. He may have had several but I had none at all," the elder Self said. "Our situation is a little different than some because he's coming in as a walk-on and not going to play a big role as far as playing time or anything like that. The biggest thing with him is he thinks he may want to coach, and I get a chance to be around him every day. It really is nice. It certainly made this year very enjoyable for me having him there every day."
As far as whether Tyler calls him "dad" or "coach" ... "Unless I call on him, he doesn't refer to me as either one. I think he'd probably still say, 'dad,' in most situations," Self said.
Rally talk: Self was asked on the teleconference why a team with four senior starters hadn't been able to "rally" the troops during a three-game losing streak.
"I'm not sure that's a correct statement that we haven't been able to rally," Self said. "We didn't rally one game. We didn't rally in Fort Worth (in Wednesday's loss to last-place TCU). We actually played pretty hard at OU (Saturday). We just got beat. We played a team that was good that day. They made shots. They certainly made more plays than we did. The guys are trying. We do have more seniors. Three of them have played a lot for us. We should be better in some ways than what we are without question. It's not from a lack of anything. We've hit a rough stretch.
"We've become very bland in many ways from an intangible standpoint that the seniors do have to help us with. But all teams go through it every year. We just picked obviously a very inopportune time to go through it from a league race standpoint. It'll challenge us. I think it'll make us tougher."
Adversity can help the team in March, Self said.
"If we haven't gone through some crap we wouldn't be tough enough to compete on the highest stage anyway or the biggest stage," Self said. "We'll spin this in a way we'll get better because of it, but nobody likes going through it."
Snug fit: Several Adidas schools will wear a short sleeve compression jersey at some point this season, including possibly Indiana, Louisville, UCLA, Kansas, Baylor. Marc Spears of Yahoo reported on Monday. One KU official said he had heard of no plans this season to use a second alternate jersey.