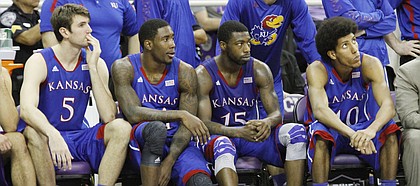 Photo Gallery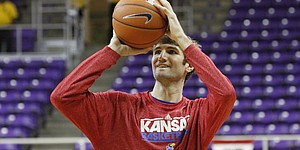 KU vs. TCU
The Jayhawks played against the TCU Horned Frogs Wednesday, Jan. 6, 2013, in Fort Worth, Texas.
Podcast
Press Conferences & Post-Game Interviews
Kansas coach Bill Self talks after his team's 62-55 loss to TCU on Feb. 6, 2013.
Fort Worth, Texas — Kansas University did much more than lose a basketball game on Wednesday to TCU, the last-place team in the Big 12 Conference.
The Jayhawks, according to coach Bill Self, had one of the most putrid performances in school history, evidenced by a 13-point — yes, 13-point — first half that contributed mightily to a 62-55 setback in Daniel-Meyer Coliseum.
"It's the worst team Kansas has ever put on the floor since Dr. Naismith was here," Self said after the Jayhawks suffered back-to-back losses for the first time since the 2005-06 season, when KU fell to Kansas State and Missouri in consecutive games. "I think he had some bad teams when he lost to Topeka YMCA in his first couple years. The first half (in which KU hit 3 of 22 shots) ... there hasn't been a team play worse than that offensively. That hasn't happened ... anywhere.
"Maybe Northern Illinois. Earlier this year, they made one basket in a half. The great thing," Self cracked, "is we had three assists on our three baskets. We were really sharing the ball."
KU, which trailed, 22-13, at halftime, had its lowest-scoring half at least since the 1988-89 season when halftime records started to be kept. Previous low was 18 points against Iowa State back in 1999. The previous low in a half in the Self era was 20 points versus Arizona on Nov. 21, 2005.
This happened against a TCU team (10-12) that in opening league play 0-8 had lost seven games by double figures. Its closest loss was a nine-pointer to Texas Tech, the other margins of defeat 18, 11, 13, 13, 21, 26 and 17 points.
"What is the right word to assess the first half? Futility ... would that be a word?" said Self, whose Jayhawks (19-3 7-2) trailed 10-4 with 6:15 left in the first half. The Jayhawks also trailed, 20-6, with four minutes left in an effort described as "embarrassing."
"Yes, I am," senior Kevin Young (six points, nine rebounds) said, asked if he was embarrassed. "There are a lot of great names to wear the jersey before us. We embarrassed not only us but them. We played horrible.
"We deserved what we got," added Young, who came off the bench in favor of Perry Ellis (no points, 10 minutes) for the first time in 19 games in a move Self said was designed to "get Perry going."
Of the first half, Self noted: "It was awful, but even as bad as it was, and it was horrendous, if we are sound defensively and get stops at the end of the clock, we are down four to six as opposed to nine."
KU did slice a 16-point deficit (37-21 at 11:41) to four points the second half (44-40 at six minutes) but again went cold and found itself down double figures at 51-40.
Self didn't see this one coming.
"We actually were very competitive Monday and Tuesday," he said of the team's response to a home loss to Oklahoma State on Saturday. "And we had a great shootaround today. Our coaches said it's the best we looked all year."
Of the lineup switch, Self said: "Well, Kevin will give us the same thing whether he starts or doesn't. That didn't have anything to do with anything. I was really trying to hope that Perry could get going. Obviously, it didn't happen. If we could start three guys, we'd do that. They make us run five out there. I don't know who deserves to start."
Young said: "I did it (come off bench) last year. I have no problem with it. I lacked energy today. I don't know why. I will try my hardest to not let that happen again."
KU, which hit 29.5 percent of its shots and just three of 22 threes, was led by Ben McLemore, who had 15 points off 6-of-16 shooting. Jeff Withey had 12 points, and Naadir Tharpe had 11 off 2-of-15 shooting.
The Jayhawks will meet Oklahoma at 3 p.m. Saturday in Norman, Okla.