On the street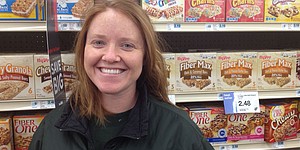 No, I don't think so. I just feel like they should be focusing on prime government functions like improving infrastructure and education and jobs and not worrying about basketball.
Topeka — This week, the state of Kansas has three college men's basketball teams ranked in the Top 25 in the USA Today Coaches Poll.
But one of those teams, Wichita State University, doesn't play the other two, Kansas University and Kansas State University.
That would change under legislation introduced Tuesday by state Sen. Michael O'Donnell, R-Wichita.
Starting in the 2014-15 academic year, KU and K-State would each have to schedule a nonconference game with Wichita State.
"These are absolutely going to be sellout games," O'Donnell said.
O'Donnell said the matchups would be a hit with basketball fans and promote the state. He said the games would also decrease travel time for the teams.
Similar legislation has been filed before and clanked off the rim.
But O'Donnell noted he has a powerful teammate running the floor. Senate President Susan Wagle, a Republican, is from Wichita.
O'Donnell originally proposed making state funding to KU contingent on playing Wichita State.
But he removed that provision before officially introducing the measure, saying he didn't want his proposal to be confrontational.
He said that the measure was not a top priority of his but that he wanted legislators to at least discuss the idea. Other states have passed similar bills to create in-state rivalries.
KU and Wichita State have not played since 1993 when KU defeated the Shockers, 103-54.
Tim Caboni, KU's vice chancellor for public affairs, said he appreciated O'Donnell's "excitement and support of Jayhawk basketball, and his enthusiasm expressed through this bill." But, he added, "It would be our great preference that Coach (Bill) Self along with the staff in Kansas Athletics craft the annual basketball schedule for KU."
In a recent interview with ESPN, Self was asked why KU won't play Wichita State.
Here was his answer: "Kansas hasn't played Wichita State for years, way before I was the coach at Kansas. … Iowa plays Northern Iowa because the state Legislature says you have to. If someone were to come and say something that it's law, then we would have to. But you schedule to benefit your own school, not to benefit others. You have to benefit your own school. I want to play games that benefit us, and, from a financial standpoint, it's hard to play games away from Allen Fieldhouse since that's our main source of budget every year."
O'Donnell said that under his proposal, he would let the schools figure out where to play the games.