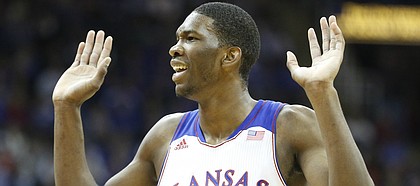 Photo Gallery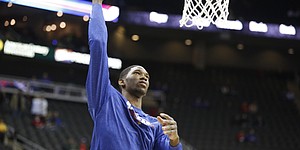 KU basketball v. New Mexico
Images from Saturday's game against New Mexico at Sprint Center in Kansas City, Missouri.
Podcast
Press Conferences & Post-Game Interviews
Bill Self postgame after KU's 80-63 victory vs. New Mexico
Podcast
Press Conferences & Post-Game Interviews
Embiid, Ellis, Selden New Mexico postgame
Kansas City, Mo. — Freshman center Joel Embiid makes this young Kansas University basketball team so much better when he plays as opposed to when he nurses foul trouble. His extraordinary numbers — 18 points, six rebounds, four blocked shots, three steals and no turnovers — compiled Saturday night in 25 minutes against New Mexico in the Sprint Center, tell only a portion of the story.
How much better teammates played with him on the floor showed even more about his value in an 80-63 victory against the talented, experienced Lobos, spoke just as loudly.
With the long-striding, quick-afoot, long-armed 7-footer trapping the post in support of Perry Ellis, Embiid masked his teammates' deficiencies as post defenders. For the Lobos, seeing Embiid coming at them, arms reaching for the ceiling, it was the equivalent of a hitter crowding the plate and seeing a 95 mph fastball heading for his jaw. Instinct kicks in and the goal becomes getting out of the situation without harm as quickly as possible. Hurried, even panicked, the guy with the ball changes his goal to not turning it over. Scoring no longer enters the equation. It becomes all about surviving the possession.
"He's better than anyone else at that because you're throwing over 9-5 (9-feet-5-inches from tip of the fingers to the floor) when he runs at you," Kansas coach Bill Self said. "Other guys are a little softer in their approach and how they do it and their height and things doesn't bother (the offensive players) as much."
Ellis, as teammates and coaches of Embiid so often do, referenced more than the physical gifts of the 7-foot center from Cameroon.
"He's smart," Ellis said. "Whatever coach tells him to do, he's doing it. It's a big help having him right there blocking shots and everything."
When Embiid went to the bench with 10:50 remaining in the first half, New Mexico found it easier getting to the basket and attacked with a confidence that withered once Embiid returned.
Embiid's presence had the opposite effect on Ellis' confidence and scoring opportunities. The Lobos no longer could pay extra attention to Ellis with Embiid posing such a threat as a scorer. Ellis scored 13 of his team-high 21 points and had six of his team-best nine boards in the second half.
Point guard Naadir Tharpe also played with more confidence when Embiid returned, knowing that if he threw it up near the rim, Embiid would catch it, rock it behind his head and throw it through the hoop in such a convincing manner it juiced not only the crowd but everyone wearing a Kansas jersey.
Playing alongside an athlete with such a rare blend of size, speed and grace, sets the bar high for teammates aware they are playing with a special basketball player who is improving, it seems, with each stride.
By playing the central role in Kansas quickly stretching a one-point halftime lead to nine points in less than three minutes to open the second half, Embiid allowed teammates to play more freely.
He makes Kansas a completely different team, which intensifies the need for him to figure out how to stay out of foul trouble. His first foul was whistled in the opening minute, far from the hoop. His second was an over-the-back foul when he attempted to snare an offensive rebound.
"I was frustrated, even though I didn't think the second was a foul," Embiid said.
Regardless of whether contact is made, referees typically call a foul when they see a player reaching over the man who has established position. Consequently, the more relevant issue isn't whether a foul is committed, just whether it's called.
"Next time, I'm going to be careful and not go over the back," Embiid said.
He's a quick learner. He's quick, period. And he makes everybody playing with him quicker.