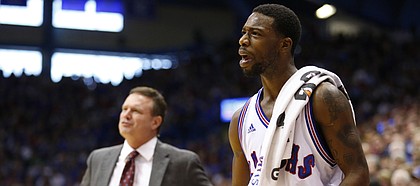 Former Kansas University basketball combo guard Elijah Johnson has signed a one-year contract with Anwil Wloclawek, a professional team based in Wloclawek, Poland.
The 6-foot-4, 195-pounder from Las Vegas, who averaged 9.9 points and 4.6 assists last season for 31-6 KU, joins Central Florida's Keith Clanton, who also signed with the Polish League team this week. Terms of the deal were not disclosed.
"This is a player with great potential with an athletic physique and strength," Anwil coach Milija Bogicevic said on the team's official website. "These advantages can be used not only in attack (on offense) but also on defense which in our European basketball is very important. In recent years, regularly playing in the NCAA (tournament) ... this is another important experience for players like Johnson," Bogicevic added.
Johnson on Thursday texted a message to the Journal-World to pass onto supporters prior to his traveling to Poland.
"I love KU and all our fans. The fieldhouse is the best stage, yet. 'Pay Heed All Who Enters,''' wrote Johnson. He played for the Los Angles Clippers in the Las Vegas NBA Summer League, averaging 4.2 points and 1.2 assists per game.
Former KU guard Travis Releford also has a one-year pro contract for the coming season. He'll play for Okapi Aalstar, a team in Belgium.
Rally tonight: The eighth-annual KU Kickoff at Corinth Square (83rd and Mission Road in Prairie Village) will run from 6 p.m. to 10 p.m., today. KU basketball coaches Bill Self and Bonnie Henrickson, track coach Stanley Redwine and football coach Charlie Weis will address the fans at the rally. The cover band Sellout! will perform from 7 to 10 p.m.
Camp coming: Self, Thomas Robinson and Ben McLemore will host a basketball camp for boys and girls grades 1-to-12 from 9 a.m. until noon Saturday and Sunday in Allen Fieldhouse. To sign up for the camp go to the Web address http://procamps.com/selfcamp.
Junior narrows list: Malachi Richardson, a 6-5 junior shooting guard from Roselle Catholic High School in Roselle, N.J., has narrowed his list of schools to KU, Syracuse, UConn, Indiana, North Carolina, Rutgers, Ohio State, Georgetown, Florida, Miami, Villanova and Arizona, Rivals.com reports. He is ranked No. 19 in the Class of 2015.
Aldrich to Kings?: NBA free agent/former KU center Cole Aldrich worked out for the Sacramento Kings on Monday, cowbellkingdom.com reports. Aldrich finished last season with the Kings, averaging 3.3 points, 4.2 rebounds and 0.9 blocks in 11.7 minutes per game (15 games). Aldrich became a free agent in July when the Kings declined to exercise the 2013-14 option on his rookie contract. ESPN New York reports that the New York Knicks are also looking at possibly acquiring the 24-year-old Aldrich.