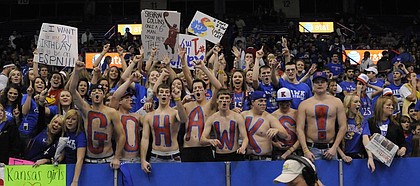 KU men's basketball schedule
• 2013-14
The Kansas men's basketball team will make four appearances on ESPN's Big Monday in 2014, tying for the highest number in the conference with Oklahoma State.
KU will be a part of the first two Big Mondays, traveling to Iowa State on Jan. 13 and playing host to Baylor on Jan. 20. All games are scheduled for 8 p.m. CT.
The Jayhawks also will be at Kansas State on Feb. 10 before playing host to Oklahoma on Feb. 24.
Since the start of the Big 12, KU is 49-16 all-time on ESPN's Big Monday (27-1 at home, 22-15 on the road), which includes a 30-8 record under coach Bill Self. KU also has won 20 straight ESPN Big Monday games in Allen Fieldhouse, which includes a 16-0 mark under Self.
2014 ESPN Big Monday Schedule for Big 12 (All games at 8 p.m. CT)

Jan. 13 —  Kansas at Iowa State

Jan. 20 — Baylor at Kansas

Jan. 27 — Oklahoma State at Oklahoma

Feb. 3 — Iowa State at Oklahoma State

Feb. 10 — Kansas at Kansas State

Feb. 17 — Oklahoma State at Baylor

Feb. 24 — Oklahoma at Kansas

March 3 — Kansas State at Oklahoma State