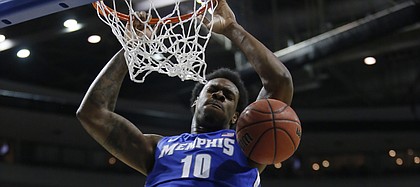 Tarik Black, a junior power forward from the University of Memphis who has announced plans to transfer, is being courted by Kansas University and Duke, among others.
He will be immediately eligible next season, following his graduation in May.
KU coaches were slated to visit with the 6-foot-9, 262-pounder on Wednesday night — a day after Duke coach Mike Krzyzewski met with Black in Black's hometown of Memphis. Zagsblog.net reported that Black has also met with coaches from San Diego State.
Black averaged 8.1 points and 4.8 rebounds a game off 58.9 percent shooting (103 of 175) last season. He hit 52 of 116 free throws for 44.8 percent. He started five of 32 games, averaging 20.8 minutes a game for the (31-5) Tigers. He was ranked No. 54 nationally by Rivals.com in the recruiting Class of 2010.
Wrote Matt Giles of ESPN.com: "Though his playing time was limited, he has shown the potential to carve out space on the interior and grab a plethora of offensive rebounds, posting an offensive rebounding percentage of more than 10 percent in his three seasons in Conference USA. There were reports that Black recently met with the ACC program's (Duke) coaching staff, but Gary Parrish of CBSsports.com clarifies: 'Duke put a fullcourt press on Tarik Black yesterday. Mike Krzyzewski, Steve Wojciechowski, Nate James visited his home.'"
Labissiere offered
KU and Kentucky have offered a scholarship to Skal Labissiere, a 6-9, 200-pound sophomore power forward from Evangelical Christian School in Cordova, Tenn., ESPN.com reports. Labissiere, who is originally from Haiti, is ranked No. 6 in the Class of 2015 by Rivals.com.
The Lexington Herald-Leader reports that Labissiere was 13 when his house crumbled in an earthquake, leaving him buried in rubble. His father dug him out and Labissiere was not able to walk for a few weeks. He moved to the U.S. later in 2010 with the help of "Reach Your Dream," a non-profit organization that helps international youths enroll in schools in the U.S. to pursue a college education. For the full story on Labissiere, click here.
Freeman available again
One-time KU recruit Allerik Freeman has decommitted from UCLA and reopened his recruitment. Freeman, a 6-4 shooting guard from Findlay Prep in Henderson, Nev., is ranked No. 81 in the Class of 2013 by Rivals.com.
"I think Al just wants to exercise all due diligence in making this major life decision with the change in circumstances at UCLA," Findlay Prep coach Todd Simon told CBSsports.com.
UCLA recently hired New Mexico's Steve Alford to replace the fired Ben Howland. Freeman chose UCLA over KU, Ohio State, Duke, Villanova and others.
"He's a powerful scoring guard who uses his strength and body to finish through contact around the rim. He is also solid in the mid-range, and makes shots along the baseline as well. Freeman has also improved his ball-handling and penetration ability," wrote Jeff Borzello of CBSsports.com.