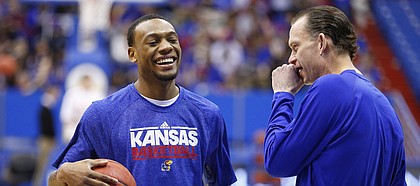 There was fear in Fort Myers, Fla., that Florida Gulf Coast University's basketball players would transfer en masse if somebody other than Eagles' assistant Marty Richter were hired to replace the wildly popular Andy Enfield as head coach.
Such concerns have disappeared now that the returning players have met former Kansas University assistant coach Joe Dooley, who was introduced Monday at a news conference as replacement for new USC coach Enfield.
"My first impression was, I was mad. I wanted Marty to get the job because I wanted to keep what we had," FGCU guard Brett Comer told the Naples Daily News.
He is a former Blue Valley Northwest player who attended KU head coach Bill Self's basketball camp as a youth.
"After talking to Dooley and realizing I know the guy, I'm happy with him and what's going to happen here. It's going to be exciting, and it's going to be an advancement to big things," Comer added.
Not only are all the players returning, but holdover assistants Richter and Michael Fly and director of basketball operations Joey Cantens are staying, too. Dooley will hire a third assistant from outside the FGCU program.
"Familiarity breeds confidence," Dooley told the Naples Daily News. "That's what was great about having the guys stay on the staff. They know the conference (Atlantic Sun). They know the dynamics of the league. They know the recruiting base. They know our players, their tendencies. It makes the transition a lot easier for me."
Florida Gulf Coast returns four starters from a team that last season became the first No. 15 seed to reach the Sweet 16 of the NCAA Tournament.
"It can happen; I don't see why it can't," Dooley said of the program becoming a mid-major powerhouse, like, say, Gonzaga. "Why not us? The ceiling is high. If you look at (FGCU's) progress in a short period of time, it's been amazing. Now we have to grow the product and grow the brand and continue to improve."
Dooley never applied for the job, the Naples News reported. He was approached by athletic director Ken Kavanagh, who called Dooley after a friend recommended the 10-year KU assistant.
"It was on my radar," Dooley told the Fort Myers News-Press. "The way things happen with jobs ... sometimes you are not sure how it (process) will go on. We were a little bit disappointed with the way the season ended (at KU). I wasn't focused on looking for another job, but focused on who we were recruiting at Kansas. It did pique my interest right away. That's how it led to this."
Former KU guard Mario Chalmers on Dooley's hiring: "I think he's going to be a great head coach," Chalmers told the Naples Daily News. "He's going to be a guy who's going to get some players. With players who have a lot of talent, you can do anything, especially if you're a good coach like that.
"Besides my dad (Ronnie), that's the person I trusted most when I first got there," Anchorage, Ala., native Chalmers added of KU. "And over the years, we developed a close relationship. To this day we have a close relationship."
Wiggins cancels in-homes: Prize basketball prospect Andrew Wiggins, a 6-foot-7 forward from Huntington (W.Va.) Prep, on Monday canceled this week's in-home visits with coaches from KU, North Carolina and Florida State. Instead he was to talk with coaches from the three schools on the phone.
He recently had an in-person visit with Kentucky's John Calipari.
"It means nothing," Huntington coach Rob Fulford told CBSSports.com. "He's just tired. He doesn't want to deal with it. He's just drained. He is shutting it (recruiting) down."
Wiggins, who is ranked No. 1 in the country by Rivals.com, the past several weeks has played in all-star games in Chicago; Brooklyn, N.Y.; and Portland, Ore.
"There is no timetable. He's not back from Portland. He has had two flights canceled," Fulford told zagsblog.net on Monday morning.
Boogie this summer: Tickets for Bill's Basketball Boogie, set for June 8 at Abe and Jake's Landing, are on sale at basketballboogie.org. The night of dinner and dancing benefits Bill and Cindy Self's Assists Foundation.