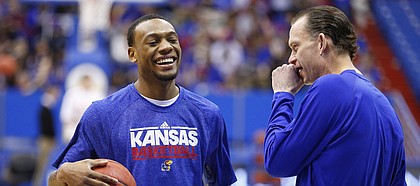 Joe Dooley — who has worked as an assistant coach at Kansas University during the entire 10-year Bill Self era — says it's going to be extremely difficult to say goodbye.
"(It was) quite a run. Being part of 300 wins in a 10-year period, 15 of 20 (Big 12) championships, guys growing up and getting better, the friendships we made with other staff members, players and community members. There's no better place (than KU)," Dooley said Wednesday after agreeing to a five-year contract to take over as head coach at Florida Gulf Coast University.
"Tanya (wife), Max (son) and I will always be proud to have been Jayhawks," the 47-year-old Dooley added.
Dooley — he was named the top assistant coach in the country in 2010 by foxsports.com — has always said it would take a "special situation" to leave KU.
"My wife and I and coach Self came up with criteria — to go to a place where you could win, work for a great administration and to top it off a place with great quality of living," Dooley said. "Fort Myers (Fla.) is attractive to live in and recruit to. All those things told me it was a great fit."
Still ... "this is bittersweet," added Dooley, who replaces new USC coach Andy Enfield, who led the Atlantic Sun Conference school to a berth in the Sweet 16 of the 2013 NCAA Tournament. "We have unbelievable memories here. I wouldn't trade it for anything."
Dooley — who according to the Fort Myers News-Press will be paid $225,000 a year (he made $300,000, plus use of car and country club membership at KU) annual salary, not counting media money and incentives — has extended offers for assistant coaches Marty Richter and Michael Fly to remain with the program along with director of operations Joey Cantens, the paper indicated.
"Joe certainly gave us 10 years of excellent service. I'm sad to see him leave, but happy for he, Tanya and Max. They deserve this opportunity," KU coach Self told the Journal-World.
"He's had several opportunities where he could have made a move but this one just felt the best for him and his family. Joe has meant an awful lot to our program in the last 10 years and a big reason why we have been successful. Although we hate to see him leave, it's one of those situations that you are so happy for him and know that he will be ultra-successful living on the beach in Florida. He's been so instrumental in not only coaching our guys but also with the development and skill improvement of our players. All of our players have enjoyed playing for him, knowing they were going to get his best effort every day."
Dooley had the second-longest tenure of any assistant in KU history. Sam Miranda worked 11 years on coach Ted Owens' staff.
"Ten years, it's hard to pick one," Dooley said, asked to identify a No. 1 memory of his KU days. "Obviously, winning a national championship (in 2008). There's so many steps along that process that made that something special."
An avid jogger, Dooley will be able to go for long runs on the Florida beach.
"My son, as you know, has long, curly hair," Dooley said of 9-year-old Max. "He looks like a surfer. We'll put him out on the beach and see if he can learn how to ride a wave."
Dooley will be formally introduced at a news conference at 1:30 p.m. Monday in FGCU's Alico Arena.
Self to start looking: Self said he was in no hurry to name a replacement for Dooley.
"I really don't know what I'm going to do, obviously sit on it awhile, get input from Kurtis (Townsend) and Norm (Roberts, assistants) and see what direction we are going to move. I do have some individuals in mind in case there ever was a potential opening. I'm at the preliminary stages on doing anything," Self said.
If Self wanted to, he could ask the NCAA for an emergency recruiter during the rest of the spring period, such as director of basketball operations Doc Sadler.
"I don't know if we'll need that. We only have basically 10 days left (in recruiting period)," Self said, "and three guys can be on the road. We have a limited number of total days we can be out so I don't think that will be a factor," Self said of being shorthanded.
"It's not bad timing. Most of our recruiting was done in the fall by signing five guys. We're in the process of trying to bring in a couple more guys. I don't know if there's ever perfect timing, but the timing is fine," Self said.
This, that: The darlings of the NCAA Tournament, the FGCU Eagles return four starters off a 26-11 team that became the first No. 15 seed to reach the Sweet 16. FGCU defeated Georgetown and San Diego State in the tourney. ... Point guard standout Brett Comer attended Self's KU basketball camp as a youth. He played two years at Blue Valley Northwest. ... Dooley said Comer is a friend of KU senior Travis Releford. ... Dooley said he'd ask the Eagles players to contact KU players to ask them any questions they might have about Dooley and/or his coaching style. ... "Congrats to coach Dooley for getting the head coaching job here," Comer wrote on Twitter. ... Former coach Enfield made $157,500 last season with the Eagles, the Fort Myers News-Press reported.
Young happy for Dooley: KU senior Kevin Young sent a text message to Dooley congratulating him on getting the job. "I think he'll do amazing," Young said. "He's such a great, great teacher off the court and on the court — little things helping me on my shot. Before everybody gets in there (gym before practice), he'll come up to me and talk to me about any improvements I need to make in my game."
Self to visit Okafor: Self next week will conduct an in-home recruiting visit with Jahlil Okafor, the No. 1-ranked player in the Class of 2014, according to Rivals.com. Okafor, 6-foot-10, 280 pounds from Chicago Whitney Young High, has visited with Ohio State coaches. He's also considering Duke, Michigan State, North Carolina, Illinois, DePaul, Arizona, Kentucky, Baylor and others.