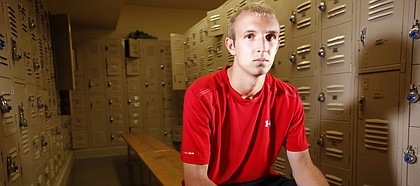 Future Kansas University basketball combo guard Conner Frankamp hit 22 of 25 three-pointers in the final round to win the third-annual American Family Insurance High School 3-Point Championship on Friday at Greater Atlanta Christian School.
Frankamp, a 6-foot senior out of Wichita North, defeated a field that included future KU teammate Brannen Greene. The contest, which includes a slam dunk event, will be shown at 1 p.m. today on CBS.
A video of Frankamp's final round is available here.
Manning praised
Former KU All-American Danny Manning was named one of the top 15 all-time March Madness players on Friday at the Final Four. Manning averaged 20.5 points and 7.3 rebounds in leading KU to the 1988 NCAA title. KU's 1951-52 title team was one of 25 March Madness teams honored. Indiana's 1975-76 undefeated national championship team was voted top March Madness team of all time.
One more meeting
KU coach Bill Self on Friday told the Journal-World he and freshman guard Anrio Adams would meet again once Self returns from the Final Four in Atlanta. The two met earlier this week — a session that resulted in Self's granting the 6-foot-3 Seattle native a release from his scholarship agreement. Adams on Thursday night said he changed his mind and did not want to transfer after all.
Sources indicate it would be a surprising development if Adams were reinstated to the team.
"Rio is a heckuva talent, but he just had a lot to learn," Adams' high school coach, Mike Bethea of Rainier Beach, told the Seattle Times. "He just needs to be patient. It was one of those thing where Rio was thinking he could come in, step on the court and play right away. That's not the case at a place like Kansas. Heck, even Ben McLemore had to red-shirt. Rio can be a good fit anywhere. He just has to understand the situation he's getting into and accept that situation."
Adams scored 27 points in 24 games his freshman year.
"When he was with us, he understood what it was and where he was," Bethea told the Times. "He understood the urgency. He was a senior. He didn't have an offer on the table. … He had Kansas, but he didn't sign with them until later in the year. They wanted to make sure he was going to do the things he needed to do before bringing him in. Rio is a good kid. Really good kid. You hope he's learned a little bit from this latest situation and it's helped him grow up a bit."
FSU the leader?
Wichita State junior guard Nick Wiggins, the brother of prize high school recruit Andrew Wiggins, tells SNY.tv that his parents want Andrew to pick Florida State over KU, Kentucky and North Carolina.
"I think both my parents would like him to go to Florida State University because that's where my mom and my dad attended school, so it would be pretty amazing to see him do that, and I believe they would be happy with that decision," Nick told SNY.tv.
Wiggins' dad, Mitchell, played in the NBA. Mom Marita Payne-Wiggins competed in the Olympics in track and field for Canada.
"But, I mean, they would also be happy with anywhere that he goes to school," added Nick, who believes Andrew will announce his decision "in the next two weeks to three weeks."
Nick Wiggins isn't sure Kentucky, which has six incoming McDonald's All-Americans, is the right place for Andrew.
"(Kentucky) has eight or nine All-American guys coming in, and I don't know if it would be the best spot for him to go and shine like he wanted to," Nick said in an article printed on zagsblog.com. "That's my personal opinion. I know how the recruiting process is. But it would be special to see him play anywhere as an older brother. Definitely, I'm sure that he would want to make his own legacy and you could see it kind of on Kentucky's team this year," Nick added. "They had a lot of stars and it kind of didn't gel as well as it did the team before when it had a lot of freshmen that really gelled together. So it's just difference in players and putting combinations together. Coach (John) Calipari's a very good coach so I wouldn't blame it really at all on him."
Hofstra looking
KU assistant Joe Dooley has been mentioned as a possible candidate for the head-coaching opening at Hofstra by hoopdirt.com and collegesportsinfo.com. Mo Cassara recently was fired as Hofstra coach. Others mentioned: Tim Cluess (Iona), Joe Mihalich (Niagara), Speedy Claxon (Golden State NBA scout), Al Skinner (former Boston College coach). Some believe Dooley also could surface as a candidate at Rutgers.
Portsmouth-bound
KU seniors Elijah Johnson and Travis Releford have accepted invitations to compete at the Portsmouth (Va.) Inviational Tournament for NBA prospects on April 10-13.