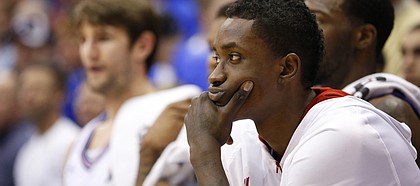 Rio Adams, who has announced plans to leave Kansas University and was released from his scholarship Wednesday, is apparently having second thoughts.
"I'm going to speak with coach on Monday. I've decided to stick it out," Adams, a 6-foot-3 freshman from Seattle, told the Journal-World late Thursday night.
He relayed that message to the J-W after posting on Twitter: "I'm not going anywhere I'm a Jayhawk for life," and "I can't go I love my team too much."
Adams, who has expressed dissatisfaction about playing time his freshman season, said he's reconsidered his position on that matter.
"I didn't get what I expected," Adams told the J-W, "but there have been other players in the past who have worked hard, and eventually it pays off. The scholarship is still there. Coach said we could talk Monday (when he returns from Final Four). I'm deciding to stay."
Reached in Atlanta at the Final Four on Friday, KU coach Bill Self said he and Adams would "meet again" upon his return from Georgia.
Anniversary of '88 title
It was 25 years ago Thursday that a Danny Manning-led Kansas University basketball team defeated Oklahoma, 83-79, to win the 1988 NCAA title in Kemper Arena in Kansas City, Mo.
The '88 champions were recognized twice this season — at the 115 Years of KU Basketball reunion on Feb. 23 in Allen Fieldhouse and also at the Tulsa-SMU basketball game on Jan. 6 in Dallas. That's the day several members of the team gathered to be interviewed for a CBS Sports Network documentary on the team that aired March 11.
Former KU All-America forward Manning is head coach at Tulsa; former KU coach Larry Brown is coach at SMU.
"That was neat," Manning told the Journal-World, referring to the mini-reunion before Tulsa's 48-47 victory. Brown's Mustangs later won the rematch in Tulsa, 71-65. "We knew we weren't the most talented team, but we all were willing to sacrifice for each other. We sacrificed. We played hard. We bought into coach Brown's system, and we had guys who had great feel for the game."
The team, which at one point in the season had a 12-8 record (KU finished 27-11), was nicknamed "Danny and the Miracles" — a nickname that bothers team-player Manning.
"We don't talk every day," Manning said of the '88 players and coaches, "but whenever you talk to them, it seems like you talked to them yesterday. That's everybody."
Manning agreed to speak to the J-W about the other starters on the team:
Milt Newton: "You know, Milt didn't miss a shot in the championship game (6-for-6, 15 points), which was huge for us," Manning said of the Washington Wizards' vice president of player personnel. "And people continue to not recognize that at times. Milt was someone who persevered. We had a lot of guys come in who played his position, but when he got his opportunity, he made the most of it."
Chris Piper: "Pipe and I probably talked more in the last five to seven years than I have with most of those guys, but a lot of times it was because we were traveling together," former KU assistant coach Manning said of former KU radio color announcer Piper, who had eight points and seven boards vs. OU in the title game. "We'd sit together on the plane and catch up and visit.
"He had his ear on the inner-circle of all the different things going on in the basketball community because of his profession (owner of Grandstand Sportswear and Glassware) so we always talked about a lot of different things, and I enjoyed those conversations."
Jeff Gueldner: "We stay in contact through texting, and he would do camps, and we would talk about different ways of doing camps and our kids and that kind of thing," Manning said of the Olathe businessman who scored two points in 15 minutes vs. OU.
Kevin Pritchard: "Kevin and I cross paths a lot because of our professions," Manning said of the Indiana Pacers' general manager. "Kevin was hurt, and we get him back for the NCAA Tournament, and we go on a run." Pritchard had 13 points off 6-of-7 shooting with four assists vs. OU.
"Then you talk about Scooter Barry, Clint Normore, Lincoln Minor, Mike Maddox ... When we had our 20th-year celebration (on KU campus five years ago), a lot of guys came back, and we actually went to the alumni center on campus and got together there. That was the first time that most of us were in a room together watching the championship game together, and that was neat.
"Before that time, we all stayed in contact together through everybody else. So-and-so's doing this, so-and-so's doing that. Now, there's more communication. We get email chains going, and we're texting all the time."
Selden excels
Future KU guard Wayne Selden scored 13 points off 5-of-7 shooting (2-of-4 threes) with five rebounds and three assists in the East's 110-99 loss to the West in the McDonald's All-America game, Wednesday in Chicago.
"Coming out here with all the guys and being able to score a few buckets, get a few assists and a couple rebounds ... it always feels great to play with a great group of guys," Selden told boston.com.
He played some point guard during the game and afterward was asked if he'll play some lead guard at KU.
"If I just keep developing," he said. "I feel like I can play all three guard positions, and I'm just working on defending all three guard positions right now. I'm just trying to get to that next level."
Selden and KU signee Joel Embiid will compete in the Jordan Brand Classic at 7 p.m., April 13, at Barclay's Arena in Brooklyn, N.Y. It will be aired on ESPN2.
Wiggins, Parker compete, too
Andrew Wiggins, a 6-foot-8 forward from Huntington (W. Va.) Prep who will pick either KU, Kentucky, North Carolina or Florida State at a yet-to-be-determined date, scored 19 points in the game. He went up against Duke-bound Jabari Parker of Chicago Simeon, who had 10 points and eight boards.
"Me and Jabari, we are friends, both great players," Wiggins told the Chicago Sun Times. "I know I'm going to see his face a lot at the next level and the level after that. I consider it a great learning experience. I'm just glad to be here. Going against Jabari is just the best going against the best."