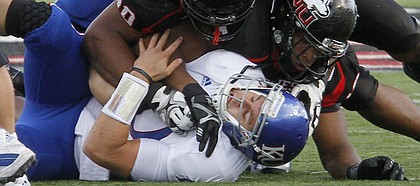 Dekalb, Ill. — With its second fall-from-in-front loss of the young season — both with two-score leads in the fourth quarter, no less — Kansas University's football team pushed its road losing streak to 14 games with a 30-23 loss to Northern Illinois on Saturday at Huskie Stadium.
The way this one went, it's natural to wonder if that streak will be at 19 by the end of the season.
On the second play of the fourth quarter, KU cornerback Tyler Patmon intercepted a Jordan Lynch pass and returned it, untouched, 54 yards to the end zone to the give the Jayhawks a 23-13 lead with 14:33 to play. A holding penalty on the extra-point attempt, and the miss that followed, kept the KU lead at 10, but there the Jayhawks sat, up two scores in the fourth quarter yet again.
Unlike the last time, when Rice needed a field goal as time expired to top Kansas in Week Two, this Kansas collapse came more quickly.
From euphoria to you're-kidding-me in 14:33, the Jayhawks now sit at 1-3 entering their off week. And the worst part is, nobody can really explain why.
"It was a lot of smiles on the sideline (after the Patmon touchdown)," KU senior safety Bradley McDougald said. "I don't know if that was just to have that separation or if guys did get complacent. I was walking up and down the sideline just saying, 'Next play.' There was so much time left."
Plenty, in fact.
Ten seconds later, in front of 18,374 fans, the Huskies cut the KU lead to 23-20, when NIU quarterback Jordan Lynch hit receiver Martel Moore for a 65-yard touchdown pass that confused the Jayhawks and took just 10 seconds to deliver.
"It was kind of like a trick play," McDougald said. "Kind of like a (Tim) Tebow pop pass, if you will."
After initially bobbling the snap, Lynch took two steps toward the line of scrimmage as if he were going to run. Based on his 134-yard performance on the ground, it made sense that the Jayhawks would expect that. It made even more sense considering the Huskies ran the "trick play" out of an empty backfield for the first time all season.
Dazed, but still in the lead, the Jayhawks responded with a drive that reached as deep as the NIU 22-yard line. From there, things really began to unravel.
KU's next three plays went seven yards in the wrong direction, setting up a fourth-and-17 at the NIU 29 with around 10 minutes remaining.
"I decided to go for it because the 30-yard line against the wind today, that's really out of field goal range," KU coach Charlie Weis said.
Somehow, senior receiver Kale Pick slipped behind the NIU defense and got open along the KU sideline, with nothing between him and the end zone. But the pass from quarterback Dayne Crist was overthrown by five yards, and nine plays later the game was tied with 7:58 to play.
"I should've made that throw," Crist said. "That's a play that he and I have to make."
Added Weis: "That's a critical time in the game, offensively. They've just made a big play, and you gotta get something going. That's not what happened. (Crist) didn't get hit, he just missed him. It's unfortunate because, you know, you're wide-open."
Through the first three quarters of Saturday's loss, there were plenty of positives for the Jayhawks. The teams traded scores early on, and NIU led 13-10 at the half.
Junior tailback James Sims, who returned from a three-game suspension, looked better than ever in rushing for 91 yards and two touchdowns, and junior wideout Christian Matthews, a former quarterback, ran KU's Wildcat offense flawlessly, finishing with 43 yards on five carries and making one poised decision after the next.
In addition, the KU defense limited NIU's potent offense to 264 yards on 57 plays.
But once the collapse came, none of that mattered, and the Jayhawks were powerless to stop it.
Weis said he went away from the Wildcat offense because NIU made a defensive adjustment to stretch the play to the sideline.
Matthews said he saw it, too.
"The D-end started staying instead of closing to the back," Matthews said.
That left the ball, and the game, in Crist's hands, and neither he nor KU's offensive line could come through. Crist was sacked four times and hurried nearly twice that often.
When he wasn't, he made throws he won't like watching on film. What's more, that defense that had played tough and poised initially gave up 191 yards of offense in the final quarter alone and looked gassed by the up-tempo Huskies offense.
"Part of the problem is the changing of personnel and the speed at which they do that," Weis said. "That challenges you."
KU's latest loss — its 29th in the last 35 tries — really came down to big plays. The Jayhawks made a few, but also missed a few and gave up far too many.
"Sometimes it's really that simple," Weis said.
The Jayhawks are off until Oct. 6, when they travel to Manhattan to take on Kansas State.