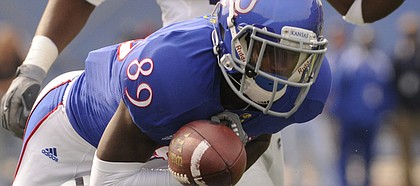 One of the most subtle tweaks to this week's Kansas University football depth chart came at boundary cornerback, where sophomore JaCorey Shepherd moved into the two-deep as a back-up to starter Tyler Patmon.
Shepherd, 5-foot-11, 185 pounds, first made a name for himself at Kansas by leading the Jayhawks in receiving as a true freshman but moved to defense at the start of the season. KU coach Charlie Weis said the Mesquite, Texas, native's fast rise in the opposite huddle was not a sign that he struggled on offense.
"I think Jacorey Shepherd would be a fine slot receiver," Weis said. "I think he sees himself with a better opportunity on defense."
Shepherd has not played in KU's first three games, a fact that starkly constrasts the way he kicked off his career with a two-touchdown, 107-yard performance in last year's season opener. But that's not because he hasn't impressed the coaches, especially defensive coordinator Dave Campo. A few weeks ago, Campo said Shepherd was one of the offensive players he had his eye on from the start of camp.
Weis confirmed that Tuesday.
"Campo has been tooting his horn now," Weis said. "First of all, we had to have a trade between the offense and the defense. There were draft choices and considerations for down the road on this one."
Shepherd's teammates have been impressed by how quickly he has adapted.
"The corner position comes naturally to him," Patmon said. "He's very smooth, and right now his athleticism is pretty much taking care of everything."
With Patmon and Greg Brown playing every defensive snap at cornerback for the Jayhawks so far, Shepherd remains a mystery.
"He's worked his way into the two-deep with a limited amount of coaching and a limited amount of time," said Campo, who said the staff was looking for "athletes who can run." "I like him. What he does when he gets out on the field I have no idea because he has no experience."
Road memories
The last time the Jayhawks won a road football game was Sept. 12, 2009, in El Paso, Texas, when the Jayhawks topped UTEP, 34-7, during the second game of the season. Even though a handful of players on this year's roster were on that team, it might be tough to remember which ones.
"Daymond (Patterson) was on defense, Toben (Opurum) was a running back still, I was a receiver," recalled senior safety Bradley McDougald. "I definitely remember the feeling of winning, just that feeling of going to someone else's house and getting the victory."
Even though it's been 13 straight road losses since then, or perhaps because of that fact, senior defensive end Toben Opurum remembers it, too.
"There've definitely been a whole lot of changes from players on the field to coaches coaching," Opurum said. "I remember looking ahead to the future and thinking that the backfield would be me, Rell Lewis and Kale Pick and that's not what it looks like at all."
A 2:30 p.m. Saturday in DeKalb, Ill., the Jayhawks (1-2) will look to break that losing streak while snapping Northern Illinois' 16-game home winning streak at the same time.
Boomer time
Saturday's contest will give former Eudora High standout Boomer Mays his first crack at playing against the Jayhawks. Mays, a red-shirt freshman who is listed as a second-string middle linebacker for the Huskies, red-shirted during his first season with NIU and did not play during the Huskies' 45-42 loss in 2011.
Things are different for Mays this year. The former first-team all-state selection and two-time EHS team captain has played in all three games and recorded seven tackles, including two for loss. One of those came against Army last week, when Mays wrestled Army quarterback Trent Steelman to the ground on a fourth-and-three play with 1:47 left and NIU leading Army, 41-40.
The game-winning tackle came during Mays' first start.
After the game, NIU coach Dave Doeren had high praise for his young linebacker.
"Boomer's a very aggressive player," Doeren said. "This game kind of fit what Boomer is. He's a downhill thumper. So this was a good game for his skill set."