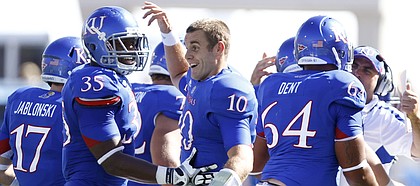 It's no secret that Kansas University quarterback Dayne Crist's start as a Jayhawk has been a little less spectacular than most people expected.
Now we know why.
Tuesday afternoon, while speaking to reporters during back-to-back weekly news conferences, Crist and KU coach Charlie Weis shared the details of a Monday evening chat that seemed to go a long way toward clearing Crist's head.
"He and I had a great conversation," Crist said. "And I think we both came out of that very positive and having a better understanding of what's going on around the offense. I really felt a lot better after that conversation."
While the specifics of the talk were communicated in more general terms, each example centered on an element of Crist's demeanor that had been with him most of his life but not yet joined him in Lawrence.
"It was clear, in watching myself on film, that I just wasn't having fun out there," Crist said. "And that's why I play the game. I plan on having a lot more fun from here on out."
There are nearly a dozen reasons that football stopped being as much of a joy for Crist during the past few weeks, with pressure to perform, a desire to please the man who gave him another chance and the longing to lead the Jayhawks to better days chief among them.
"I don't really listen to the outside stuff," Crist admitted. "The pressure I was feeling was stuff I put on myself. I've always been internally motivated and I know what I need to do. But sometimes I think I'm a little too hard on myself and I've just gotta go out and let it loose and I plan on doing that."
Add to that the burden of knowing in the back of his mind that a good senior season at Kansas could earn Crist a shot at his ultimate goal of becoming an NFL quarterback, and it's easy to see how all of the factors sucked the fun out of the game for the 6-foot-4, 235-pound quarterback from southern California. Knowing that, and realizing he needed to act before KU's schedule thinned out, Weis stepped in and had one of those vintage, straight-to-the-point Charlie Weis chats with his QB.
"Just do your job," recalled Weis, when asked Tuesday what he told Crist the previous night. "What do we know now about our team that we didn't know two weeks ago? Let's start there. We've got a couple of good runners and we can run the ball pretty efficiently. So, if you're a quarterback then, you don't have to bear all the weight on your shoulders."
It was not just Weis who believed that was happening.
"Yeah. I was fighting it and denying it at first," said Crist, who has completed 52 percent of his passes for 313 yards, two touchdowns and three interceptions in two games. "But that's 100 percent what I was doing. We've got a ton of athletes around (me) and I've said it publicly before. With the way that our running backs have gone out and run the ball, it's really just about going out and running the offense and having fun."
While Crist sat at the front of the room and talked about his new outlook, the air around him indicated it was working. His answers to questions seemed more genuine and less scripted, he smiled more frequently and let reporters a littler deeper into his head.
"With how tight I looked playing, that's not me at all," he said. "Missing throws that I don't miss. I've identified the issues that I think I needed to identify. ... I talked to a lot of other guys on offense, and we kind of felt the same way; we were playing too tight. We need to loosen up and have some fun."
So that's what Crist did. He began at Tuesday's practice, where coaches and teammates said they saw a more energetic attitude from their quarterback.
"Yeah, I did," quarterbacks coach Ron Powlus said. "I think he had a good time at practice today. He had a fine practice, and it looked like he had a little more fun playing today."
While Powlus, who works closely with Crist every day, recognized a more upbeat Crist on Tuesday, he said the quarterback's transformation was more subtle than anything.
"Dayne's not changed what he's doing, he's not a different guy, it's none of that," Powlus said. "We want to have more production. That's what it comes down to."
Injury update
During his weekly news conference Tuesday, Weis confirmed that junior linebacker Prinz Kande would miss the rest of the season because of a torn anterior cruciate ligament. The loss puts a dent in KU's depth at linebacker.
"He was playing pretty well," Weis said. "And he was playing two positions. I feel bad for him more than I feel bad for me."
In addition, Weis said running back Brandon Bourbon, wide receiver Kale Pick and safety Lubbock Smith all were "day-to-day" with injuries that could keep them out of Saturday's 11 a.m. game against TCU.
"If we were playing today, I don't know if any of the three of them would play," Weis said. "But all three of them are trying to play this Saturday so we'll see how it goes. Structurally, they're OK. But there's swelling and pain and things like that that we have to deal with. I don't see any of those being long-standing injuries. It's just how quickly they recover."
McDonald ready to roll
One bit of good news on the injury front came with the return of senior linebacker Anthony McDonald, who landed on this week's depth chart for the first time this season as a second-string outside linebacker.
Weis said previously that he was not comfortable putting the hard-hitting 6-2, 235-pounder in a game until he was confident he could "let it loose." When asked about the Notre Dame transfer's upgraded status, Weis said simply, "He's ready to play."
He later added: "We're gonna play a team this week that might just line up and try to pound us. So you can't play with a bunch of 5-8, 190-pound linebackers. You better be ready to have some girth."
Weis: TCU belongs
After becoming somewhat of a non-BCS national power during the past decade, many are watching with interest to see if TCU successfully can translate that success into the Big 12.
In studying film for this weekend's match-up, Weis has seen all he needs.
"They're definitely an upper-level team in this conference," Weis said of Gary Patterson's Horned Frogs. "I've looked at the tape of all these teams in this conference. This team can hang with all the big boys. They're well coached. This guy's a good head coach and he's a good defensive coach on top of it."
Throughout the early portion of the week, Weis has emphasized how impressed he has been with TCU's transformation from a defensive juggernaut to a more balanced team.

"They used to win games on defense, and now they can win games in multiple ways, which they're gonna need to against a bunch of good football teams in this conference on a weekly basis."
Stadium renovations?
Williams Education Fund members recently were given an 81-question survey designed to explore what they would like and would not like to see regarding potential renovations to KU's Memorial Stadium.
KU officials said the survey was merely the next step in the process of gauging what's needed and was designed to determine the overall appetite for stadium renovations.
According to the survey, "Memorial Stadium improvements could include new and improved concession and restroom facilities, improved crowd circulation, and new and improved premium seating and hospitality areas."
The survey, which is being conducted by CSL International, also indicated that donor input was "very important" and, to back that up, KU offered two free tickets to a 2012 KU football game of the participant's choice simply for completing the survey.